Details

Hits: 2575
Years of preparation behind NRHEG students' barrel racing quest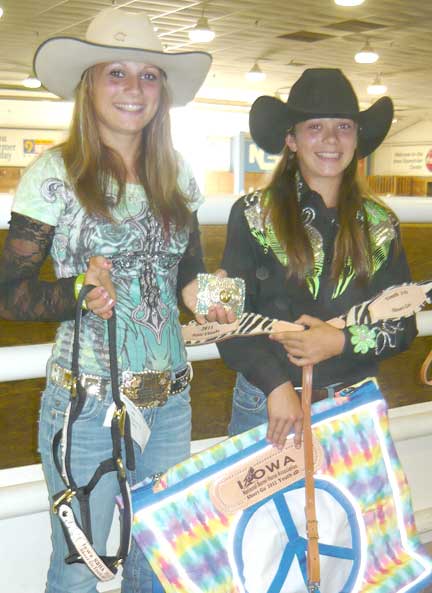 WORLD FINALS QUALIFIERS — NRHEG students Hannah Lewison, left, and her sister Grace have qualified for the National Barrel Horse Association Youth World Finals in Perry, Georgia this July. Both girls had a love of horses at an early age. (Submitted photo)
By RACHEL RIETSEMA
Staff Writer
The Lewison kitchen table is all abuzz these days, and it isn't all about glitter and glam for NRHEG students Hannah and Grace Lewison. 
Prom dresses and Hello Kitty are important and all, but these National Barrel Horse Association Youth World Finals qualifiers have bigger fish to fry.
"We are very excited to represent the Midwest as we travel to Perry, Georgia in July," said Hannah, 2011 youth 2D Reserve Champion. "The event is invitation only. Competitors all under age 18 must ride in their respective NBHA District Barrel Races to earn points."
Her sister Grace, the 2011 Youth 3D Champion, added, "The top five point earners in each division qualify for the NBHA Youth World show. The NBHA Youth World Show is one of the largest barrel races in the World. Contestants will come from all over the U.S., Canada, Italy, and Australia to compete."
Of course, this ginormous feat came with a combination of factors in their favor, the first two on that list being great determination and an undying love for horses.
Details

Hits: 2453
Refurbished Byron Township Hall is something to behold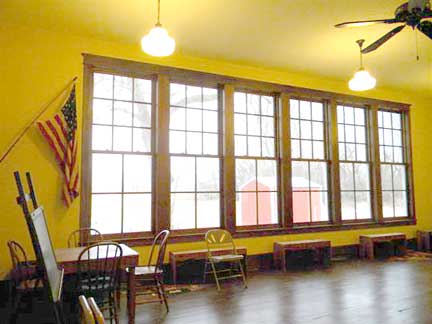 SOMETHING TO BE PROUD OF — It is hoped the newly refurbished Byron Township Hall in Matawan makes the National Historic Registry. (Submitted photo)
By RACHEL RIETSEMA
Staff Writer
Located in the whereabouts of Matawan, remains a white building that has had its share of alterations.
This historic structure has been a chameleon of sorts, adapting to the natures of both rambunctious elementary students and Byron Township board members. Not all at once of course.
"The town hall had become so run down that it wasn't useful anymore," said Geoff Jessen, township supervisor. "At one point, we considered it a teardown, but everyone involved soon found out that is a pretty cool, structurally sound building. That's when the public got involved and voted to renovate it."
The drop ceiling eradicated for good, this place of town meetings has returned to its 20th-century roots. No more musty smells either, that's for sure.
"We have restored it to its original function, a schoolhouse," Jessen said. "We gutted the whole building and tore out all the old plaster. We rewired, replastered walls, installed better heating and plumbing systems, and replaced windows and all the roof shingles."
Details

Hits: 1345


A TIME TO SHINE — With NRHEG fans on their feet, Carlie Wagner (3) attempts a shot in the final minutes of Saturday's third-place game. Below, Wagner breaks the record on a free throw. (Star Eagle photos by Chris Schlaak)
By JIM LUTGENS
Editor/Publisher
The man at the microphone was unmistakable: Dick Janckowski, voice of the Minnesota Gophers.
"Ladies and gentlemen, you witnessed history here today," he boomed. "You witnessed history."
After joking about Carlie Wagner signing autographs later in the day, Janckowski had his photo taken with Wagner and, before he left the building, indeed did have Wagner sign the scorebook.
It was that kind of day for Wagner and the NRHEG girls' basketball team.
The Panthers' sophomore star broke two state records — 48 points in a single game and a three-game total of 112 — as NRHEG finished its season on a winning note, 73-59 over Pequot Lakes in the third-place game of the state tournament Saturday at Concordia University in St. Paul.
Details

Hits: 1316
Panthers third in state tourney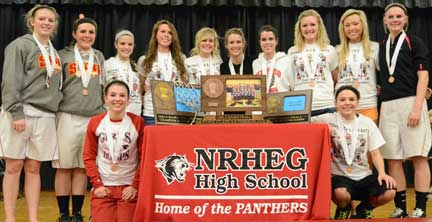 WELCOME HOME, HEROES — The NRHEG girls' basketball team poses for a photo during the welcome home ceremony at NRHEG High School Saturday evening. The Panthers finished third in the state tournament and finished with a record of 32-1. Front from left: Maddie Wagner, Marnie Wagner. Back: Jade Schultz, Hannah Lundberg, Abby Crabtree, Raelin Schue, Tori Raimann, Anna Schlaak, Danielle Krueger, Katie Cole, Paige Overgaard and Carlie Wagner. (Star Eagle photo by Chris Schlaak)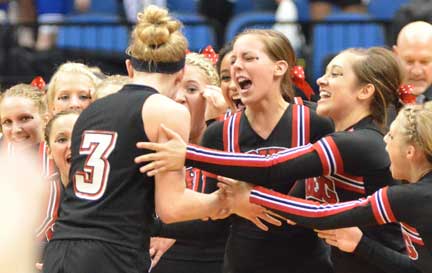 A NIGHT TO REMEMBER — NRHEG cheerleaders enthusiastically congratulate Carlie Wagner after the Panthers' 75-45 victory over defending Class AA state champion Braham in the quarterfinals of the state girls' basketball tournament at Target Center in Minneapolis. (Star Eagle photo by Chris Schlaak)
By JIM LUTGENS
Editor/Publisher
The 2011-12 New Richland-Hartland-Ellendale-Geneva girls' basketball team accomplished a feat few teams experience.
They won their final game.
It happened to be the third-place game of the state touurment, where they handled Pequot Lakes 73-59 Saturday afternoon at Concordia College in St. Paul.
Behind a record-setting performance by sophomore Carlie Wagner, the Panthers played as they have most of the season, trailing only once at 2-0 and leading the rest of the way.
Wagner, who along with NRHEG senior Anna Schlaak was named to the all-tournament team — said it was wonderful for the Panthers to finish on a positive note.
"We really wanted to come back strong after last night," said Wagner. "We knew we could mope about the loss or come back. We really wanted to end the season with a win."
NRHEG fans — arguably the largest group backing their team at state — were a big factor, according to Wagner.
"It's incredible," she said. "The fans were amazing."
To make it even more special for the Panthers, their former coach and athletic director, Mindy Sparby, presented their medals and trophy.
The Panthers were greeted like conquering heroes upon their return to New Richland Saturday evening, with a police escort leading area fire trucks with players riding atop. The caravan cruised main street before arriving at NRHEG High School, where they were greeted by jubilant fans.
Details

Hits: 1131
Students listen to X Games medalist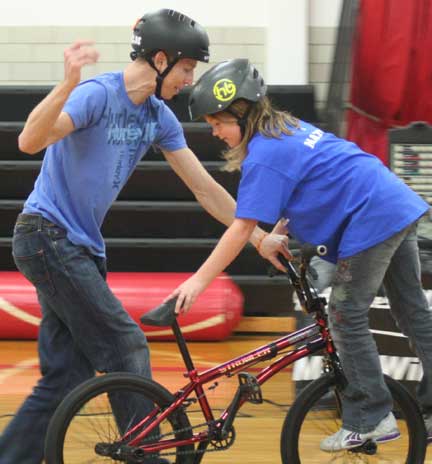 TRICKS OF THE TRADE — X Games BMX medalist Doug Wilhelm, left, teaches a thing or two to an NRHEG Elementary student during his recent presentation. (Star Eagle photo by Jody Wynnemer)
By JODY WYNNEMER
Staff Writer
Last year, for their efforts selling cookie dough, NRHEG Elementary students were treated to a magic show. This year, they enjoyed the tricks of X Games BMX medalist Doug Wilhelm on his bike. 
The gymnasium served as the stage as Wilhelm performed stunt after stunt for the students. Between bike tricks, he shared his experiences, both good and bad, with the kids. As he displayed the three X Games medals he had earned, he had an important message.
"I started doing tricks in eighth grade," said Wilhelm. "Everyone told me I'd never be good enough to make it to the X Games. After eight years of practice, guess who made it? When I was registering, this tall guy walked by me. It was none other than Tony Hawk. I started my routine, and crashed into the front row on my second trick. I crashed four more times during the two minutes. I looked up at the scoreboard and I was in last place. Last place in front of 15 million people. I wanted to quit, but I didn't give up. My message to you is never give up!"