Details

Hits: 1186
NRHEG cheer team crowned academic state champion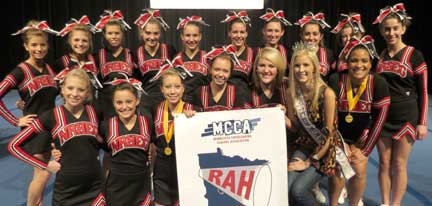 SUCCESS AT STATE — The NRHEG High School competition cheer team finished third on the floor and were crowned academic state champions in Saturday's state competition at Roy Wilkins Auditorium in St. Paul. Front from left: Brenna Hagen, Kiley Beenken, Lexi Wayne, Tiara Robran, Brina Bergland, Miss Minnesota and Michaela Hansen. Back: Jadyn Nelson- Spies,  Hannah Lewison, Tara Simon, Emmy Hobbs, Hailey Johnson, Stormi Hagen, Harlee Voukon, Dana Jensen, Maddy Schierjohann and Presley Johnson. Missing is Hannah Light. (Submitted photo)
By JIM LUTGENS
Editor/Publisher
After countless hours of practice, practice, practice, it all came down to one routine for the NRHEG High School competition cheer team.
They nailed it.
But, more importantly, they aced it where it counts most: the classroom.
Their routine was good for third place for the defending champions, who competed against much larger schools in Saturday's State Cheerleading competition at Roy Wilkins Arena in St. Paul.
But that was just the start.
The Panthers were recognized as not only the regional academic champions, but posted the highest grade point average of any cheer team in the state.
"It was better than any first-place trophy," said coach Kari Buendorf. "This is quite exciting as it shows that not only on the sidelines and on the competition floor do these girls have determination, but also in the classroom."
Details

Hits: 1145
NRCC's Vivian Roesler has treasure trove of memories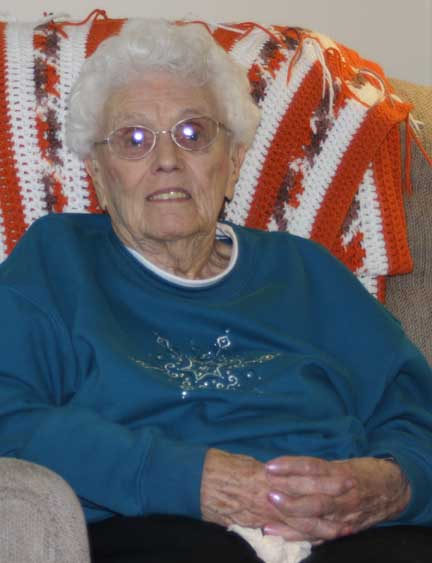 STITCHED TOGETHER — New Richland Care Center resident Vivian Roesler finds strength in the arms of the Lord and prays her family knows that comfort as well. (Star Eagle photo by Rachel Rietsema)
By RACHEL RIETSEMA
Staff Writer
Tucked away in one of the cozy wings of New Richland Care Center is a sharp lady ready to follow the Lord's lead whenever He calls.
It doesn't matter whatever life dishes out, Vivian Roesler knows He will provide the strength to trek through.
"I've known Vivian for many years," said New Richland Care Center Activities Director Kathy Flor. "She is a very nice lady. She's very knowledgeable, fun to visit with and is a Christian lady."
A resident here since May, she has become enamored with the building's pleasant atmosphere. More specifically, these last nine months spent at the care center has helped her to feel so much better.
"I have a tendency to be a jolly person," Vivian said. "I like to smile and laugh a little bit."
More often than not, staff and fellow residents will find her reclining in the chair with a book in hand. Currently, she has her nose in a book written by Beverly Lewis.
"Paradise Valley is a lot about the Amish people," Vivian said. It's very interesting."
Details

Hits: 2187
Sixth-graders' move to NR approved; Cyr sniffs out bargain on band uniforms
SCHOOL BOARD — The current NRHEG Board of Education. Front from left: Lori Routh, Michele Moxon, Karen Flatness and Lis Kormann. Back: Mike Moen, superintendent Kevin Wellen, Rick Schultz and John Harrington. (Star Eagle photo by Chris Schlaak)
By REED WALLER
Staff Writer
At the Tuesday, January 17 meeting, the NRHEG school board approved the purchase of new band uniforms, the move of the sixth grade to New Richland, and a February 15 joint meeting date with the New Richland City Council.
Joint meetings with New Richland City Council
Last month's discussion with Jeff Reese led the board to consider arranging a meeting with the New Richland City Council to discuss the poor condition of the jointly-used Legion Field ball fields. 
After discussion with City Clerk Wayne Billing, a date of February 15 was proposed for a meeting of the full city council and the full school board, for the purpose of determining a possible agenda of items the school district and the city could collaborate on working on at future meetings.
What topics could be considered? "Not just the ball field," said Superintendent Kevin Wellen, "but anything that could be discussed or shared, anything where we have a common interest."
This might include crosswalks, parking, or traffic issues, among numerous possibilities.
Details

Hits: 1767
Day set aside to remind students school should be 'safe, welcoming, comfortable'

CARRYING THE BANNER — NRHEG first-grade students say "Kindness Matters" on Tuesday, January 17th at Ellendale School. From left: Aden Berg, Bree Ihrke, Taya Lembke, Logan Adams, Anton Domeier, Zac Possin, Cody Reistad, Alexus Chambers, Evan Schaefer, Mason Klemmensen, Spencer Swenson, Charles Tipton, Bailey Ihrke, Sidney Schultz, Evan Beckmann, Eva Wayne, Avery Routh, Sawyer Prigge and Gavin Wilkenson. The students are instructed by Jill Boran. (Star Eagle photo by Jody Wynnemer)
By JODY WYNNEMER
Staff Writer
Tuesday, January 17 was a "blue" day at Ellendale Elementary.
One normally associates the color blue with sadness, gloom or unhappiness, but students and staff displayed just the opposite as they celebrated "Kindness Matters Because… I Matter" day.
Classrooms and hallways were full of students wearing their blue T-shirts, and blue was even the color of the Jell-O served in the cafeteria at lunchtime.
"Last March a group of school staff got together and formed the Anti-Bullying Committee (ABC) group at the school," said Elementary Coordinator Doug Anderson. "Ten members make up the committee and meet twice a month to discuss programming for our K-6 elementary school. With the help of that group, as a school we've talked about and worked our own school-wide expectations, how to give and get respect, how to handle a bully and how to get help if bullied and that "Kindness Does Matter."
Details

Hits: 1176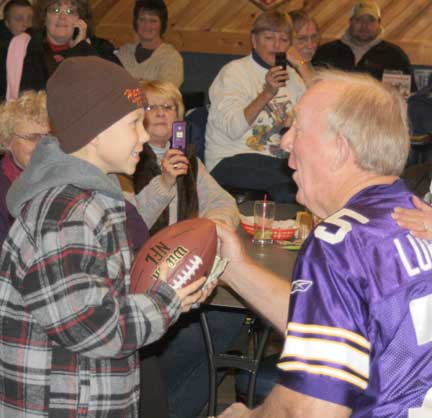 PRIZED POSSESSION — Tanner Oquist, left, got his football autographed by Bob Lurtsema Friday at the Geneva Cancer Auction. He had Jim Marshall autograph the ball last year. (Star Eagle photo by Rachel Rietsema)
By RACHEL RIETSEMA
Staff Writer
There's nothing like a little Bob Lurtsema banter to stir up the 28th Annual Geneva Cancer Auction crowd.
"I love small towns, so you people are right up my alley," said the former Minnesota Viking player of six years.
Sure enough, this special guest's ability to light up a room spread to even the smallest guests in attendance. But, he wasn't the only one there to amplify the Geneva Bar & Grill's atmosphere.
"When I heard you [Lurtsema] were coming and bringing the cheerleaders with you, I was really happy because you always seem to know what you are talking about," said event CEO Whitey Hagen. "That's what we like here."
Not a moment later, Hagen extended a word of thanks for both Jacqui and Mary's participation at this "28-year-old thing."
"It's always a pleasure to have the cheerleaders here," Hagen said. "We're proud to have them here at the cancer auction."
Mind you, this pompom toting pair and former defensive end's presence didn't come free. Frontier Communications made it all possible with a generous sponsorship.