Details

Hits: 1573
Hartland bank celebrates century of service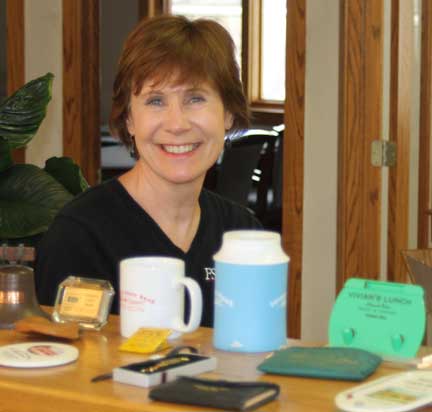 SUMMER CENTENNIAL — Nancy Skophammer, the CEO and President of Farmer's State Bank is all smiles alongside the memorabilia display created in honor of the bank's 100th anniversary. (Star Eagle photo by Rachel Rietsema)
By RACHEL RIETSEMA
Staff Writer
The little hamlet of Hartland has good reason to celebrate this summer. And celebrate they shall on June 14, as their trusted Farmer's State Bank branch has survived and thrived an entire century.
"We have overcome two world wars, a horrendous depression of 1929, numerous cycles of recessions and inflation, an agriculture crisis of the 1980s and the recent economic turmoil of 2008," said its CEO and President Nancy Skophammer.
So, in the spirit of the occasion, all bank customers are invited to fill 72 slots and spoil a good walk in a nine-hole round of golf. Following this green-filled endeavor, attendees can grab a seat at checker-decorated tables for a picnic in the ballpark.
"They will tee off at 1 p.m.," Skophammer said. "Then at 5 p.m., we will be serving hamburgers, brats, and hot dogs."
The younger generation will find entertainment on this day of celebration too. Kids can let loose inside a bouncy house, burn calories in relay races and enjoy many more activities.
"There will also be a drawing later for an iPad," Skophammer said. "I hope to have a total of five giveaways. A Kindle and a Nook might be up for grabs too."
Details

Hits: 1916

Good things continue to happen for the New Richland Area Foundation Fund.
It started with an anonymous donation to the New Richland Area in 2008, the formation of the New Richland Area Foundation Fund in 2009, the anonymous donation of the "By-the-Grace-Of-God-Fund" in 2010 and the Gift of Grain in 2011 — overwhelming progress in such a short time for a small community like New Richland.
It seems that success has spilled over into 2012.
Early in February, Gail Schmidt, the NRAFF Representative of the Waseca Area Foundation, received a telephone call inviting her to attend a meeting with the attorney and estate representative of a New Richland resident who recently passed away. The news that she received left her speechless.
Details

Hits: 2808
Years of preparation behind NRHEG students' barrel racing quest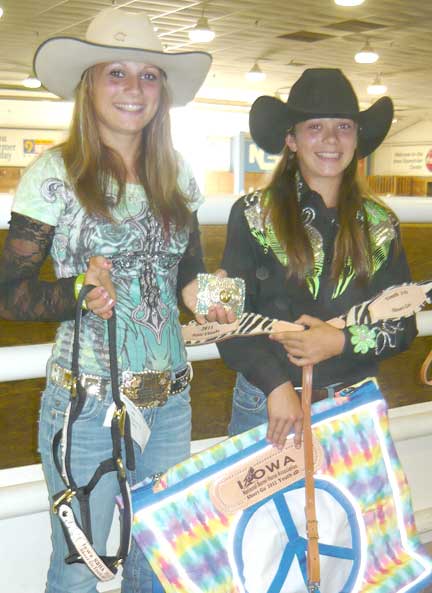 WORLD FINALS QUALIFIERS — NRHEG students Hannah Lewison, left, and her sister Grace have qualified for the National Barrel Horse Association Youth World Finals in Perry, Georgia this July. Both girls had a love of horses at an early age. (Submitted photo)
By RACHEL RIETSEMA
Staff Writer
The Lewison kitchen table is all abuzz these days, and it isn't all about glitter and glam for NRHEG students Hannah and Grace Lewison. 
Prom dresses and Hello Kitty are important and all, but these National Barrel Horse Association Youth World Finals qualifiers have bigger fish to fry.
"We are very excited to represent the Midwest as we travel to Perry, Georgia in July," said Hannah, 2011 youth 2D Reserve Champion. "The event is invitation only. Competitors all under age 18 must ride in their respective NBHA District Barrel Races to earn points."
Her sister Grace, the 2011 Youth 3D Champion, added, "The top five point earners in each division qualify for the NBHA Youth World show. The NBHA Youth World Show is one of the largest barrel races in the World. Contestants will come from all over the U.S., Canada, Italy, and Australia to compete."
Of course, this ginormous feat came with a combination of factors in their favor, the first two on that list being great determination and an undying love for horses.
Details

Hits: 8558
Forum urges return to Mother Nature's origins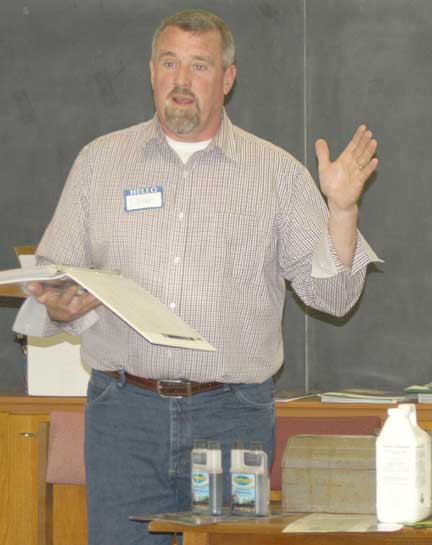 WHOLESOME TALK — Envirosense owner Dean Goette addresses the crowd gathered at the South Central Sustainable Farming Association meeting held March 17 in Clarks Grove. (Star Eagle photo by Rachel Rietsema)
By RACHEL RIETSEMA
Staff Writer
They may not all sport Pioneer hats and overalls, but the South Central Sustainable Farming Association members still have one particular farming goal in mind: to wave back in an older, more wholesome food chapter.
"I don't want to criticize, or be a martyr or crusader," said Dean Goette, keynote speaker at the chapter's March 17 meeting. "Mother nature is infallible. If we work with her, it's amazing what happens."
An advocate of three major soil companies, this Envirosense owner knows the pitfalls of processed food backwards and forwards. But, in order to spur change, big doses of teamwork and ingenuity must occur.
"We are what we eat," Goette said. "Our cows and sows are no different."
Fellow keynote speaker Jim Stiles, owner of Austin's Superfresh, is just as enthusiastic about returning to Mother Nature's origins.
Details

Hits: 2631
Refurbished Byron Township Hall is something to behold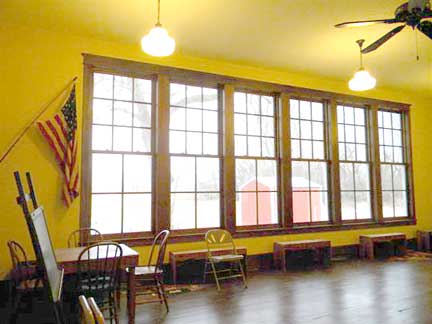 SOMETHING TO BE PROUD OF — It is hoped the newly refurbished Byron Township Hall in Matawan makes the National Historic Registry. (Submitted photo)
By RACHEL RIETSEMA
Staff Writer
Located in the whereabouts of Matawan, remains a white building that has had its share of alterations.
This historic structure has been a chameleon of sorts, adapting to the natures of both rambunctious elementary students and Byron Township board members. Not all at once of course.
"The town hall had become so run down that it wasn't useful anymore," said Geoff Jessen, township supervisor. "At one point, we considered it a teardown, but everyone involved soon found out that is a pretty cool, structurally sound building. That's when the public got involved and voted to renovate it."
The drop ceiling eradicated for good, this place of town meetings has returned to its 20th-century roots. No more musty smells either, that's for sure.
"We have restored it to its original function, a schoolhouse," Jessen said. "We gutted the whole building and tore out all the old plaster. We rewired, replastered walls, installed better heating and plumbing systems, and replaced windows and all the roof shingles."