Details

Hits: 3464
Seniors open time capsule with mixed emotions
YES, YOU DREW THESE — NRHEG kindergarten teacher Becky Jensen shows a display of kindergarten artwork to graduating seniors as they opened their kindergarten time capsule Monday, May 13. The class graduates Sunday at 2 p.m. (Star Eagle photo by Carrie Gilbertson)
By CARRIE GILBERTSON
Staff Writer
The morning of Monday May 13, 2013 was a blast from the past for NRHEG High School seniors. Mrs. Becky Jensen, the kindergarten teacher for many of them, visited the high school with a box of treasures: their kindergarten time capsule. Jensen created the time capsule along with the other New Richland kindergarten teacher at the time, Mrs. Longway.
Many of the pieces packed away for this day were kept without the students knowing. Each child had filled out a star of the week profile that was included. There was also a video that the teachers had recorded throughout the year. Special events such as the Pumpkinland trip and the Thanksgiving play were included on the footage. The classes did watch the video at the end of their kindergarten year, but most of the students had no recollection of it. 
Details

Hits: 931
Hanson marks 50th anniversary of first solo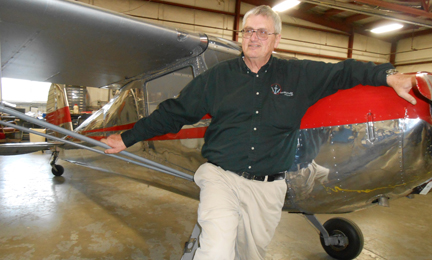 50 YEARS OF FLYING — Jim Hanson stands by his Cessna 120 airplane in the hanger at the Albert Lea Airport, which he manages. Earlier this month, Hanson celebrated the 50th anniversary of his first solo flight, which he took before earning a driver's license. (Star Eagle photo by Kathy Paulsen)
By KATHY PAULSEN
Staff Writer
The names Orville and Wilbur Wright are familiar to everyone. The pioneering brothers were the first flight instructors and taught the world to fly.
The Wright Brothers Master Pilot Award is given by the Federal Aviation Administration (FAA) in recognition of pilots who demonstrate aviation expertise, skills and professionalism, as they were first established by Orville and Wilbur Wright.
On Saturday, May 4, the FAA bestowed this honor on James Paul Hanson, for a distinguished flying career spanning more than 50 years. Hanson first soloed an airplane on his 16th birthday, May 1, 1963, and on Saturday, May 4th, 2013, he threw a party for his friends and relatives to celebrate the 50th anniversary of the event, at the Albert Lea Airport, which he manages.
Details

Hits: 1672
NRHEG spring musical draws rave reviews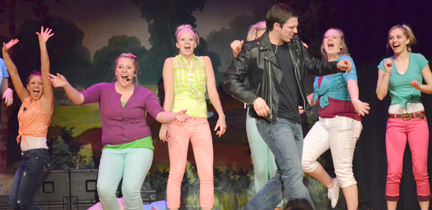 NRHEG High School presented its 2013 spring musical, "Bye Bye Birdie," to rave reviews for three shows last Friday and Saturday. Above from left: Kalana Shurson, Brina Bergland, Brenna Hagen, Brad Claycomb, Maddy Reed. Emmy Hobbs. Below from left: Brina Bergland, Nicole Edon, Brina Bergland, Kalana Shurson, Abby Christopherson, Brenna Hagen, Emmy Hobbs and Hailey Clausen. For more color photos from the play, see Pages 6, 7 and 14 of this week's Star Eagle. (Star Eagle photo by Chris Schlaak)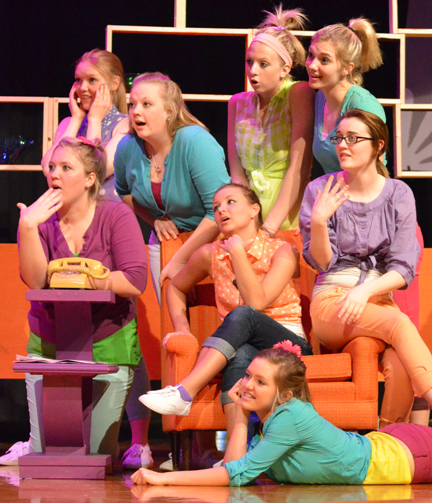 Details

Hits: 1042
NRHEG prom 2013, 'Diamonds In The Sky'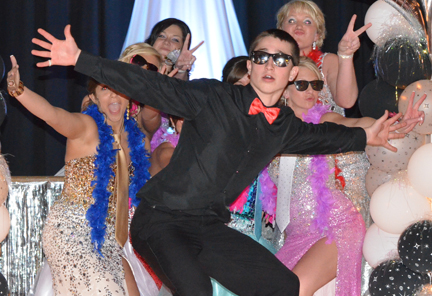 Saturday, May 4 was a big night for NRHEG High School prom-goers. Top, celebrating the night are, from left, Dana Jensen, Paige Bolduan, Jenika Jongbloedt, Kiley Beenken, Nic Mangskau, Brina Bergland and Brenna Hagen. Below from left are Chelsey Nelson, Robyn Lorence and Ashley Ayers. See Pages 8-10 of this week's Star Eagle for color photos of all 2013 NRHEG prom couples. (Star Eagle photos by Chris Schlaak)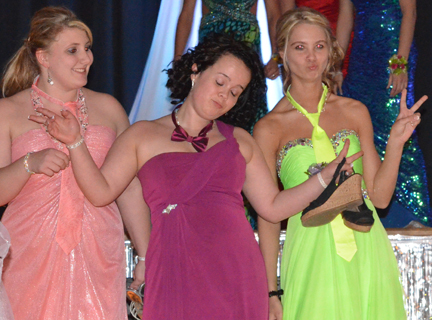 Details

Hits: 919
Economy retires as NRHEG educator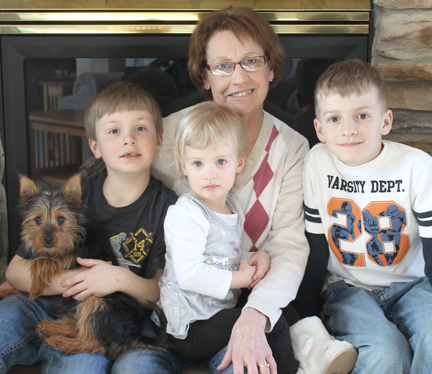 FAMILY TIME — That's what Julie Economy has had more of since retiring from the NRHEG School District after 33 years. She's pictured with her grandchildren, from left, Kaeden Neitzel (holding Abby), Brynlee Neitzel and Zachary Neitzel. (Star Eagle photo by Jim Lutgens)
By RACHEL RIETSEMA
Staff Writer
After 33 years worth of lesson plans completed for NRHEG school district, Julie Economy decided the time had drew near. So near in fact that it was time to retire.
"I do have some health issues and a desire to be free to spend more time with my sister, Barb, who is a resident of New Richland Care Center," Economy said. "I want to be able to help my children and grandchildren and plant the garden on time for a change."
Although she has no regrets, she dearly misses the kids and her grandchildren at school. The staff members are pulling on her heart strings too.