Details

Hits: 691
Panthers top Hayfield for sub-section title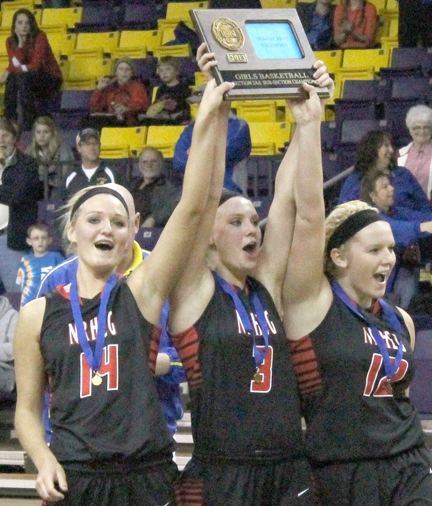 NRHEG girls' basketball players Katie Cole (14), Carlie Wagner (3) and Jade Schultz (12) hold the Section 2AA South Sub-Section championship trophy aloft after the Panthers defeated Hayfield 58-48 at Minnesota State-Mankato Wednesday night. The Panthers trailed at halftime and the game was close throughout until NRHEG pulled away in the final minutes. The win advanced the Panthers to the Section 2AA championship game Friday at 8 p.m. at Minnesota State. The winner of that game goes to the state tournament. "Hayfield did a great job defensively and held our fast break in check," said coach John Schultz of Wednesday's game. "We let our missed shots get to us. But defense and rebounds, the things we can control, we did a nice job with. I was proud of our efforts. Jade Schultz gave great effort all around to keep us in the game. Our kids had to play with adversity and come from behind to win. This should help us play with more poise next game." (Star Eagle photo by Jim Lutgens)
Details

Hits: 3344
Panthers cruise to sub-section title game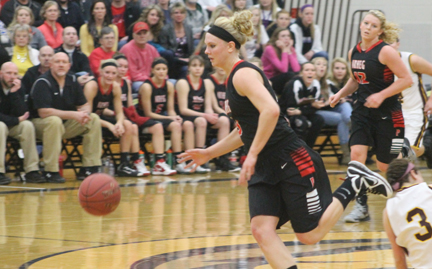 NRHEG's Carlie Wagner steals the ball on her way to a fast-break layup during the NRHEG girls' basketball team's 63-28 victory over Blue Earth Area in the Section 2AA South Sub-Section semifinals at Mankato East High School Friday night. Wagner finished with 36 points as the Panthers advanced to the sub-section title game rescheduled for Wednesday, March 6 at 6 p.m. at Minnesota State-Mankato. (Star Eagle photo by Jim Lutgens)
Details

Hits: 983
Geneva business survives ups, downs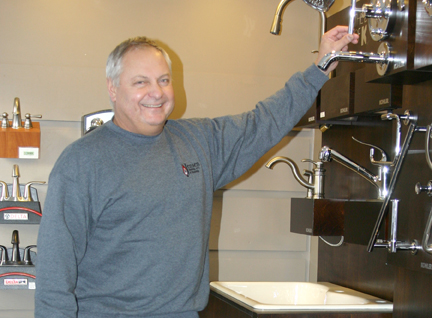 35 AND COUNTING — For 35 years, DeWayne Jensen has been at your service at Jensen Heating, Air Conditioning and Plumbing in Geneva. (Star Eagle photo by Rachel Rietsema)
By RACHEL RIETSEMA
Staff Writer
Many moons ago, DeWayne Jensen embarked on a business venture. And although he had no idea what the future held, he didn't let fear didn't stand in his way.
"I had just finished management school with Cenex," Jensen said. "They wanted me to assume a managerial role, but I thought if I'm going to do that, I should probably be in my own business."
He quickly turned this courageous idea into action, and evidently his efforts paid off, as he has claimed the title of Jensen Heating, Air Conditioning and Plumbing CEO for the past 35 years."
"I pretty much self-taught myself by reading a lot manuals," he said.
Details

Hits: 3272
Panthers trounce Maple River in tourney opener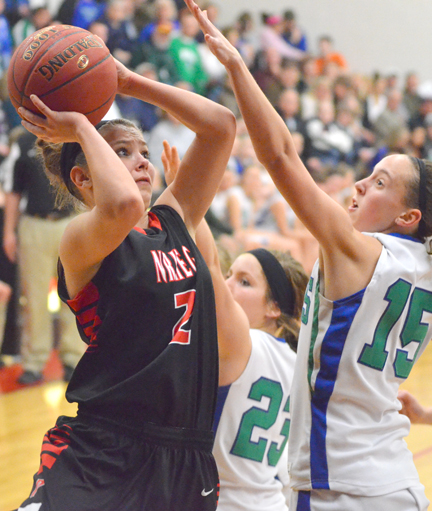 FAST-BREAK BASKET — NRHEG eighth-grader Marnie Wagner (2) goes to the hoop for two points against Maple River's Molly Landsteiner (23) and Emily Spear (15) during the Panthers' sub-section tournament opener in New Richland Tuesday night. There were no postseason jitters for the Panthers, who led 49-5 at halftime and won 79-9, improving to 26-1. Marnie scored eight points, her twin sister Maddie added seven and big sister Carlie led with 27. The Panthers face Blue Earth Area at 6 p.m. Friday at Mankato East High School. (Star Eagle photo by Chris Schlaak)
Details

Hits: 3731
Three NRHEG wrestlers advance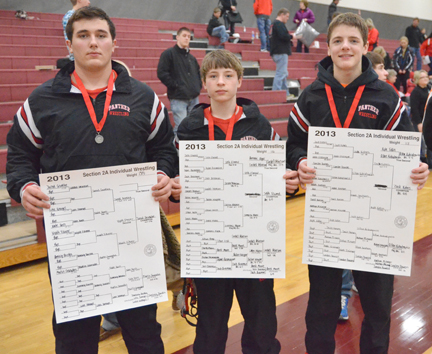 NRHEG High School wrestlers, from left, Wyatt Fitterer, Cordell Peterson and Dillon Kubiatowicz qualified for the state tournament Saturday at Blue Earth Area High School, where final-year head coach Paul Cyr was honored as Section 2A Coach of the Year. The state tournament is Feb. 28-March 2 at the Xcel Energy Center in St. Paul. (Star Eagle photo by Chris Schlaak)