Details

Hits: 890
Economy retires as NRHEG educator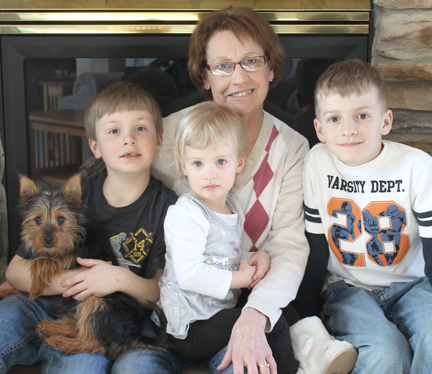 FAMILY TIME — That's what Julie Economy has had more of since retiring from the NRHEG School District after 33 years. She's pictured with her grandchildren, from left, Kaeden Neitzel (holding Abby), Brynlee Neitzel and Zachary Neitzel. (Star Eagle photo by Jim Lutgens)
By RACHEL RIETSEMA
Staff Writer
After 33 years worth of lesson plans completed for NRHEG school district, Julie Economy decided the time had drew near. So near in fact that it was time to retire.
"I do have some health issues and a desire to be free to spend more time with my sister, Barb, who is a resident of New Richland Care Center," Economy said. "I want to be able to help my children and grandchildren and plant the garden on time for a change."
Although she has no regrets, she dearly misses the kids and her grandchildren at school. The staff members are pulling on her heart strings too.
Details

Hits: 1220
Ellendale musician releases second CD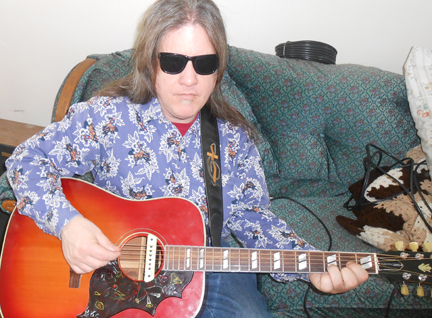 MUSIC MAN — Matt Arthur of Ellendale was born blind, but that hasn't stopped him from succeeding in the world. He recently released his second gospel music CD, "Heavy on my Mind." (Star Eagle photo by Kathy Paulsen)
By KATHY PAULSEN
Staff Writer
Matt Arthur is often seen making his way around Ellendale. He carries a white stick and, for those who don't know, yes, he is blind.
He is blind. But no one said he couldn't see.
Matt probably "sees" more than many of us, as he assumes his life by seeing without eyesight. He has vision, probably because he had parents who had the "sight" to see and trust their child just like the rest of the kids. 
There was no, "Poor Matt," but more, "Matt you can do this," and he did and still does. He listens to and hears what is going on. He takes part in many community events and affairs that many don't even think about.
Details

Hits: 1527
Wagner rewrites the books with six state records
WE'RE NO. 1 — Members of the NRHEG girls' basketball team celebrate after winning the Class AA state championship Saturday afternoon at Target Center in Minneapolis. The Panthers, No. 2 in the final state ratings, defeated No. 3 Braham 60-59 in what's been called one of the most exciting championship games in state tournament history. The Panthers' Carlie Wagner made history herself, breaking five state records and tying another.  (Star Eagle photo by Chris Schlaak)
By JIM LUTGENS
Editor/Publisher
For Carlie Wagner and the New Richland-Hartland-Ellendale-Geneva girls' basketball team, it was a storybook end to a fairy tale season. There are no more game plans to prepare, no more challenges or adversity to overcome and, most importantly, no more teams to beat.
The Panthers won it all.
Behind a relentless scoring performance by Wagner and tremendous team defense, the Panthers captured the Minnesota Class AA state championship with a thrilling 60-59 victory over Braham at Target Center in Minneapolis Saturday afternoon.
"It's incredible," said Wagner, signing autographs after the welcome home ceremony Saturday. "Just looking at everyone in the packed gym is insane. When everyone stood up and cheered, I just went numb."
Details

Hits: 800
2013 NRHEG Spring Band Concert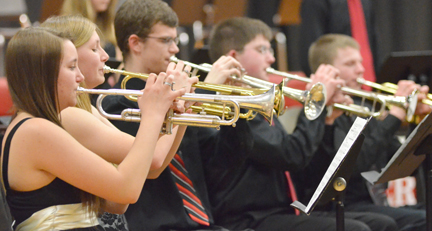 After two postponements because of snow, the NRHEG Spring Band Concert was finally held last Thursday at the high school gymnasium in New Richland. Above from left: Nicole Kaupa, Missy Malakowsky, Logan Knutson, Doug Rudau and Adam Anderson. Below from left: Natalie Aaseth, Aubrey Schlinger, Taytum Ihrke and Lillian Bell. For more photos from the concert, see Page 11 of this week's Star Eagle. (Star Eagle photos by Chris Schlaak)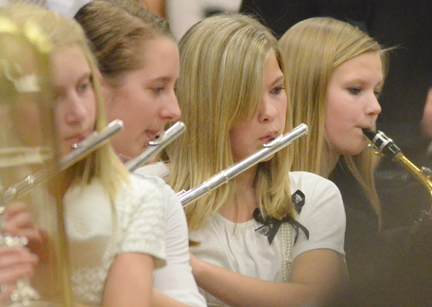 Details

Hits: 731
NRHEG girls capture Class AA state crown
Above, NRHEG girls' basketball players mob Carlie Wagner after the Panthers defeated Braham 60-59 for the Class AA Minnesota state championship Saturday at Target Center in Minneapolis. Below, Wagner goes in for a lay-up after stealing the ball late in the game. Wagner set five state tournament records and tied another as the Panthers finished 32-1 with a 30-game winning streak. (Star Eagle photos by Chris Schlaak)