Details

Hits: 1051
Geneva business survives ups, downs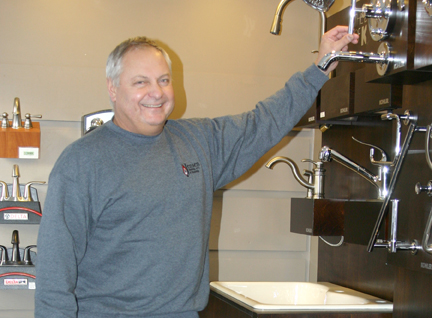 35 AND COUNTING — For 35 years, DeWayne Jensen has been at your service at Jensen Heating, Air Conditioning and Plumbing in Geneva. (Star Eagle photo by Rachel Rietsema)
By RACHEL RIETSEMA
Staff Writer
Many moons ago, DeWayne Jensen embarked on a business venture. And although he had no idea what the future held, he didn't let fear didn't stand in his way.
"I had just finished management school with Cenex," Jensen said. "They wanted me to assume a managerial role, but I thought if I'm going to do that, I should probably be in my own business."
He quickly turned this courageous idea into action, and evidently his efforts paid off, as he has claimed the title of Jensen Heating, Air Conditioning and Plumbing CEO for the past 35 years."
"I pretty much self-taught myself by reading a lot manuals," he said.
Details

Hits: 3823
Three NRHEG wrestlers advance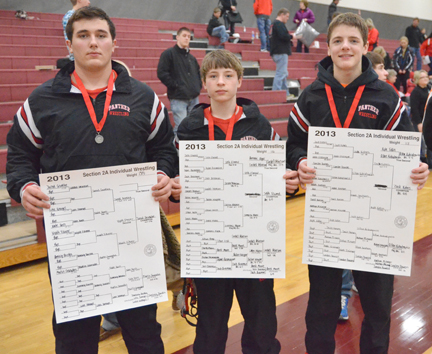 NRHEG High School wrestlers, from left, Wyatt Fitterer, Cordell Peterson and Dillon Kubiatowicz qualified for the state tournament Saturday at Blue Earth Area High School, where final-year head coach Paul Cyr was honored as Section 2A Coach of the Year. The state tournament is Feb. 28-March 2 at the Xcel Energy Center in St. Paul. (Star Eagle photo by Chris Schlaak)
Details

Hits: 3104
As expected, NRHEG girls draw No. 1 seed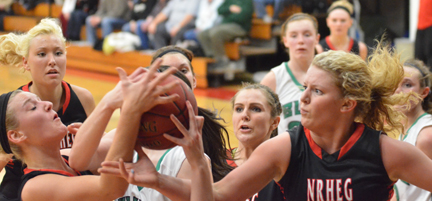 It may seem early, but tournament time is here again for the NRHEG girls' basketball team, here shown fighting for a rebound in a win over WEM last week. The Panthers are rated No. 2 in the state in Class AA and are the No. 1 seed in the south sub-section of Section 2AA. They'll host a home game Tuesday, Feb. 26 at 7 p.m. against eighth-seeded Maple River (4-22). Pictured are NRHEG players, from left, Katie Cole, Paige Overgaard, Hannah Lundberg, Jade Schultz and, in the background, Carlie Wagner. The section tournament continues Friday, March 1 at 6 p.m. at Mankato East High School. The sub-section finals are Tuesday, March 5 at 6 p.m. at Minnesota State-Mankato. The section championship game is Friday, March 8 at 8 p.m. at Minnesota State. (Star Eagle photo by Chris Schlaak)
Details

Hits: 3804
Longtime owner of Lady Bug Thrift Store retires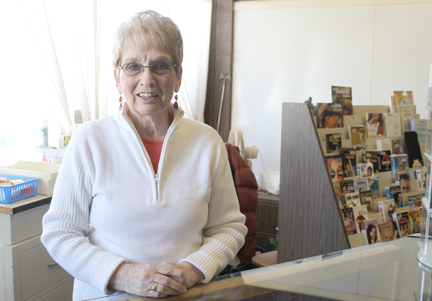 TIME TO RETIRE — After 38 years owning the Lady Bug Thrift Store in New Richland, Carol Shultz has decided it's time to let someone else take over. (Star Eagle photo by Jessica Lutgens)
By JESSICA LUTGENS
Editorial Assistant
If you live in or around New Richland, you're most likely familiar with the Lady Bug. Our own local thrift store tucked between Wagner's and New Richland Drug, this shop has been going strong for 38 years, thanks to the ownership of Carol Shultz, who recently decided it was time to hang up the towel and pass on the store to another owner.
When it all started, Carol and her sister shared ownership of the store.
"We wanted to be able to be home when our kids got home from school," Carol said when remembering her reason for starting the shop, "and regulate our own hours."
For the first 18 years, the Lady Bug resided on Highway 13. After Carol's sister retired, she decided to move to Broadway in New Richland, where she has owned the shop herself for 20 years. Looking back on her years, Carol shared some of her fonder memories.
Details

Hits: 1525
After 65 years, John and Lucille Nechanicky still spark the twinkle in one another's eyes
LONG AND WINDING ROAD — John and Lucille Nechanicky have enjoyed 65 years of mostly wedded bliss. They raised four children on the 40-acre piece of land near Ellendale and have 10 grandchildren and 14 great grandchildren. (Star Eagle photo by Kathy Paulsen)
They were sweethearts, she and John
In a time long past.
They were young and handsome
When they found love at last.
Each time she saw him coming
Her heart was all aglow.
She felt she couldn't love him more 
How little does youth know.