Details

Hits: 2080
NRHEG girls complete 3-0 week with win over Goodhue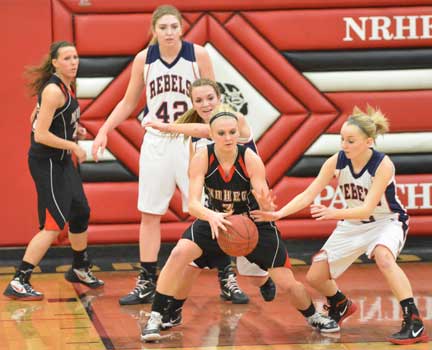 CRUNCH TIME — NRHEG's Carlie Wagner (3) tries to get a handle on the ball between a pair of USC defenders during the Panthers' 89-57 victory at New Richland Thursday, Jan. 26. It was part of a 3-0 week that included an overtime win over BA and a victory over a 17-2 Goodhue team. At back left is the Panthers' Raelin Schue. (Star Eagle photo by Chris Schlaak)
By JIM LUTGENS
Editor/Publisher
It was billed as a clash of the titans.
The NRHEG girls' basketball team turned it into a mismatch.
The Panthers, rated No. 2 in the state in Class AA, took a big early lead and cruised to a 77-68 victory over a 17-2 Goodhue team Saturday night at Carleton College in Northfield. It completed a 3-0 week for NRHEG, which improved to 20-0 overall and 11-0 in the Gopher Conference. The Panthers are the last remaining undefeated team in Class AA.
"I was very proud of our efforts tonight," said coach John Schultz. "Goodhue (ranked No. 2 in Class A) had just beat Kenyon-Wanamingo by 30 and also beat previously undefeated Pine Island last week. We knew they were a quality team coming in. We rose to the occasion."
The Panthers took a 12-2 lead to start the game, led by 18 at half and increased it to 27 midway through the second half. They were up by 23 with four minutes left when Schultz cleared the bench.
Details

Hits: 2093
Panthers drop tough one to Waseca, win big one over LARP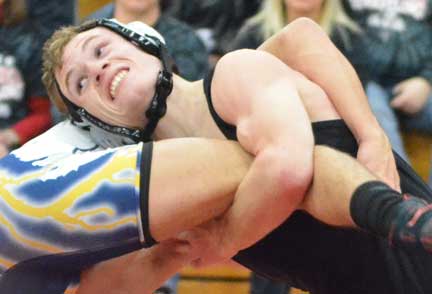 TWO FOR A TAKEDOWN — NRHEG's Jacob Staloch takes down Waseca's Tanner Pehrson during last Thursday's nonconference dual meet at New Richland. The Panthers lost 34-32. (Star Eagle photo by Chris Schlaak)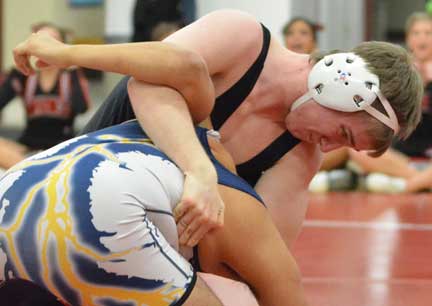 LOCKDOWN — The Panthers' Matt Dahle attempts a move on Waseca's Jon Trevino at New Richland last Thursday. (Star Eagle photo by Chris Schlaak)
By JIM LUTGENS
Editor/Publisher
The NRHEG wrestling team ran its dual-meet record to 8-3 when it went 1-2 last week.
The Panthers lost 34-32 to Waseca at home Thursday. On Saturday at Kasson, they defeated Lewiston-Altura/Rushford-Peterson 35-33 while falling 60-10 to Simley, rated No. 1 in the state in Class AAA.
Coach Paul Cyr was not happy with what happened against Waseca.
"We were very disappointed in the outcome of the dual meet," said Cyr. "We had to hold some of our guys out due to match count issues and it came back to haunt us. Frankly, it was a poor job of matching up and coaching on my part. I feel badly for our guys in that respect. Give Waseca credit. They wrestled well when they had to and didn't give falls which ultimately made the difference."
For those unfamiliar with the term "match count," the Minnesota State High School League allows each wrestler to compete in 36 matches before the section tournament.
Details

Hits: 1470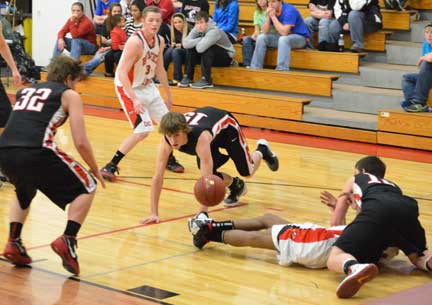 TOUGH PLAY — NRHEG's Sam Lundberg (32), Spencer Hanna (15) and Nic Mangskau (10) scramble for a loose ball against Bethlehem Academy at New Richland last Tuesday. (Star Eagle photo by Chris Schlaak)
By JIM LUTGENS
Editor/Publisher
The NRHEG boys' basketball team experienced both ends of the spectrum last week.
Unfortunately, neither was a victory.
The Panthers kept it close throughout against Bethlehem Academy on Tuesday, falling 51-46 at New Richland. Three nights later they were blown out by United South Central 75-37 at Wells.
Tuesday was a familiar story of late for the Panthers, according to coach Pat Churchill.
"We play well, but fall on the short end of the stick," he said. "BA made the plays down the stretch and made their free throws to win the game. It is very frustrating for our kids. We know we are playing better basketball but we aren't seeing the results in the wins and losses."