Details

Hits: 1698
No. 2 ranked NRHEG girls end regular season without a loss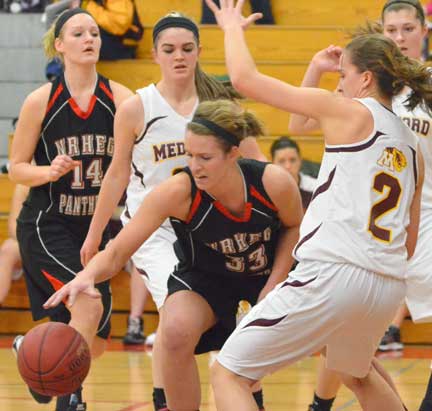 IT'S UNDER CONTROL — NRHEG senior Anna Schlaak (33) dribbles in the lane during the Panthers' victory over Medford last Tuesday. In the background is NRHEG's Katie Cole (14). The Panthers completed a 26-0 regular season with a win Friday at Randolph. (Star Eagle photo by Chris Schlaak)
PASS IT ON — The Panthers' Hannah Lundberg (21) looks to pass the ball during last week's game against Medford. (Star Eagle photo by Chris Schlaak)
By JIM LUTGENS
Editor/Publisher
The only thing in question for the NRHEG girls' basketball team last week was the scores.
Everyone knew the unbeaten Gopher Conference champions would win to complete the regular season 26-0, best in school history. Even with starting guard Jade Schultz sidelined, the Panthers blew past Medford 67-35 last Tuesday and blasted Randolph 73-28 Friday.
The Panthers, ranked No. 2 and the only unbeaten team in Class AA, are the No. 1 seed in the sub-section and will host No. 8 Triton Tuesday, Feb. 28 at 7 p.m. If they win, they'll host a game Friday, March 2 at 7 p.m. From there the tournament moves to Minnesota State-Mankato and Gustavus Adolphus College in St. Peter.
But coach John Schultz isn't thinking about that just yet. He's more than happy with the one-game-at-a-time approach that's gotten the Panthers this far. Though they won their fourth consecutive Gopher Conference title, they're aiming for their first state tournament berth since 2004.
Details

Hits: 1815
WHERE WILL HE LAND? — NRHEG senior Seth Petranek has Blue Earth Area's Kysten Zierke in a precarious position during Section 2A Dual Meet action at Mapleton Saturday. Petranek won the match 10-6 and the Panthers won the meet 39-33. They went on to fall 56-11 to eventual section champion Jackson County Central. (Star Eagle photo by Chris Schlaak)
By JIM LUTGENS
Editor/Publisher
Things worked out about as expected Saturday for the NRHEG wrestling team.
The Panthers put together what coach Paul Cyr called a workmanlike effort in defeating Blue Earth Area 39-23 before falling 56-11 to eventual champion Jackson County Central in the Section 2A Dual Meet Tournament at Mapleton.
"JCC proved to be the dominant force in our section as they ran over the competition in their three dual meets," said Cyr, whose team finished the dual-meet season with a 16-6 record.
The highlights in the BEA meet, according to Cyr, were a fall by Dillon Kubiatowicz at 106 pounds and a victory by Dillon Parpart at 160 which avenged a loss earlier in the season. Pins by Dustin Esplan and David Lassahn helped provide some cushion.
Details

Hits: 1477
EXCUSE PLEASE — NRHEG's Nic Mangskau grabs a rebound between Randolph defenders during the Panthers' 64-20 victory last Friday. (Star Eagle photos by Chris Schlaak)
By JIM LUTGENS
Editor/Publisher
The NRHEG boys' basketball team could be getting hot at the right time.
The Panthers, who have lost numerous closes contests this season, made it three of four wins by sinking Medford 60-52 last Tuesday and rocking Randolph 64-20 on Friday.
The Panthers improved to 9-16 overall and finished 6-10 in the Gopher Conference.
Coach Pat Churchill called the game at Medford hard fought.
"We did some very nice things," he said. "We moved the ball well against their zone and got some great looks. Against their man we ran our motion and got some very good shots."