Details

Hits: 1379
Panthers vanquish Vikings in sub-section semis
ROUGH AND TUMBLE ACTION — Katie Cole of the NRHEG girls' basketball team (14) battles for the ball with Hayfield's Abby Blanchard during a tough sub-section semifinal in front of a packed house in New Richland Friday night. The Panthers won 45-32, improving their record to 28-0. They'll next face Blue Earth Area Monday, March 5 at 7:45 p.m. at Minnesota State Mankato for the sub-section title. If they win Monday, they play for the Section 2AA championship and a state tournament berth Friday, March 9 at 8 p.m. at Gustavus Adolphus College in St. Peter. (Star Eagle photo by Jim Lutgens)
By JIM LUTGENS
Editor/Publisher
No one ever said getting to the state tournament was easy.
That's why they call it the big show.
The top-seeded, undefeated NRHEG girls' basketball team took another step in that direction Friday night, surviving a tough challenge from No. 4 seed Hayfield before emerging with a 45-32 sub-section semifinal victory in New Richland.
The Panthers, 28-0 and rated No. 2 in the state in Class AA, advanced to Monday's sub-section final against No. 2 seed Blue Earth Area at 7:45 p.m. at Minnesota State, Mankato. If they win Monday, they Panthers play Friday at Gustavus Adolphus College in St. Peter for the Section 2AA title and a state tournament berth.
Details

Hits: 1449
NRHEG girls host Hayfield Friday
ADVANTAGE, PANTHERS — NRHEG sophomore Carlie Wagner (3) goes to the basket for a layup despite the efforts of a Triton defender during Tuesday night's sub-section opener in New Richland. The top-seeded, undefeated Panthers won 56-35. They'll face fourth-seeded Hayfield Friday, March 2 at 7 p.m. in New Richland. (Star Eagle photo by Chris Schlaak)
By JIM LUTGENS
Editor/Publisher
The opening round of the sub-section tournament was not a surprise for fans of the NRHEG girls' basketball team.
The top-seeded, undefeated Panthers were rusty coming off a 12-day layoff but still cruised to a 56-35 victory over eighth-seeded Triton in New Richland Tuesday night.
"It was a very sloppy game for us," said NRHEG coach John Schultz. "It's been 12 days since we have had a game and it showed.''
But the Cobras were feisty, especially in the first half as NRHEG trudged to a 28-16 halftime lead.
"Triton had a lot to do with that," said Schultz. "They defended our fast break well and rebounded right with us. We didn't get enough second shots on offense and made one too many passes on the breaks."
Details

Hits: 1277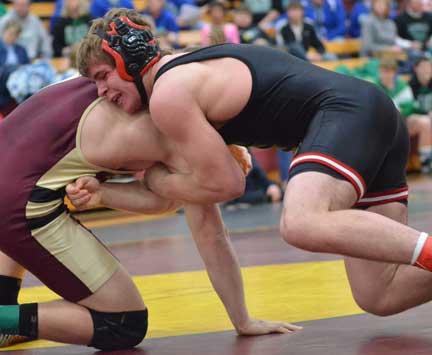 BACK TO STATE — NRHEG senior Seth Petranek, right, earns a victory Saturday at Blue Earth and a second straight trip to the state tournament. (Star Eagle photo by Chris Schlaak)
By JIM LUTGENS
Editor/Publisher
NRHEG coach Paul Cyr had high hopes for two and mixed hopes for several others entering the Section 2A Individual Wrestling Tournament.
The two came through.
Seniors Dustin Esplan and Seth Petranek advanced to the state tournament while four others just missed in last weekend's section tournament that concluded Saturday night at Blue Earth.
Esplan was most impressive in taking the 120-pound championship, winning by fall and, in the finals, by technical fall. He'll take a record of 36-4 to state, where he finished third last year at 119.
Petranek was the runner-up at 182, falling 10-6 to USC's Brady Thisius in the finals. Petranek, like Esplan a two-time state entrant, is 33-7. He was 2-2 at state last year and did not place at 189.