Details

Hits: 1956
Panthers claim Gopher crown, improve overall record to 22-0
CATCH US IF YOU CAN — Carlie Wagner leads the fast break at Janesville last Friday during the Panthers' 80-33 victory. Also pictured are the Panthers' Katie Cole (14) and Tori Raimann (11). (Star Eagle photo by Chris Schlaak)
By JIM LUTGENS
Editor/Publisher
The games weren't exactly thrillers, but some excitement came out of it for the NRHEG girls' basketball team.
The Panthers, in the midst of one of their best seasons ever, clinched the Gopher Conference championship outright last week by hammering JWP 80-33 on Friday and blowing out Blooming Prairie 63-30 on Tuesday.
The Panthers improved to 13-0 in the conference, four games ahead of second-place USC with three games to play. NRHEG is 22-0 overall and rated No. 2 in the state in Class 2A.
The outcome of neither game was in doubt, especially at Janesville where the Panthers led 50-17 at the intermission.
As it has been all season, rebounding was key for NRHEG.
"I was very impressed with our rebound totals, 60-24," said coach John Schultz. "That tells me we were hustling."
Details

Hits: 1288
By JIM LUTGENS
Editor/Publisher
The endurance test lasted three days and included eight dual meets for the NRHEG wrestling team.
By all accounts, the Panthers passed.
NRHEG improved its dual meet record to 14-5 by winning six of eight — including five in a row to finish — as they traveled to Kenyon-Wanamingo on Thursday, Lakeville South Friday and Wabasha-Kellogg Saturday.
"I was extremely pleased with our efforts over the three days," said NRHEG coach Paul Cyr. "We scheduled this with the intention of testing all of us — coaches included — and it certainly proved to be just that. We responded very well."
At Kenyon, the Panthers defeated Pine Island 35-33 and lost to the host team 45-15.
"We bounced back from a tough night and were 5-1 the next two days," said Cyr.
Details

Hits: 2158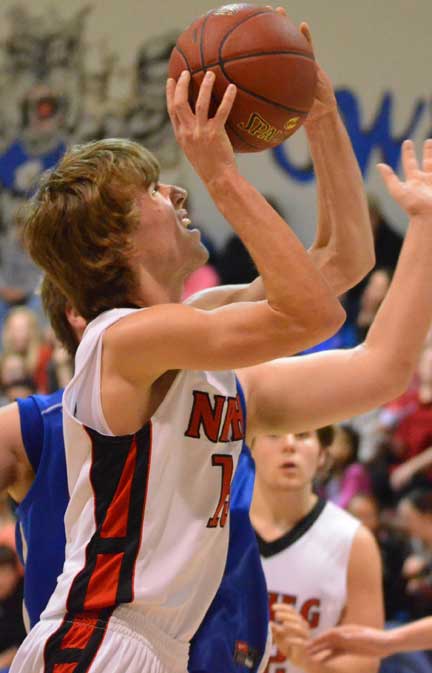 GOING UP — The Panthers' Spencer Hanna goes to the hoop for a shot at Janesville last Friday. (Star Eagle photo by Chris Schlaak)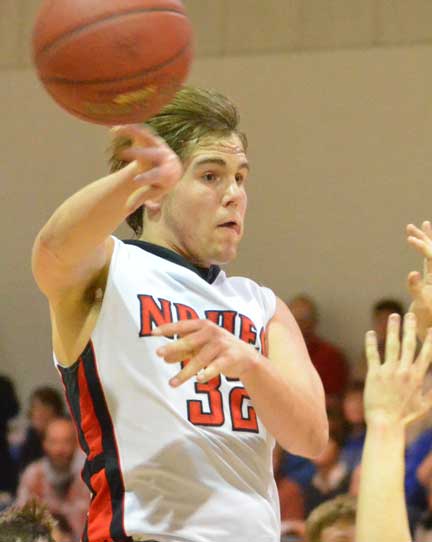 DISHING OFF — NRHEG's Sam Lundberg delivers a no-look pass during the Panthers' 65-62 loss at Janesville Friday. (Star Eagle photo by Chris Schlaak)
By JIM LUTGENS
Editor/Publisher
The NRHEG boys' basketball team snapped a five-game losing skid last week.
A miracle shot by Janesville-Waldorf-Pemberton started another one three nights later.
The Panthers, who have played tough but fell short many times this season, ended their rough stretch with a 57-48 triumph at Blooming Prairie on Tuesday, but fell 65-62 to JWP Friday on a three-point basket in the final seconds.
It left the NRHEG boys 6-15 overall and 4-9 in the Gopher Conference.
According to coach Pat Churchill, a stretch late in the first half was the determining factor against JWP.
The Panthers led by 10 with 4:30 left in the first half and had a chance to break it open, but the Bulldogs went on an 11-2 run and NRHEG was up 35-34 at halftime.