Details

Hits: 1179
The NYWA State Wrestling Tournament will be attended by the NRHEG Middle School wrestling team this Thursday and Friday, March 29 and 30.
Team members include Cordell Peterson, Matt Butler, Zeke Erickson, Chad Erickson, Cole Staloch, Wyatt Fitterer, Trey Hoppe, Palmer Peterson, Bryce Okland, Brett Kubiatowicz, Jonathan Weller, Gunther Olsen, Jack Skalicky and Joe Jensen. The team will weigh in on Thursday afternoon and wrestle Thursday evening and finish their brackets on Friday.
In addition, five individual wrestlers qualified for state at the regional wrestling tournament this past Friday in Byron.  These five wrestlers were in the top four of their brackets at the regional competition and will wrestle in Rochester in their individual weight classes on Friday morning.  The individual wrestlers include Trey Hoppe, Zeke Erickson, Wyatt Fitterer, Bryce Okland and Cole Staloch.
Other wrestlers who qualified for a spot at the regional tournament but did not place in the top four of their brackets are Matt Butler, Cordell Peterson and Chad Erickson. 
All wrestlers had an eventful night of at least three matches and had some very tough competition within their weight classes.
Congratulations go out to all the wrestlers for a great season and are wished the best of luck this weekend at the Northland Youth Wrestling Association State Tournament.
Details

Hits: 1190
By JIM LUTGENS
Editor/Publisher
NRHEG 2011-12 winter sports award winners were announced during the annual awards ceremony last Tuesday in the NRHEG High School gymnasium in New Richland.
They were, by sport:
Boys' Basketball
• Panther Award — Carter Tollefson
• Most Improved Player — Tyler Sorenson
• Practice Player Award — Spencer Hanna
• Defensive Player of the Year — Lucas Meyer
• All-conference — Matt Carlson; honorable mention — Sorenson, Sam Lundberg
Girls' Basketball
• MVP — Carlie Wagner
• Most Improved Player — Hannah Lundberg
Details

Hits: 2091
Wagner shines as NRHEG girls take third at state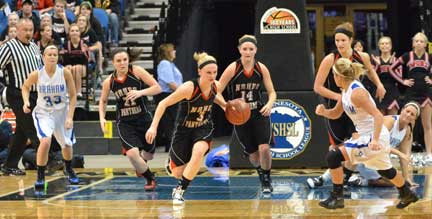 HERE COME THE PANTHERS — Carlie Wagner (3) leads the fast break against Braham. Trailing for NRHEG were Hannah Lundberg (21), Katie Cole (14) and Anna Schlaak. (Star Eagle photo by Chris Schlaak)
By JIM LUTGENS
Editor/Publisher
An undefeated regular season. A trip to the state tournament. Two wins and two individual awards at state. Oh, and two state records.
Last November, they were merely dreams for the New Richland-Hartland-Ellendale-Geneva girls' basketball team.
Last week, they came to fruition.
In a four-day odyssey that began Wednesday at Target Center in Minneapolis and ended in dramatic fashion Saturday at Concordia University in St. Paul, the Panthers experienced elation, deflation and a record-setting final frenzy while finishing third in the state in Class AA.
The Panthers, rated No. 2 in the state in the final Associated Press Class AA poll, finished with the best record in school history, 32-1. The only blemish came Friday night at Target Center in a semifinal loss to Sauk Centre, which went on to fall 46-40 to No. 1 ranked Providence Academy in the championship game.