Details

Hits: 1502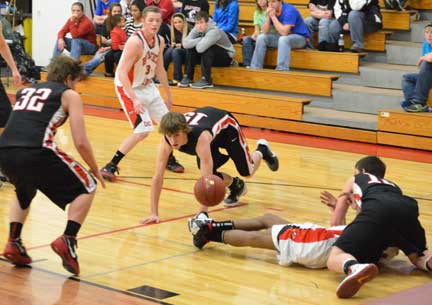 TOUGH PLAY — NRHEG's Sam Lundberg (32), Spencer Hanna (15) and Nic Mangskau (10) scramble for a loose ball against Bethlehem Academy at New Richland last Tuesday. (Star Eagle photo by Chris Schlaak)
By JIM LUTGENS
Editor/Publisher
The NRHEG boys' basketball team experienced both ends of the spectrum last week.
Unfortunately, neither was a victory.
The Panthers kept it close throughout against Bethlehem Academy on Tuesday, falling 51-46 at New Richland. Three nights later they were blown out by United South Central 75-37 at Wells.
Tuesday was a familiar story of late for the Panthers, according to coach Pat Churchill.
"We play well, but fall on the short end of the stick," he said. "BA made the plays down the stretch and made their free throws to win the game. It is very frustrating for our kids. We know we are playing better basketball but we aren't seeing the results in the wins and losses."
Details

Hits: 2694
ANOTHER GOOD SEASON — The NRHEG cheer competition team is competing for the state championship Saturday at Roy Wilkins Arena in St. Paul. The team will also be honored for academic achievement and two team members will receive state awards. Front from left: Stormi Hagen, Dana Jensen, Tiara Robran, Kiley Beenken, Michaela Hansen, Hailey Johnson, Harlee Vokoun and Lexi Wayne. Back: Brina Bergland, Presley Johnson, Hannah Lewison, Brenna Hagen, coach Kari Buendorf, Maddy Schwierjohann, Tara Simon, Jadyn Nelson-Spies and Hannah Light. (Submitted photo)
The NRHEG High School cheer competition team has had another great season.
The girls placed first at Plainview-Elgin-Millville, third at the University of Minnesota, second at Chaplin Park, first in Rochester, and another second-place finish at the Mall of America this past weekend. 
There are 16 girls who compete on the team and represent the communities well. This year's team members are seniors Harlee Vokoun, Michaela Hansen, Lexi Wayne, Tiara Robran and Hailey Johnson; juniors Dana Jensen, Brina Bergland, Maddy Schwierjohann, Brenna Hagen, Tara Simon, Hannah Lewison, Kiley Beenken and Emmy Hobbs; sophomores Presley Johnson, Jadyn Nelson-Spies and Stormi Hagen. Hannah Light is also part of the team but is out with a back injury and is missed greatly by her teammates.  
Details

Hits: 2033
NRHEG girls enjoy 4-0 week, improve to 19-0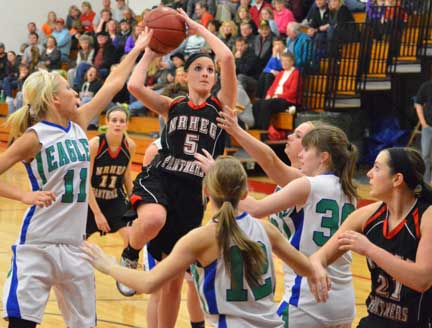 STRAIGHT TO THE HOOP — Abby Crabtree of NRHEG (5) drives straight into four Maple River defenders at New Richland last week. Also pictured for NRHEG are Tori Raimann (11) and Hannah Lundberg (21). (Star Eagle photo by Chris Schlaak)
WHAT TO DO — The Panthers' Danielle Krueger, left, looks to either shoot or pass the ball to Tori Raimann (11) against Waseca last week. (Star Eagle photo by Chris Schlaak)
By JIM LUTGENS
Editor/Publisher
Maple River tried. So did Waseca, Waterville-Elysian-Morristown and Mankato Loyola.
As it has been all season, nobody could stop the NRHEG girls' basketball team last week. The Panthers improved to 19-0 overall and 9-0 in the Gopher Conference with four more victories. The Panthers were rated No. 3 in the state in Class AA in last week's rankings.
On Monday at home against Maple River, the Panthers took an early 20-2 advantage, led 50-13 at halftime and rolled to a 78-34 triumph.
"Our bench played well and played a lot of the game," said coach John Schultz. "They could not handle our press. We broke free for a lot of layups. I was proud to see the rebound totals in our favor, 47-24."
NRHEG individual statistics: Carlie Wagner 22 points, five assists; Katie Cole 12 points, nine rebounds; Jade Schultz 10 points, five rebounds, three assists; Anna Schlaak nine points, nine rebounds, five steals; Abby Crabtree eight points; Maddie Wagner eight points; Raelin Schue five points; Tori Raimann two points; Marnie Wagner one point.