Details

Hits: 2086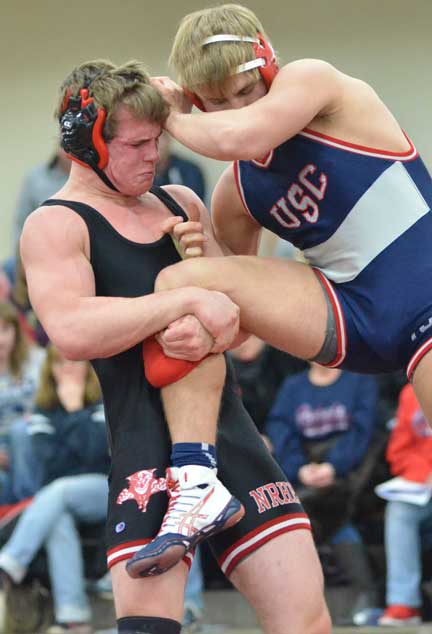 NEVER LET GO — NRHEG's Geoff Ramaker, left, goes for a single-leg takedown on USC's Colten Carlson during last Thursday's Gopher Conference dual meet at Wells. The Rebels won the meet, 50-24. (Star Eagle photo by Chris Schlaak)
By JIM LUTGENS
Editor/Publisher
NRHEG wrestling coach Paul Cyr does not really believe his team is as bad as last Thursday's 50-24 loss at United South Central might indicate.
But one thing is clear.
"At this point," said Cyr. "It looks like USC is better than we are."
The Rebels were on this night, scoring six falls to pull off an upset in what has become one of the area's best wrestling rivalries. It was the first dual-meet loss of the season for the Panthers, who dropped to 7-1 overall and 2-1 in the Gopher Conference.
"We were really disappointed in the outcome of our dual with USC," said Cyr. "There were not many bright spots, even from an individual standpoint."
Having starters Brandon LeBlanc and Matt Dahle out of the lineup did not help NRHEG.
Details

Hits: 1400
By JIM LUTGENS
Editor/Publisher
If close games counted as wins, it would have been a perfect week for the NRHEG boys' basketball team.
As it was, they'll settle for a pair of strong performances.
The Panthers played well but lost twice last week, falling to Blue Earth Area 46-45 on a last-second tip Tuesday and succumbing 71-65 at Mankato Loyola Friday.
The Panthers ran their record to 3-6 in the Gopher Conference and 5-12 overall.
A tip at the buzzer by BEA sophomore Luke Monson was the difference in Tuesday's game at Blue Earth, which saw four lead changes in the last two minutes.
"It was a classic finish," said NRHEG coach Pat Churchill. "We'd hit a big shot and they'd make one."
Matt Carlson hit a three-pointer with 7.8 seconds left to give NRHEG a one-point lead. Blue Earth called time out and quickly brought ball up the court for a shot. The Bucs tipped it twice and the ball bounced and laid on top of the rim for what seemed like forever before dropping in.
Details

Hits: 1944
Esplan, Lassahn net 100th career wins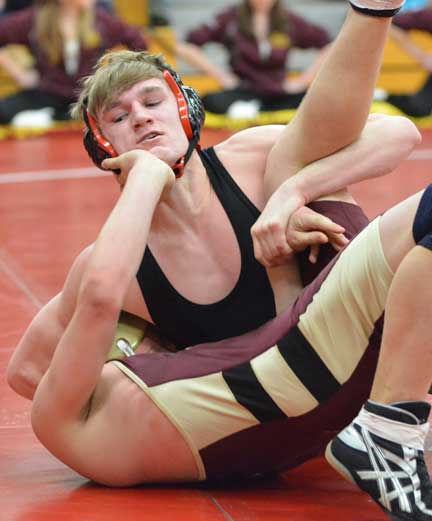 MAT MILESTONE — NRHEG senior David Lassahn, top, was one of two Panther wrestlers to record his 100th career victory at Stewartville Saturday, along with senior Dustin Esplan. Both reached the finals as the Panthers placed third. (Star Eagle photo by Chris Schlaak)
By JIM LUTGENS
Editor/Publisher
There are times when it can be a challenge to please NRHEG wrestling coach Paul Cyr.
The Panthers made sure Saturday was not one of those days.
The NRHEG boys did some of their best wrestling of the season at the Stewartville Invitational, where they finished third among 10 schools.
"This was by far and away our best outing of the season, not only in the number of team points and place, but in overall intensity and effort against good competition. It was great to see our guys wrestle at this level."