Star Eagle office
Details

Hits: 1606
Geneva apartment also damaged
TOTAL LOSS — Firemen work to extinguish a blaze at 403 4th Ave. in Ellendale last Thursday. The house was a total loss. Whitney McCamish, a resident of the house, was treated for smoke inhalation at the Owatonna hospital. Ellendale fireman Roger Larson was treated for chest pain at the scene and then transported to the hospital, where emergency surgery was performed for heart blockage. (Star Eagle photos by Kathy Paulsen)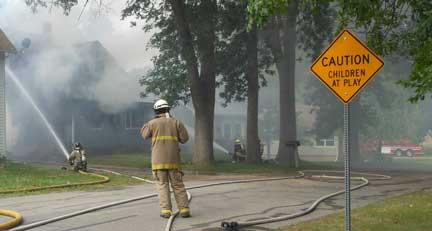 By KATHY PAULSEN
Staff Writer
Local firemen were called out to battle not one, but two fires Thursday, June 14.
The first fire call was received by the Steele County Sheriff's Office, Ellendale Fire Department and Ambulance service at 8:33 a.m. when they were notified of a fire at the home at 403 4th Avenue, Ellendale.
The home is owned by Donna Mae McCamish and was occupied by her daughter, Chanelle, and her four children, Whitney, 14, Sydney, 11, Bo, 6, and Blake, 3. Chanelle, Whitney and Blake were in the home when the fire started.
Whitney immediately evacuated the house, but went back in as her brother and mother were in the home. Sydney and Bo had spent the night at the home of their grandmother, Donna Mae.
Whitney found her brother hiding upstairs. She escorted him from the house and ran next door to Alvin Wobschall's home and asked him to call the fire department. Whitney and Blake ran back to their house and were very glad to see their mother coming back outside.
Details

Hits: 3486
Pfeffer's 41-year teaching career reaches its final hour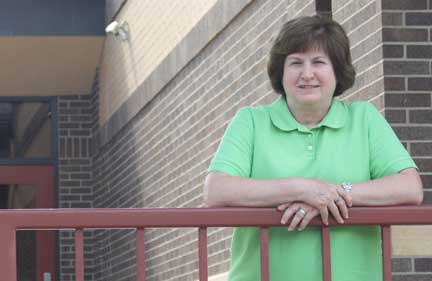 FORTY-ONE YEARS — Kris Pfeffer poses in front of NRHEG High School as a commemoration for her many years with the school district. (Star Eagle photo by Rachel Rietsema)
By RACHEL RIETSEMA
Staff Writer
For Kris Pfeffer, the very first day she set foot inside the New Richland school site seems just like just yesterday.
Pfeffer had no reservations about her new teaching duties, just a few butterflies as she unlocked the fourth-grade classroom door.
"Each year was a brand new experience," Pfeffer said. "I bounced around the grades a lot, but from 1989 on, I taught first grade."
Forty-one years later, Pfeffer's teaching time clock has reached its final hour. Or as she so eloquently sums it up: "I'm just a retired teacher now."
"I have a grandson, Nolan John, who was born  February 4 of this year," Pfeffer said. "I'd like to be available if they need us to babysit."
Details

Hits: 1477
Wagner wins state championship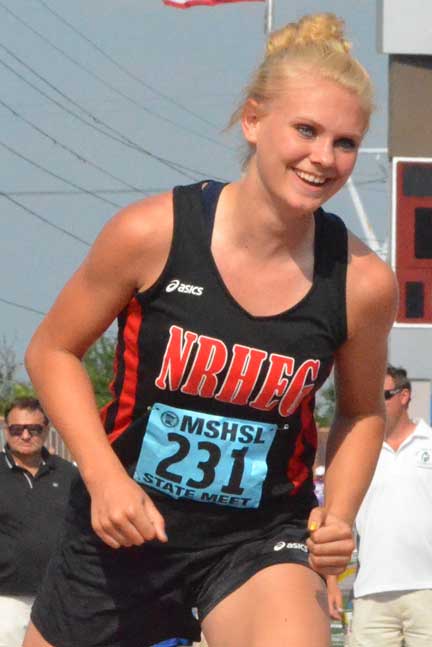 YES! — Carlie Wagner celebrates after clearing 5 feet, 6 inches in Friday's state track and field meet. (Star Eagle photo by Chris Schlaak)
By JIM LUTGENS
Editor/Publisher
Last March, Carlie Wagner nearly carried the NRHEG girls' basketball team to a state championship.
Last Friday, she won one by herself.
The sophomore sensation capped her 10th-grade year by winning the Class A girls' high jump state title at the state track and field meet at Hamline University in St. Paul, clearing 5 feet, 6 inches to tie her own school record.
Details

Hits: 989
NRHEG Salutatorian picks nursing
FIRM PLAN — From an early age, Amy Thompson knew she wanted to follow in her mother's footsteps and become a nurse. Thompson was NRHEG's Salutatorian for 2012. (Star Eagle photo by Rachel Rietsema)
By RACHEL RIETSEMA
Staff Writer
Just in case you missed the 411, there's a recent NRHEG High School graduate who craves the sweet days of scrub fashion.
That alumnus is Amy Thompson, the 2012 Salutatorian.
"When Mr. Stoesz shook my hand in the principal's office, I was very surprised," Thompson said. "The last I knew, I was ranked 11th in the class. Then ever since the tenth grade, I had straight A's."
Bound for Riverland Community College, Thompson sheds light on why she so badly wants to become a nurse.
"As a little girl, a lady came up to me and told me how my mom saved her baby's life," Thompson said. "This made me want to do what she does."
Details

Hits: 1189
Veteran relates Vietnam experiences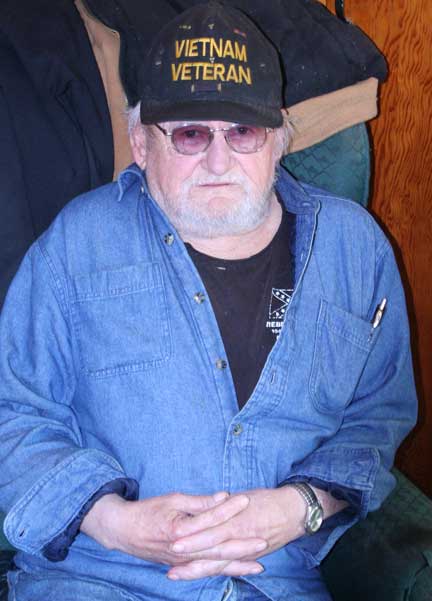 PROUD TO HAVE SERVED — Harlan Kohnert of New Richland is proud to have served his country in Vietnam in the 1960s. (Star Eagle photo by Jody Wynnemer)
By JODY WYNNEMER
Staff Writer
Harlan Kohnert of New Richland served his country in the United States Army. Enlisting right out of high school in 1957, his career spanned nine years, with his discharge in 1966.
"I signed up to be in ordinance, but they threw me in the medics," said Kohnert.
Kohnert was sent to Ft. Sam Houston for school and later to Ft. Hood. His other duty stations were at Scofield Barracks, which is near Honolulu, Hawaii, and to Nuremburg, Germany. In 1960, he was sent to Ft. Benning, GA. The Army had other plans for him.
"I was with the 11th Air Assault, attached to the 101st Airborne," said Kohnert.
U.S. Army Air Assault units use helicopters with light infantry troops to seize and hold key terrain which has not been fully secured, and to directly engage enemy forces. U.S. Army CH-21 helicopter transports arrived in Vietnam on December 11, 1961. Twelve days later, air assault operations using South Vietnamese troops began.