Star Eagle office
Details

Hits: 1194
NRHEG clinches share, then gets help from WEM for outright title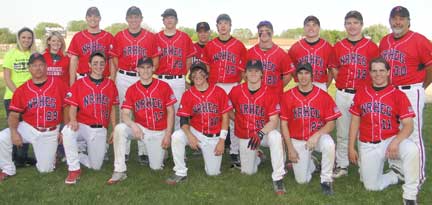 The NRHEG High School baseball team has captured the 2012 Gopher Conference championship. Front from left: coach Jon Meyer, Nic Mangskau, David Lassahn, Lucas Meyer, Sam Jewett, Brad Claycomb and Sam Lundberg. Row two: statistician Marissa Claycomb, statistician Natalie Donovan, Eric Sorenson, Carter Tollefson, Tyler Sorenson, coach Al Shultz, Casey Rosacker, Mitch Akemann, Jake Staloch, Matt Dahle and head coach Jeff Reese. (Submitted photo)
By JIM LUTGENS
Editor/Publisher
The NRHEG baseball players did what they needed.
Then they got a little unexpected help.
The Panthers defeated Blooming Prairie 7-3 last week to secure a share of the Gopher Conference title. Two days later, WEM knocked off then conference co-leader Mankato Loyola to give NRHEG the outright crown. It's the Panthers' 12th conference championship in coach Jeff Reese's 34 seasons at the helm and their first since 2006. It's also a big turnaround from last spring, when NRHEG was seventh in the conference at 3-8 and 7-13 overall.
Details

Hits: 1513
Crafty ladies come from near and far to roll up their sleeves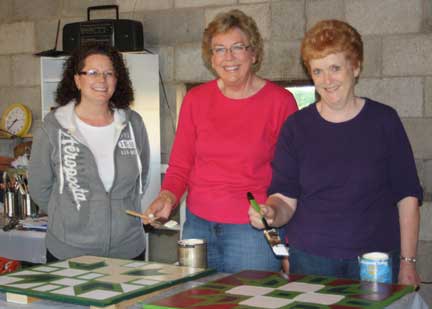 FINAL BRUSH STROKES — Chris Donovan, Paula Hansen and Sue Cory all dipped paintbrushes on May 9, so as to complete their very first barn quilt at Holmes' farm. (Star Eagle photo by Rachel Rietsema)
By RACHEL RIETSEMA
Staff Writer
Word on the street folks, is that barn quilting has become quite the dandy around the Ellendale area lately.
Hard evidence of such wooden creations numbers 10 to be exact, simply due to a joint effort of NRHEG and USC Community Education Director Marilyn Dobberstein and Special Education Paraprofessional Renee Holmes leading their Second Annual Barn Quilting Community Education class.
"Some people think I have hung fabric quilts on my barns," said Holmes. "But, they are actually pieces of wood painted to look like quilts."
This year's students created things a little differently. Instead of a red, white and blue theme, they designed and painted a two-by-two dimensioned board with free reign in colors. It's a task Holmes says is much more difficult than meets the already artistic eye.
Details

Hits: 1336
Rudau, Frank attain Eagle Scout status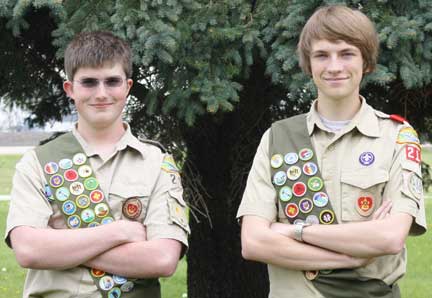 ONE BADGE AT A TIME — Eagle Scouts Douglas Rudau and Hans Frank proudly adorn their troop uniforms and scarves outside the Clarks Grove First Baptist Church. (Star Eagle photo by Rachel Rietsema)
By RACHEL RIETSEMA
Staff Writer
Douglas Rudau and Hans Frank's ability to take charge around campfires is unparalleled. Even their compasses seem to have become extensions of themselves.
After all, these two fine chaps have officially graduated to Eagle Scout status.
"A lot of our Boy Scout skills came from learning by example," said Rudau. "Both of us hope to provide a good example for the younger scouts and encourage them to keep advancing."
Both Rudau and Frank can't take all the credit for the prestigious honor. Only with the help of their scout leaders and fellow members did they achieve such a goal.
"This is taking scouts as far as it goes," Frank said. "It makes me feel like I accomplished something."
Details

Hits: 1762
For 42 years, Diane Boelter has delivered with a smile
AVON ALL THE WAY — New Richland resident Diane Boelter doesn't plan on abdicating her Avon duties anytime soon. There are just too many friends that depend on her. (Star Eagle photo by Rachel Rietsema)
BY RACHEL RIETSEMA
Staff Writer
Some area folks might say Diane Boelter is more prompt than the mailman.
Well, at least that's what Al Batt has said anyway.
"I've been an Avon representative for 42 years," Boelter said. "Orders can be sent in every two weeks, and I've never have missed an order."
No matter the weather conditions, her faithful customers can always expect magazine or product delivery right on the button.
"I've been out there wading up in the snow to my knees before," Boelter said. "Holidays are especially important."
But, she doesn't solely classify these 70 or so women as clients. They have become some of her best friends.
"I really appreciate everyone opening the doors to me, especially when I heard the girls in the café clapping and whooping after being gone for three months," Boelter said. "Those happy to see you and we-are-out-of-eye-liner comments really meant a lot."
Details

Hits: 1471
Lori Crumb wins first-quarter award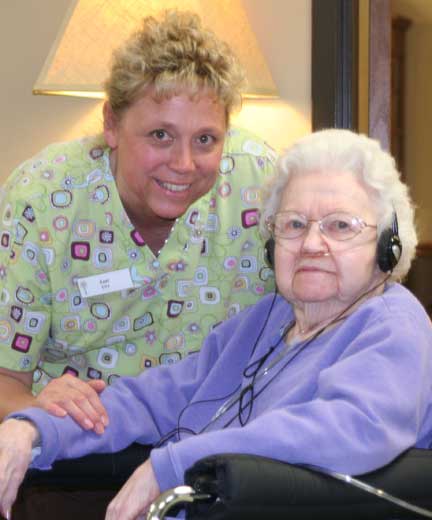 SHINING STAR — CNA Lori Crumb (left) chats with Loretta Pautsch at the New Richland Care Center. Crumb was recently chosen NRCC's "Shining Star of the Quarter" for first quarter 2012. She has worked at the center for almost 11 years. (Star Eagle photo by Jody Wynnemer)
By JODY WYNNEMER
Staff Writer
It takes a special kind of person to be a health care provider, as caring for the elderly presents presents its own special challenges. Meeting those challenges often falls on the shoulders of the staff of a nursing home or care facility. 
This specially-trained group of individuals have to deal with a variety of daily needs of our most senior citizens, and some are not easy.
The New Richland Care Center has a program in place which recognizes a staff member for their accomplishments over a three-month period. It is called the "Shining Star of the Quarter." Recently the care center recognized Lori Crumb, a Certified Nursing Assistant, for the distinction of the first quarter 2012 Shining Star.