Star Eagle office
Details

Hits: 1486
'Gus' Station' may be moved to fairgrounds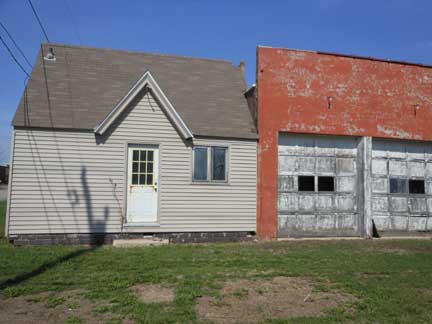 'Gus' Station' as it sits today
By KATHY PAULSEN
Staff Writer
For many years, the highlight of the day for a kid at the Ellendale School was a quick run across the street for candy at Gus' Service Station.
Those days are long gone.
The kids are probably grandparents now and the little building on the corner of School Street and 8th Avenue has been closed since 1981. But look inside and you can still see the image in your mind of the good times it provided. It looks just as it did when LuAnn ran the candy counter.
Now, the building's future is in doubt. But there's a movement afoot to preserve the building and the memories.
The owner of the building has agreed to donate it to the Ellendale Area Historical Society with the stipulation that the building be moved and the lot cleaned up.
The Steele County Historical Society found a place suitable for Gus' Station at their Village Of Yesteryear at the Steele County Fairgrounds.
Details

Hits: 1736
Johnson sisters proud to wear crowns for Dairy Princess, Milk Maid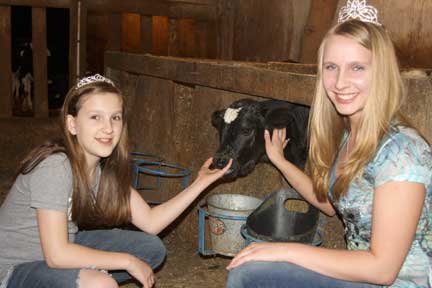 BEAUTIES AND THE BEEF — Moos abounded as the Johnson siblings Aubrey and Hailey quickly nuzzle one of the many calves during feeding time. (Star Eagle photo by Rachel Rietsema)
By RACHEL RIETSEMA
Staff Writer
The Johnson sisters' knowledge of cows is unmistakable. They know how to milk, show and breed beef with the best of them.
They even have crowns to prove it.
"I've been looking forward to this moment for a long time," said recently crowned Freeborn County Dairy Princess Hailey Johnson. "Seeing the princesses in the parades as a little girl really excited me."
Hailey's little sister Aubrey shares that same cow induced fervor. She is the Freeborn County's newest Milk Maid, after all.
"I am really, really happy and proud of myself," Aubrey said.
Fully aware of their new statuses at hand, they look forward to the upcoming summer and fall. Their calendars will be filled with dairy duties up the wazoo.
Details

Hits: 1494
Hartland bank celebrates century of service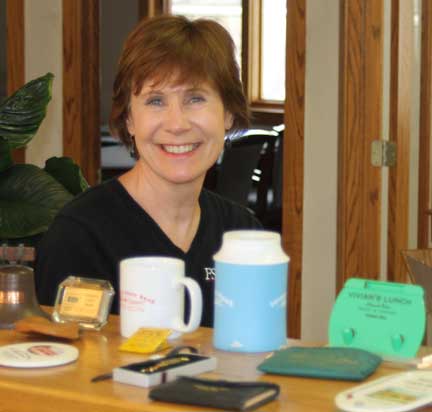 SUMMER CENTENNIAL — Nancy Skophammer, the CEO and President of Farmer's State Bank is all smiles alongside the memorabilia display created in honor of the bank's 100th anniversary. (Star Eagle photo by Rachel Rietsema)
By RACHEL RIETSEMA
Staff Writer
The little hamlet of Hartland has good reason to celebrate this summer. And celebrate they shall on June 14, as their trusted Farmer's State Bank branch has survived and thrived an entire century.
"We have overcome two world wars, a horrendous depression of 1929, numerous cycles of recessions and inflation, an agriculture crisis of the 1980s and the recent economic turmoil of 2008," said its CEO and President Nancy Skophammer.
So, in the spirit of the occasion, all bank customers are invited to fill 72 slots and spoil a good walk in a nine-hole round of golf. Following this green-filled endeavor, attendees can grab a seat at checker-decorated tables for a picnic in the ballpark.
"They will tee off at 1 p.m.," Skophammer said. "Then at 5 p.m., we will be serving hamburgers, brats, and hot dogs."
The younger generation will find entertainment on this day of celebration too. Kids can let loose inside a bouncy house, burn calories in relay races and enjoy many more activities.
"There will also be a drawing later for an iPad," Skophammer said. "I hope to have a total of five giveaways. A Kindle and a Nook might be up for grabs too."
Details

Hits: 1818

Good things continue to happen for the New Richland Area Foundation Fund.
It started with an anonymous donation to the New Richland Area in 2008, the formation of the New Richland Area Foundation Fund in 2009, the anonymous donation of the "By-the-Grace-Of-God-Fund" in 2010 and the Gift of Grain in 2011 — overwhelming progress in such a short time for a small community like New Richland.
It seems that success has spilled over into 2012.
Early in February, Gail Schmidt, the NRAFF Representative of the Waseca Area Foundation, received a telephone call inviting her to attend a meeting with the attorney and estate representative of a New Richland resident who recently passed away. The news that she received left her speechless.
Details

Hits: 5372
Forum urges return to Mother Nature's origins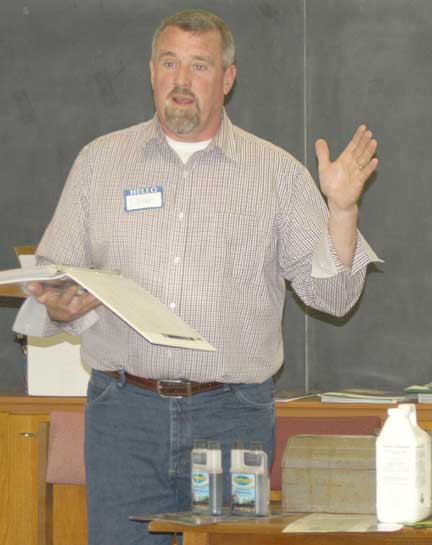 WHOLESOME TALK — Envirosense owner Dean Goette addresses the crowd gathered at the South Central Sustainable Farming Association meeting held March 17 in Clarks Grove. (Star Eagle photo by Rachel Rietsema)
By RACHEL RIETSEMA
Staff Writer
They may not all sport Pioneer hats and overalls, but the South Central Sustainable Farming Association members still have one particular farming goal in mind: to wave back in an older, more wholesome food chapter.
"I don't want to criticize, or be a martyr or crusader," said Dean Goette, keynote speaker at the chapter's March 17 meeting. "Mother nature is infallible. If we work with her, it's amazing what happens."
An advocate of three major soil companies, this Envirosense owner knows the pitfalls of processed food backwards and forwards. But, in order to spur change, big doses of teamwork and ingenuity must occur.
"We are what we eat," Goette said. "Our cows and sows are no different."
Fellow keynote speaker Jim Stiles, owner of Austin's Superfresh, is just as enthusiastic about returning to Mother Nature's origins.