Star Eagle office
Details

Hits: 1468
Schmidt named parade grand marshal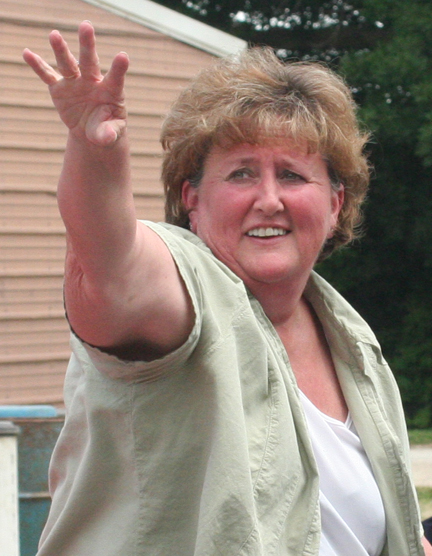 Gail Schmidt waves to the crowd during the 2012 New Richland Farm and City Days parade Sunday, July 8. Schmidt was selected grand marshal. (Star Eagle photo by Jim Lutgens)
By JIM LUTGENS
Editor/Publisher
Pastor Charles Espe always does a great job of announcing the grand marshal for the New Richland Farm and City Days parade, so Gail Schmidt was an eager listener at the Fire Hall Saturday morning.
The clues went right over her head.
Even as Jim Kozan played "Six Days on the Road," Schmidt, with her husband truck driver Joe sitting next to her, looked around the room for truck drivers.
Then, as Espe was reading the nomination letters, Schmidt was thinking, "Wow, those are really nice words to say about someone," never once thinking he was talking about her.
But he was.
Details

Hits: 959
Crops looking good at this point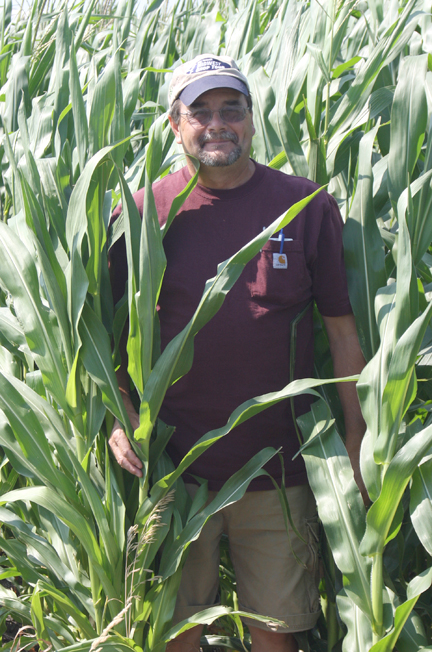 TASSEL TIME — Local agronomist Mark Bernard has high hopes for the 2012 harvest. (Star Eagle photo by Rachel Rietsema)
By RACHEL RIETSEMA
Staff Writer
Like humans, crops of all kinds need their "beauty sleep."
And, now that we are in the heart of summer, local agronomist Mark Bernard has chosen to divulge a few of the imperative conditions the local fields need to survive and even thrive.
"When overnight temperatures fail to drop into the 60s and dew points remain high, the plants expend more energy to maintain themselves," Bernard said. "If it continues to happen for extended periods of time, weeks in a row especially with corn, the yield can be compromised as a result of the energy diverted from grain fill."
Bernard also says that beastly hot temperatures may also cause weaker, more disease-prone corn stalks.
Details

Hits: 1161
Nordlie to hold book signing at Farm & City Days car show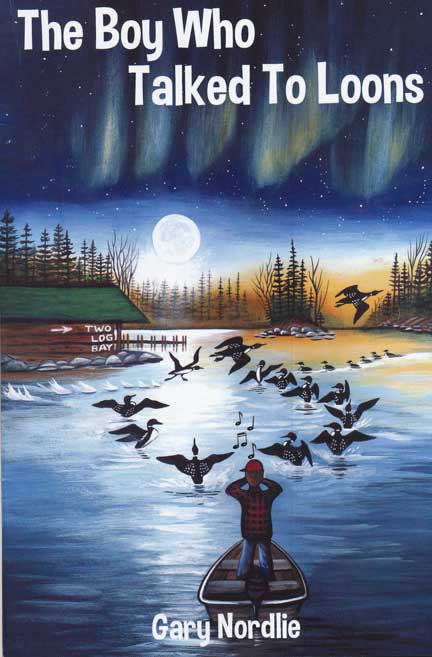 UP NORTH AUTHOR – Former NRHEG High English teacher Gary Nordlie will be at the Farm and City Days Car Show on Saturday, July 7 to sign his new book "The Boy Who Talked to Loons."
By JODY WYNNEMER
Staff Writer
After a person's working career is over comes another stage in life: retirement. Many so-called retired people take up a new hobby, spend more time traveling or tending their flower gardens. Others are just content to have more time to spend with their grandchildren.
Former NRHEG High School English instructor Gary Nordlie decided to spend his retired years doing something he has always loved, fishing. Nordlie started teaching here in the 1967-68 school year and retired in 1998.
"I've been fishing for over 60 years," said Nordlie. "I grew up fishing with my grandfather on the Mississippi."
Nordlie participated in tournament fishing and also did quite a bit of writing about the outdoors. For the last 27 years, he has spent his summers on beautiful Lake Vermillion serving as a fishing guide. The lake is the fifth-largest within Minnesota borders and boasts 313 miles of shoreline. His love for the outdoors and his many experiences led him to write a book called "The Boy Who Talked to Loons."
Details

Hits: 967
New manager thrives on challenges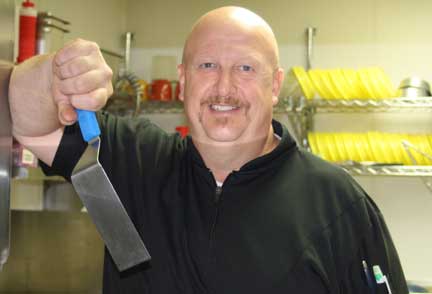 AIMING TO PLEASE — New Ellendale Municipal Liquor Store manager Pete Paulson describes himself as customer oriented, saying "I enjoy pleasing the customer. I like the people contact." (Star Eagle photo by Rachel Rietsema)
By RACHEL RIETSEMA
Staff Writer
Pete Paulson doesn't just love challenges. He thrives off of them.
And so, when Paulson officially filled the Ellendale Municipal Bar and Grill managerial position on June 1, he knew the fun was about to begin.
"Since we have added the grill, business has definitely increased," Paulson said. "The numbers aren't earth shattering or anything, but customers are on the rise."
Only about a month in, the development of friendships with customers has been effortless, really. It's been a real treat to reconnect with Ellendale too, he says.
"Because of my ties to the community, I'd like to give back or see it prosper so to speak," Paulson said. "I enjoy pleasing the customer. I like the people contact."
Details

Hits: 3904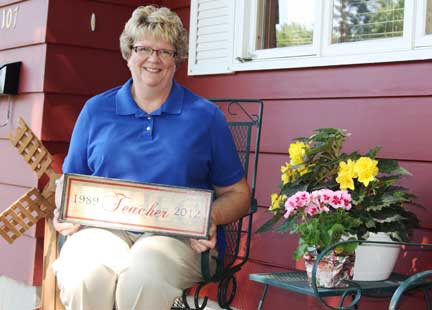 BITTERSWEET GOOD BYE — Though retiring third-grade teacher Susan DenHerder has some definite plans for retirement, nothing can replace her day-to-day interaction with students. (Star Eagle photo by Rachel Rietsema)
By RACHEL RIETSEMA
Staff Writer
The NRHEG third-grade classroom hasn't experienced a drastic change in about 23 years. So, this upcoming school year, things will be a little bit different without long-time teacher Mrs. Susan DenHerder.
"I'll still be Mrs. DenHerder," she said. "I will still hear it on the street and in the grocery store too. I'll hear it just about everywhere."
Actually, she will still answer to that formal address in the classroom next year and for years to come, as she isn't saying a full-time goodbye to the district just yet.
"If they need someone to sub in the library, with the preschoolers or any classroom, I'm game," DenHerder said.
Sure, this semi-retired educator may have had a difficult time letting go of her title, but in the long run, she knew it needed to happen.