Star Eagle office
Details

Hits: 1986
Former NRHEG, RCTC standout takes his skills to South Dakota State
BIG STEP — NRHEG High School graduate Kevin Klocek, a football standout at Rochester Community and Technical College the last two years, is making a big step this fall to the Division I level at SDSU. (Star Eagle photo by Nikki Erickson)
By NIKKI ERICKSON
Contributing Writer
He said it was the hardest decision of his life. But Kevin Klocek packed his bags and left for South Dakota State University with his dreams of playing Division I football coming to fruition.
Once a Yellowjacket linebacker, Klocek finished most of his general college credits while playing on scholarship at RCTC in Rochester, within 50 miles of his home in New Richland. His new journey will move him more than 200 miles from home.
There, he will walk-on after a standout career at RCTC, where he served as captain. The prospects are bright as Klocek takes to SDSU a 6-foot-4, 220-pound frame that can run the 40-yard dash in 4.47 seconds.
Most would say 200 miles isn't that far, but Klocek's ties to his family and local community are the biggest influences in his life, and that will be hard to leave behind.
Details

Hits: 1176
Espe remains one of NR area's most beloved characters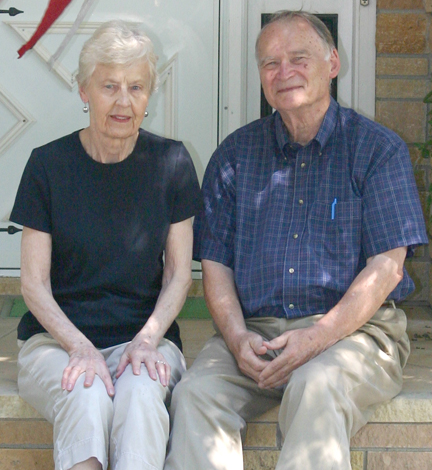 BLESSED AND GRATEFUL — That's how Pastor Charles and Kathy Espe feel to be a part of the New Richland community. The couple recently celebrated their 55th anniversary. (Star Eagle photo by Rachel Rietsema)
By RACHEL RIETSEMA
Staff Writer
He's a New Richland history buff and a pulpit prodigy. Well, he doesn't like to think so.
Yes, Pastor Charles Espe is a bit modest, but the fact remains there is a mountain of knowledge tucked away in his brain. All one has to do is prod it.
"There's the old saying: sometimes God closes some doors and opens others," Espe said. "This year, I'm actually learning how to shade garden because the LeSueur River parsonage just a block north of here across the river had lots of open space in the sun."
No longer does Espe tend to his tomatoes, corn, cucumbers and squash in his backyard. He has managed to find a loophole, however.
Details

Hits: 3738
Slow but steady wins eating contest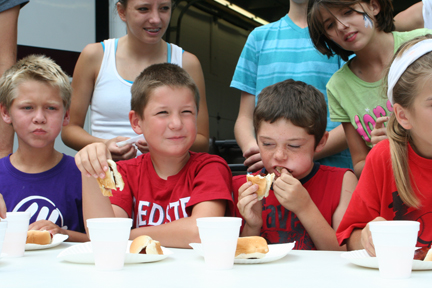 A GOBBLING GOOD TIME — Hot dog eating contest participants try to beat the clock in the hopes of winning some pretty stellar prizes Saturday, July 21 during Ellendale Days. (Star Eagle photos by Rachel Rietsema)
By RACHEL RIETSEMA
Staff Writer
Slow and steady chompers won the Ellendale Days hot dog eating contest last Saturday afternoon.
The head organizer of this event, Erin Schlaak, didn't witness any vomiting this time around. The barf bucket was on hand though. Contestants could be sure of that.
"A couple of us parents in the community decided a couple years ago that there weren't enough activities for kids," Schlaak said. "So, we came up with the idea of having the fun zone and hot dog eating contest."
As the countdown commenced, every last big and little eater braced themselves. Stuffing one's face takes quite a bit determination and chewing power, you know.
Details

Hits: 2659
Discussion proves educational, even for longtime area residents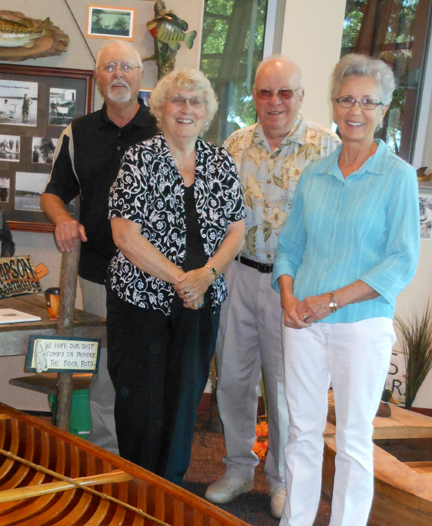 PRESERVING HISTORY — Ellendale Area Historical Society members Ed Jensen, Norrine Jensen, Lloyd Kaplan and Barbara Mrotz were at the Steele County History Center June 21 for a roundtable discussion on Beaver Lake. (Star Eagle photo by Kathy Paulsen)
By KATHY PAULSEN
Staff Writer
While driving around the east end of Beaver Lake, which includes 99 acres of water, one will glimpse 103 seasonal cottages, 13 year-round homes and a sandy beach with children taking swimming lessons and having fun in the water.
It brings back wonderful memories of when my family camped in our first motor home, a renovated school bus, on the south shore.
Many more memories were rekindled during a roundtable discussion about Beaver Lake at the Steele County History Center June 21.
I learned to swim in Beaver Lake, so its history was most interesting. I can remember how the beach back in the 1960s and '70s could be so crowded, people would reserve a spot on the shore by going early and laying down their towels on the beach area hillside.
It was mind boggling all the things I learned that night. I wasn't disappointed.
Details

Hits: 1436
After 22 months, Meierding bids farewell to NR area churches
TOUGH TO SAY GOOD BYE — After 22 months, LeSueur River and Vista Lutheran interim pastor Paul Meierding delivered his final sermon there last Sunday. The Meierding family, from left, Paul, Erika, Karl and Jorun. (Submitted photo)
By RACHEL RIETSEMA
Staff Writer
For the last 22 months, the two-point perish of the LeSueur River Church and Vista Lutheran has experienced an interim phase.
All the while, they waited patiently for a full-time candidate to come along, and finally, their prayers have been answered. But, before Brian Gegel takes the lead, the congregation must say a bittersweet goodbye to Paul Meierding.
"As an interim pastor, people often tell you they want you to stay," Meierding said. "It's an honor to hear that. It's also fun to hear people appreciating my ministry."
Meierding can't get over how great this interim time has been. Sundays won't be the same, he says.