Star Eagle office
Details

Hits: 1093
First-year teacher relishes return to small town life
RIGHT AT HOME — Megan Steuck, originally from the Medford area, feels fortunate to land a job teaching first-graders in a rural community. (Star Eagle photo by Rachel Rietsema)
By RACHEL RIETSEMA
Staff Writer
Straight out of college, Megan Steuck landed her dream job. But, Steuck doesn't and will not take all the credit.
Instead, she gives the glory to God for allowing her to lead one of Ellendale's first-grade classrooms.
"I worked hard to get here, but this would be because of Him, absolutely," Steuck said. "I wanted a small country school and I wanted first grade. I feel so blessed."
Persistence also played a huge role in acquiring her new title.
"After finishing school in May, I stopped by and talked to the school secretaries to see if they had any openings," she said. "I came back another time and ran into Mr. Anderson. I then gave him a brochure that outlined who I am as an educator."
Details

Hits: 1619
NRHEG School District awarded $25,000 grant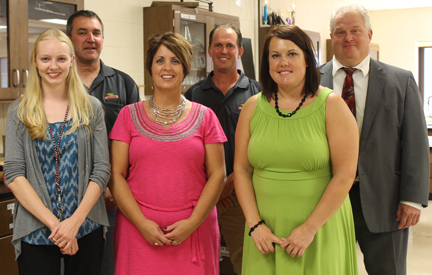 EXCITING STUFF — NRHEG School District has been awarded a $25,000 grant from Monsanto. Front from left: science teachers Amanda Inouye, Anne Feist and Jennifer Hatten. Back: Rick Schultz and Doug Christopherson, local Asgrow/Dekalb Seed dealers) and Superintendent Kevin Wellen. (Star Eagle photo by Jessica Lutgens)
By JESSICA LUTGENS
Editorial Assistant
It's not just good – it's great.
The NRHEG School District has been selected to receive a $25,000 grant for science lab equipment through America's Farmers Grow Rural EducationSM, sponsored by the Monsanto Fund. Schools from all over Minnesota applied for the grant, and our district was lucky enough to be one of the winners. The district applied for a $10,000 grant a year ago, but was denied and given $500 as a consolation prize.
In order to be selected to receive the grant, schools must be nominated by local farmers and the money they would receive, if chosen, has to tie into science, math, and agriculture. NRHEG received 100 nominations this year, surpassing last year's nominations by 40.
"It was really exciting stuff for us," said Superintendent Kevin Wellen. "When I got the e-mail, I talked to everyone within the hour."
Details

Hits: 1787
Waldorf Muni's newest manager aims to please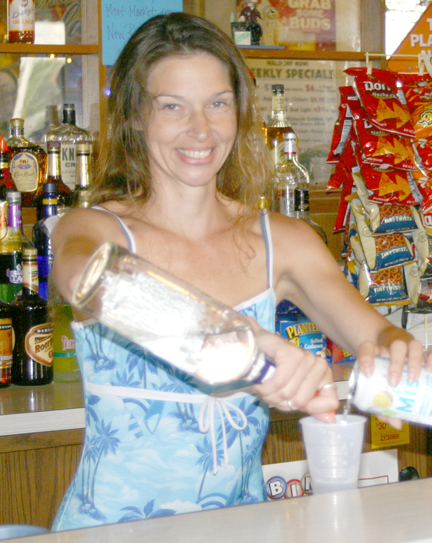 MIXING THINGS UP — Newest Waldorf Muni Manager Kelley Luckey and her well-trained staff welcome you to take a seat for a good meal and nice time all around. (Star Eagle photo by Rachel Rietsema)
By RACHEL RIETSEMA
Staff Writer
After nine months of claiming the Waldorf Municipal liquor manager position, Kelley Luckey knows just how lucky she is to have found a good place of employment.
The customers seem to just keep on rolling back in, which according to Luckey, is due to mixing in old tactics with new ones.
"Lately, we have been trying different things like bean bag, volleyball and pfeffer tournaments," Luckey said. "People also do tell me how much they liked what other managers have done too, so we touch on those and tweak them a little bit."
Always open to new ideas and suggestions, this restaurant guru has tackled the new position one step at a time. The challenge is really what gets her fired up.
"I did some rebuilding as far as clientele, staffing, etc. when I started," Luckey said. "People were pretty excited to have a new manager in here."
Details

Hits: 1639
Vista, LeSueur River's search for full-time pastor concludes with first-time pastor
A GATHERING PLACE — LeSueur RIver and Vista Lutheran's full-time pastor Brian Gegel invites you to his spacious garden for a time spent in connection with God. (Star Eagle photo by Rachel Rietsema)
By RACHEL RIETSEMA
Staff Writer
Seated amongst his home congregation in Indiana, Brian Gegel felt an urgent sense of both an internal and external sense of call to become a pastor.
However, it just never seemed to be the right timing. Until now that is.
"There is faith and hope in the call of the church," said Gegel, the newest full-time pastor for the two-point perish of Vista Lutheran and LeSueur River Lutheran churches. "There's a little bit of anxiety in a new atmosphere, but I'm excited about being established in a new place and discovering what it is God brought me to these congregations to learn and do together."
Originally from southwestern Illinois, Gegel and his wife Jane have happily settled into the character-filled parsonage that clearly has been loved for many years. The stewardship of the church is obvious, he says.
Details

Hits: 3122
French foreign exchange student brings family to town for mini-reunion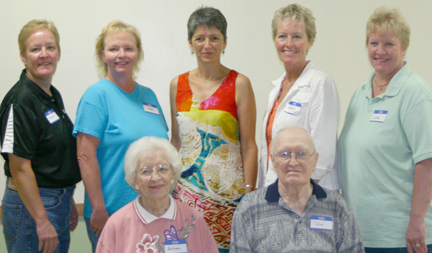 LONG-AWAITED VISIT — After 34 years, former New Richland exchange student Ghyslaine Longefay-Perroud returned to town Sunday, Aug. 12 for a reunion with her host family and classmates. Front from left: Don and Audreene Smith. Back: Alison Hagen, Jayne Busho, Longefay-Perroud, Anne Hagen and Lori Towle. (Star Eagle photo by Nicole Billing)
By NICOLE BILLING
Editorial Assistant
Ghyslaine Longefay-Perroud came to New Richland from France during the 1977-78 NRHEG school year as a foreign exchange student.
Ghyslaine was back visiting old classmates at City Hall on Sunday, August 12, after 34 years of being away. She mentioned she would be staying and visiting for a week.
In 1977-78, she stayed with the Donald L. Smith family for an entire year.
"Living in America was very different," said Ghyslaine. "I came from a very small village and had never been abroad before. The people were very welcoming."