Star Eagle office
Details

Hits: 1166
New manager thrives on challenges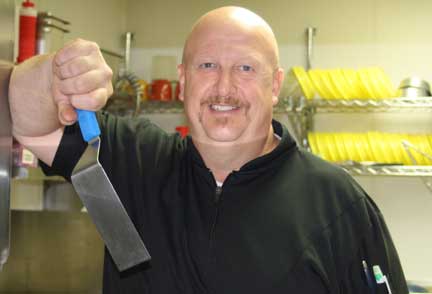 AIMING TO PLEASE — New Ellendale Municipal Liquor Store manager Pete Paulson describes himself as customer oriented, saying "I enjoy pleasing the customer. I like the people contact." (Star Eagle photo by Rachel Rietsema)
By RACHEL RIETSEMA
Staff Writer
Pete Paulson doesn't just love challenges. He thrives off of them.
And so, when Paulson officially filled the Ellendale Municipal Bar and Grill managerial position on June 1, he knew the fun was about to begin.
"Since we have added the grill, business has definitely increased," Paulson said. "The numbers aren't earth shattering or anything, but customers are on the rise."
Only about a month in, the development of friendships with customers has been effortless, really. It's been a real treat to reconnect with Ellendale too, he says.
"Because of my ties to the community, I'd like to give back or see it prosper so to speak," Paulson said. "I enjoy pleasing the customer. I like the people contact."
Details

Hits: 4124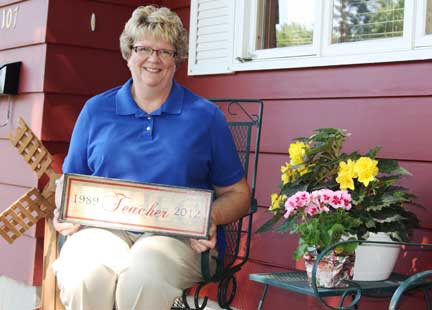 BITTERSWEET GOOD BYE — Though retiring third-grade teacher Susan DenHerder has some definite plans for retirement, nothing can replace her day-to-day interaction with students. (Star Eagle photo by Rachel Rietsema)
By RACHEL RIETSEMA
Staff Writer
The NRHEG third-grade classroom hasn't experienced a drastic change in about 23 years. So, this upcoming school year, things will be a little bit different without long-time teacher Mrs. Susan DenHerder.
"I'll still be Mrs. DenHerder," she said. "I will still hear it on the street and in the grocery store too. I'll hear it just about everywhere."
Actually, she will still answer to that formal address in the classroom next year and for years to come, as she isn't saying a full-time goodbye to the district just yet.
"If they need someone to sub in the library, with the preschoolers or any classroom, I'm game," DenHerder said.
Sure, this semi-retired educator may have had a difficult time letting go of her title, but in the long run, she knew it needed to happen.
Details

Hits: 1857
Geneva apartment also damaged
TOTAL LOSS — Firemen work to extinguish a blaze at 403 4th Ave. in Ellendale last Thursday. The house was a total loss. Whitney McCamish, a resident of the house, was treated for smoke inhalation at the Owatonna hospital. Ellendale fireman Roger Larson was treated for chest pain at the scene and then transported to the hospital, where emergency surgery was performed for heart blockage. (Star Eagle photos by Kathy Paulsen)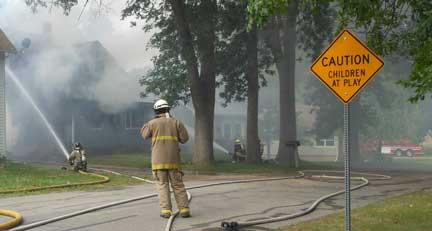 By KATHY PAULSEN
Staff Writer
Local firemen were called out to battle not one, but two fires Thursday, June 14.
The first fire call was received by the Steele County Sheriff's Office, Ellendale Fire Department and Ambulance service at 8:33 a.m. when they were notified of a fire at the home at 403 4th Avenue, Ellendale.
The home is owned by Donna Mae McCamish and was occupied by her daughter, Chanelle, and her four children, Whitney, 14, Sydney, 11, Bo, 6, and Blake, 3. Chanelle, Whitney and Blake were in the home when the fire started.
Whitney immediately evacuated the house, but went back in as her brother and mother were in the home. Sydney and Bo had spent the night at the home of their grandmother, Donna Mae.
Whitney found her brother hiding upstairs. She escorted him from the house and ran next door to Alvin Wobschall's home and asked him to call the fire department. Whitney and Blake ran back to their house and were very glad to see their mother coming back outside.
Details

Hits: 3710
Pfeffer's 41-year teaching career reaches its final hour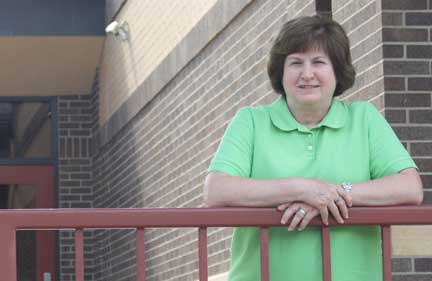 FORTY-ONE YEARS — Kris Pfeffer poses in front of NRHEG High School as a commemoration for her many years with the school district. (Star Eagle photo by Rachel Rietsema)
By RACHEL RIETSEMA
Staff Writer
For Kris Pfeffer, the very first day she set foot inside the New Richland school site seems just like just yesterday.
Pfeffer had no reservations about her new teaching duties, just a few butterflies as she unlocked the fourth-grade classroom door.
"Each year was a brand new experience," Pfeffer said. "I bounced around the grades a lot, but from 1989 on, I taught first grade."
Forty-one years later, Pfeffer's teaching time clock has reached its final hour. Or as she so eloquently sums it up: "I'm just a retired teacher now."
"I have a grandson, Nolan John, who was born  February 4 of this year," Pfeffer said. "I'd like to be available if they need us to babysit."
Details

Hits: 1692
Wagner wins state championship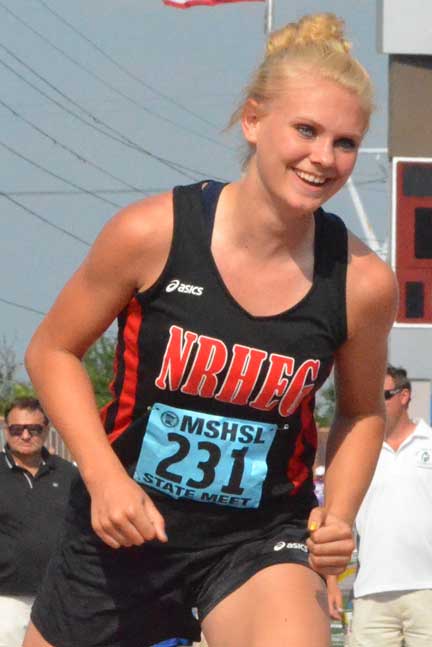 YES! — Carlie Wagner celebrates after clearing 5 feet, 6 inches in Friday's state track and field meet. (Star Eagle photo by Chris Schlaak)
By JIM LUTGENS
Editor/Publisher
Last March, Carlie Wagner nearly carried the NRHEG girls' basketball team to a state championship.
Last Friday, she won one by herself.
The sophomore sensation capped her 10th-grade year by winning the Class A girls' high jump state title at the state track and field meet at Hamline University in St. Paul, clearing 5 feet, 6 inches to tie her own school record.