Star Eagle office
Details

Hits: 2477
Benefit for Lindsay Lembke June 3 at Geneva Community Center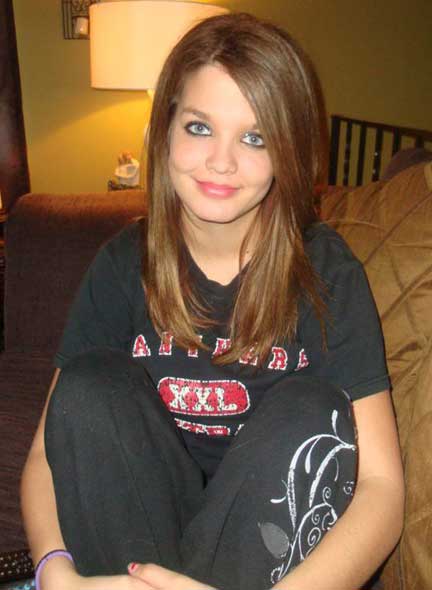 Lindsay Lembke
By KATHY PAULSEN
Staff Writer
You're beautiful, with those long dark eyelashes and big brown eyes. You're sweet 16, the time in your life when everything should be perfect. You should be attending school, enjoying time with friends, having fun and making plans for prom and parties.
And then — bam — you get hit in the stomach, hard. That's what it feels like. But it's so much more.
Lindsay Lembke, daughter of Lisa Cromwell Lembke of Geneva and Steve Lembke of Albert Lea, has spent time after time in the hospital since November of last year.
There were times Lindsay complained of her stomach hurting, but they figured it was just an upset stomach. But then, she woke up one morning in November very sick and throwing up. After eight trips to the ER and 12 admittances to the hospital, she had been diagnosed with any number of things and given many different kinds of medication, which were later discovered were not needed for her particular illness. She even suffered a seizure due to the medication and had to be transported to the hospital by ambulance. Doctors just could not determine what was wrong.
Details

Hits: 1056
Tollefson and Johnson gracefully accept diplomas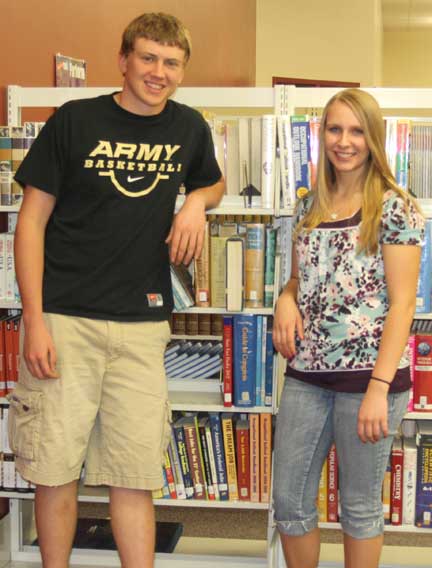 FEATHER IN THEIR CAPS — As NRHEG co-valedictorians Carter Tollefson and Hailey Johnson rejoice in their newly claimed appellation, the dignified honor fails to inflate their academic egos. (Star Eagle photo by Rachel Rietsema)
BY RACHEL RIETSEMA
Staff Writer
On occasion, Hailey Johnson and Carter Tollefson received the revered classification of walking dictionaries or encyclopedias. Sure, these two definitely are whizzes in the high school classroom, but they don't claim Webster or Brittanica status.
Now crowned with the title of co-valedictorian for the NRHEG High School class of 2012, Johnson and Tollefson humbly accept in utter glee.
"It's an honor," Johnson said. "Yes, smarts come natural to me, but I also have to turn in all my assignments. I don't think I've had a late assignment through high school. It's great to be rewarded for that."
Tollefson couldn't agree more.
Details

Hits: 1025
NRHEG clinches share, then gets help from WEM for outright title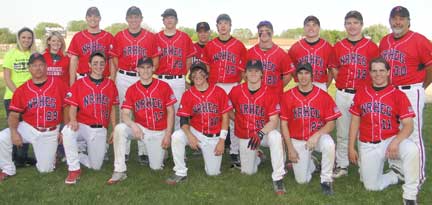 The NRHEG High School baseball team has captured the 2012 Gopher Conference championship. Front from left: coach Jon Meyer, Nic Mangskau, David Lassahn, Lucas Meyer, Sam Jewett, Brad Claycomb and Sam Lundberg. Row two: statistician Marissa Claycomb, statistician Natalie Donovan, Eric Sorenson, Carter Tollefson, Tyler Sorenson, coach Al Shultz, Casey Rosacker, Mitch Akemann, Jake Staloch, Matt Dahle and head coach Jeff Reese. (Submitted photo)
By JIM LUTGENS
Editor/Publisher
The NRHEG baseball players did what they needed.
Then they got a little unexpected help.
The Panthers defeated Blooming Prairie 7-3 last week to secure a share of the Gopher Conference title. Two days later, WEM knocked off then conference co-leader Mankato Loyola to give NRHEG the outright crown. It's the Panthers' 12th conference championship in coach Jeff Reese's 34 seasons at the helm and their first since 2006. It's also a big turnaround from last spring, when NRHEG was seventh in the conference at 3-8 and 7-13 overall.
Details

Hits: 1300
Crafty ladies come from near and far to roll up their sleeves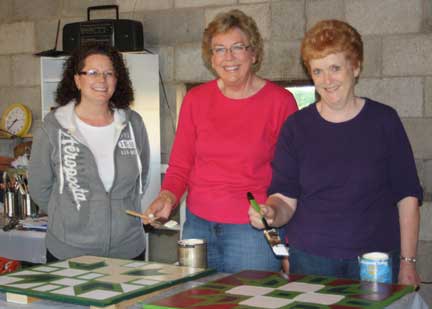 FINAL BRUSH STROKES — Chris Donovan, Paula Hansen and Sue Cory all dipped paintbrushes on May 9, so as to complete their very first barn quilt at Holmes' farm. (Star Eagle photo by Rachel Rietsema)
By RACHEL RIETSEMA
Staff Writer
Word on the street folks, is that barn quilting has become quite the dandy around the Ellendale area lately.
Hard evidence of such wooden creations numbers 10 to be exact, simply due to a joint effort of NRHEG and USC Community Education Director Marilyn Dobberstein and Special Education Paraprofessional Renee Holmes leading their Second Annual Barn Quilting Community Education class.
"Some people think I have hung fabric quilts on my barns," said Holmes. "But, they are actually pieces of wood painted to look like quilts."
This year's students created things a little differently. Instead of a red, white and blue theme, they designed and painted a two-by-two dimensioned board with free reign in colors. It's a task Holmes says is much more difficult than meets the already artistic eye.
Details

Hits: 1167
Rudau, Frank attain Eagle Scout status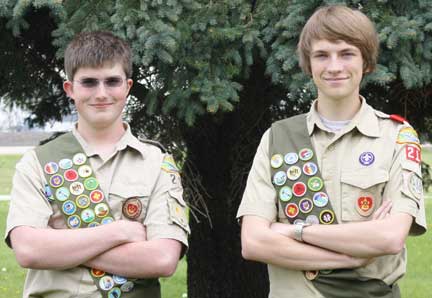 ONE BADGE AT A TIME — Eagle Scouts Douglas Rudau and Hans Frank proudly adorn their troop uniforms and scarves outside the Clarks Grove First Baptist Church. (Star Eagle photo by Rachel Rietsema)
By RACHEL RIETSEMA
Staff Writer
Douglas Rudau and Hans Frank's ability to take charge around campfires is unparalleled. Even their compasses seem to have become extensions of themselves.
After all, these two fine chaps have officially graduated to Eagle Scout status.
"A lot of our Boy Scout skills came from learning by example," said Rudau. "Both of us hope to provide a good example for the younger scouts and encourage them to keep advancing."
Both Rudau and Frank can't take all the credit for the prestigious honor. Only with the help of their scout leaders and fellow members did they achieve such a goal.
"This is taking scouts as far as it goes," Frank said. "It makes me feel like I accomplished something."