Details

Hits: 1844
Elsie D. Stickley, lifelong resident of the Medford area, died November 11, 2011 at Pleasant Manor Care Center in Faribault.
Elsie was born April 4, 1922 in Merton Township, rural Steele County, the daughter of Herman and Anna (Meyer) Dunker. She was united in marriage to Glen Stickley on April 16, 1941 at Trinity Lutheran in Medford.  The couple made their home on a farm in Merton Township, raising two daughters.  Elsie was a farm wife and spent most of her life living on the family farm in Merton Township. Elsie enjoyed raising a large garden while working alongside her husband on the farm. She loved entertaining family and friends that visited the farm. Elsie moved into Medford in 1998. She was a member of Trinity Lutheran Church, where she taught Sunday school for more than 25 years.  Elsie's life interest includes sewing, playing cards, listening to the Minnesota Twins and spending time with her family and friends.
Details

Hits: 1835
Vernon Levene Swenson, age 92, of Wells, MN, died Wednesday, November 9, 2011 at Parkview Care Center in Wells, MN.  Funeral services will be held Thursday, November 17, 2011 at 11:00 AM at the United Methodist Church in Wells, MN.  Visitation will be Wednesday, November 16, 2011 from 4-8 PM at Bruss-Heitner Funeral Home in Wells, and will continue one hour prior to the service at the church on Thursday.  Pastor Paul Woolverton will officiate and burial will take place in Dunbar Memorial Cemetery, Minnesota Lake Twp., Faribault Co., Minnesota. Bruss-Heitner Funeral Home in Wells is in charge of arrangements. 
Vernon was born April 16, 1919 in rural New Richland, Waseca Co., MN, the son of Eddie and Alfreda (Youngberg) Swenson. On June 6, 1948 he was united in marriage to the love of his life, Harriet Miller at the Dunbar Church, rural Wells, MN.
Details

Hits: 1774
Verla Mae (Enzenauer) Holman, 79, of Hanibal, MO died at 10:45 a.m. Saturday, October 22, 2011 at Luther Manor Nursing Center. Funeral services were 11 a.m. Tuesday, Oct. 25 at St. John's Lutheran Church in Hannibal. Burial was at Grand View Burial Park in Hannibal. Pastor Michael Stoerger officiated.
Verla was born on March 17, 1932 in Ellendale, MN to Wm. and Amanda (Ginapp) Enzenauer. She married James Robert (Bud) Holman Nov. 22, 1958 in Hannibal. He preceded her in death along with her parents; and a brother Donald Enzenauer.
Survivors include a son Kevin (Nancy) Holman of Columbia, MO; one granddaughter Abigail Holman; one brother Marvin (Ruth) Enzenauer of Ellendale; one sister-in-law Lou Lutes of Columbia, Mo; seven nieces and nephews; God daughter Linda (Gary) Seykora; Dan Enzenauer, Dawn (Dave) Macht, Tim Enzenauer, Suzann (Tracy) Skaar, Dr. Frank (Irina) Quattrocki and Louann (Ray) Frizzell.
Verla was a professional seamstress.
Cards or memorials may be sent to Kevin and Nancy Holman, 5132 S. Brock Rodgers Rd., Columbia, MO 65201.
Details

Hits: 2153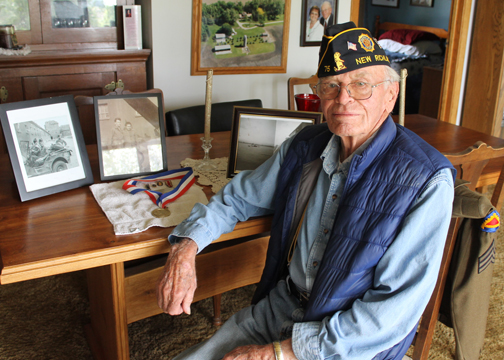 Maxon Leonard Crumb, 89 of Austin Minnesota passed away Tuesday November 1st, 2011 at Mayo Clinic Health System in Austin.
He was born December 2nd, 1921 in New Richland, Minnesota to Winfred and Mary (Chicos) Crumb.  Max served in the United States Army in 1943 and 1944. He married Isabel Reistad on August 10th, 1946 in New Richland, MN. On August 10th, 2011 Max and Isabel celebrated their 65th Wedding Anniversary with their Family.
Max was the Manager of Hunting Elevator in Matawan and Lansing for 34 years and enjoyed farming in his retirement years.  He was a member of Our Lady of Loretto Catholic Church in Brownsdale, Minnesota for over 50 years. Max was a wonderful brother, husband, father, grandfather, great grandfather and friend.
Details

Hits: 2000
The funeral service for Helene Ingeborg Eastvold of Hartland, Minn., will be 10 a.m. Saturday, October 29, 2011, at Cross of Glory Lutheran Church, Hartland, Minn. Reverend Dennis Frank will officiate. Interment will be in the Hartland Cemetery. Visitation will be from 4-7 p.m. Friday at Bonnerup Funeral Service Albert Lea and one hour before the service at the church.
Helene died Tuesday, October 25, 2011 at the Good Samaritan Center.  She was 93 years old.