Details

Hits: 859
A fund for Owen Chicos has been set up at the State Bank of New Richland.
Many have followed Dave, Nikki, and Owen Chicos' journey through Caring Bridge, but here's a recap of their journey thus far.
Dave and Nikki found out at their 20-week ultrasound that there was something wrong with baby's head as the ventricles (space where cerebral spinal fluid is stored in the brain) were measuring larger than they should. Nikki's OB care was transferred to Mayo Clinic Rochester where baby was diagnosed with hydrocephalus and intrauterine growth restriction.
Dave and Nikki began going to Rochester weekly for ultrasounds as baby was at severe risk for stillbirth. On April 28 Nikki was hospitalized after the ultrasound showed that the blood flow through the umbilical cord was stopping at times. The next day on ultrasound baby had a heart rate of only 55 and they nearly delivered at 28 weeks. Fortunately, Nikki was given steroid injections to help baby's lungs in case of early delivery and the steroids helped improve the cord blood flow and heart rate issues and they were discharged home.
Following this near delivery, Nikki needed twice weekly ultrasounds to check on the baby. She did ultrasounds in Mankato on Tuesdays and in Rochester on Fridays. On Saturday, June 3, at 33 weeks, her water spontaneously broke at home and Owen arrived at 1:26 p.m., weighing 3 lbs., 6 oz!
Details

Hits: 3895
Dobberstein thoroughly enjoyed
four decades of teaching at NRHEG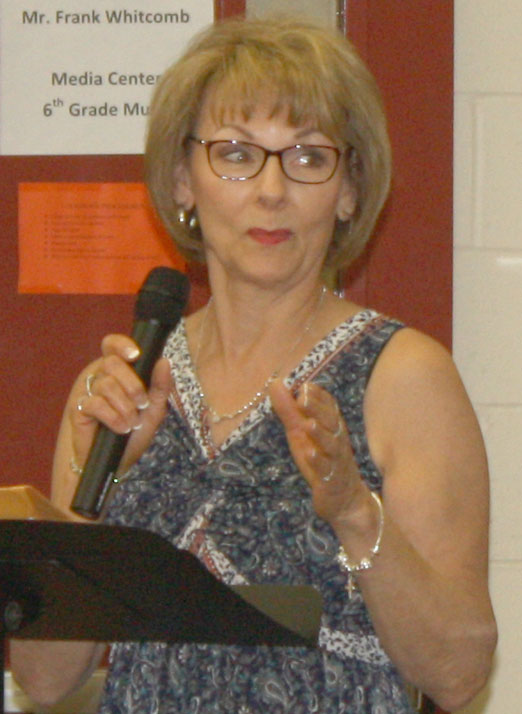 SWEET GOODBYE — Marilyn Dobberstein addresses those gathered at NRHEG's Staff Appreciation day. (Star Eagle photo by Aloni Duncan)
By MELANIE PILTINGSRUD
Contributing Writer
Marilyn Dobberstein, who grew up in Ellendale, Minn., is retiring having taught for 40 years in the local school district.
Dobberstein taught Home Economics, which is now called Family and Consumer Science, to 7th–12th grade students. "I went into teaching because I loved all of the aspects of Home Ec.," says Dobberstein. "I loved to sew, cook, etc., and I wanted to make a difference in children's lives. I had an awesome Home Ec. teacher in high school and she really encouraged me to pursue my degree in education.
"My first job was in Lanesboro, Minn.," Dobberstein continues. "I taught there for one year. The last eight years I have been in NRHEG and USC serving as Community Ed. Director."
After many years of teaching 7th–12th grade students, Dobberstein's job transitioned into teaching 7th- 8th grade students when her school combined with the New Richland-Hartland School district. "I gained the Community Education Director position when the elementary principal left our district," says Dobberstein. "ECFE was then being developed in the state of Minnesota, so I implemented that into our district. I also taught Parent Education in the evenings along with my full time job. I have enjoyed teaching a variety of Community Education classes throughout the years.
Details

Hits: 3041
LSR dedicates
cemetery directory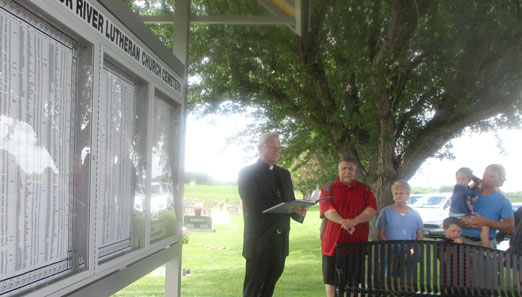 DEDICATION — Pastor Brian Gegel, left, standing next to Steve Schroeder, tells about the newly constructed cemetery directory at LeSueur River Lutheran Church. (Star Eagle photo by Kathy Paulsen)
By KATHY PAULSEN
Staff Writer
LeSueur River Lutheran Church celebrated its Sesquicentennial - 150th year – on June 19, 2011 and on June 18, 2017 they dedicated their newly constructed cemetery directory. Over the years they have also completed several other projects, including a beautiful new kitchen, steeple shingles and new siding.
The congregations of LeSueur River and Vista Lutheran Churches held a joint worship service on Sunday, June 18. Following the service, the cemetery directory dedication service and celebration meal were held at LeSueur River church, is located 4 1/2 miles northeast of New Richland. 
As people arrived at the church they were presented with copies of the origin of LeSueur River Lutheran. A roster of the congregation's first settlers included 36 people in 1856 and many of them went on to be buried in the church cemetery.
Dennis Knutson shared several songs on his flute during the prelude to the morning service. Gratia Johnson, church organist, served as his accompanist.
Following the service everyone was invited outside for the dedication of the cemetery directory and celebration. It was explained that the seeds for this project had been sown a few years ago and now the crop was being harvested.
Details

Hits: 4192
Farm & City Days 2017

LEADING THE PARADE — 2017 New Richland Farm and City Days parade grand marshals Mary Ebnet and Rick Schultz. (Star Eagle photo by Melanie Piltingsrud)
By MELANIE PILTINGSRUD
Contributing Writer
Jim Kozan, in his usual inimitable style, announced the two grand marshals of Farm and City Days at the Fire Hall Pancake Breakfast on July 8. Rick Schultz and Mary Ebnet were both completely surprised to be chosen as this year's grand marshals.
"I was so happy for you, I didn't even hear my name!" said Ebnet to Schultz after the two shook hands with numerous people following the announcement.
Both Ebnet and Schultz are native New Richland residents. Schultz grew up on a farm west of New Richland, and now continues to live there with his wife, Jackie. The two have one daughter, Hallie. Ebnet grew up on a farm, too, but she and her husband, Lavoy, have lived in town now for 14 years. Her husband helps Schultz with his farming. Lavoy and Mary have four children, Carmen, Vyanna, Rob, and Michael.
Besides farming, Schultz is involved in the Dekalb Asgrow dealership, and is president of the NRHEG School Board. He also organizes bus trips to the University of Minnesota, so that anyone who wants to can see Carlie Wagner play basketball. He said, "I'd just like to thank the community. We've got such a great support group here as far as if you ever need anything. We're very fortunate to have support for the school district, and all the other areas of interest here. It's a great community. I wouldn't want to live anywhere else."
Details

Hits: 836
A New Richland community blood drive will be held Wednesday, Aug. 9 from 1 p.m. to 6 p.m. at NR City Hall, 203 Broadway Ave. N.
Please call 1-800-733-2767 or visit redcrossblood.org and enter New Richland Community to schedule an appointment.