Details

Hits: 658
The following fall classes are being offered through NRHEG Community Education:
Adventures in Parenting; Pumpkin Palooza; Pumpkin Diorama; Kickball; Driver's Education; Parent's Supplemental Driver's Education; Beginner Piano Lessons; Home Alone; Tweite's Family Farm; Shutterfly; Acrylic Painting; Walking; Tae Kwon Do; Turbo Kick Live; PIYO Live; Bone Builders.
If interested, click on the NRHEG Schools link on this Web page and look for Community Education, or call (507) 417-2667.
Details

Hits: 766
Ethel Reistad, a resident of the New Richland Care Center, celebrated her 100th birthday this summer with many friends and family members present. Born Ethel lone Miller on June 1, 1917 to Ida and Edward Miller at their farm home in Bath Township, Ethel was baptized July 8, 1917 at the Norwegian Lutheran Church in New Richland, MN. She was later confirmed November 15, 1931 at North Freeborn Lutheran Church in Clarks Grove, MN. Ethel was the oldest of five children; siblings are Phyllis, Eileen, Dwight and Edward.
Ethel took care of her siblings because her mother was busy helping her dad on the farm. 
"We always enjoyed being together," says Ethel. "My last sibling, Ed Miller, passed away the day before her 100th birthday, though he always visited her and her children while he could.
When she was a little girl, Ethel's mother made dolls out of hankies or old material. She also remembers having a little dog named Spot who would follow her everywhere she went, so everyone knew where she was playing or hiding. 
"I remember playing in the woods behind our house, where we would build houses by tying string around the trees to make rooms and sweeping the ground until they had a nice hard floor." 
Details

Hits: 721
A fund for Owen Chicos has been set up at the State Bank of New Richland.
Many have followed Dave, Nikki, and Owen Chicos' journey through Caring Bridge, but here's a recap of their journey thus far.
Dave and Nikki found out at their 20-week ultrasound that there was something wrong with baby's head as the ventricles (space where cerebral spinal fluid is stored in the brain) were measuring larger than they should. Nikki's OB care was transferred to Mayo Clinic Rochester where baby was diagnosed with hydrocephalus and intrauterine growth restriction.
Dave and Nikki began going to Rochester weekly for ultrasounds as baby was at severe risk for stillbirth. On April 28 Nikki was hospitalized after the ultrasound showed that the blood flow through the umbilical cord was stopping at times. The next day on ultrasound baby had a heart rate of only 55 and they nearly delivered at 28 weeks. Fortunately, Nikki was given steroid injections to help baby's lungs in case of early delivery and the steroids helped improve the cord blood flow and heart rate issues and they were discharged home.
Following this near delivery, Nikki needed twice weekly ultrasounds to check on the baby. She did ultrasounds in Mankato on Tuesdays and in Rochester on Fridays. On Saturday, June 3, at 33 weeks, her water spontaneously broke at home and Owen arrived at 1:26 p.m., weighing 3 lbs., 6 oz!
Details

Hits: 3534
Longtime teacher retires from NRHEG

FAREWELL TO NRHEG — LaDona Flowers, left, listens as superintendent Dale Carlson reads a plaque given in her honor after 42 years of teaching at NRHEG during staff recognition day. (Star Eagle photo by Aloni Duncan)
By MELANIE PILTINGSRUD
Contributing Writer
After teaching for one year in Austin, TX, and at NRHEG for 42 years, LaDona Flowers is retiring. 
Flowers has taught a broad range of classes over the course of her career. She has taught 7th and 8th-grade Family and Consumer Science classes, Succeed on Your Own, Internet Investing, Culinary Arts, International Cuisine, Sport and Foods, Food Science, Child Development, Future Parenting, Housing/Interior Design, Pinterest Projects, and Relationships/Self Defense.
Flowers says that one of the most humbling experiences of her career was when Bethany Otto Mikesell requested that her mother Emily Otto nominate her as the 1999 NRHEG Teacher of the Year. Flowers says, "After submitting a portfolio to Education Minnesota, I was recognized as one of the 20 Minn. Teachers of Excellence. It was indeed an honor to represent the NRHEG teachers at the recognition banquet where all of the teachers in the state are honored."
Another highlight of Flowers' career occurred during her internship: "While working on my Specialist of Education Degree in Curriculum and Instruction, I conducted seminars for an import/export company in Shanghai, China.
Flowers also considered it a privilege to be able to work with three student teachers throughout her career.
Flowers knows how to get involved in the community for a good cause, too. "To celebrate the Bicentennial, an FHA Rock-A-Thon was organized," she explains. "The FHA members and I rocked in rocking chairs for 24 hrs. to raise funds for the future baseball field. Tracy Loken, organized another major FHA/FLA fundraiser for the March of Dimes."
Details

Hits: 3542
Dobberstein thoroughly enjoyed
four decades of teaching at NRHEG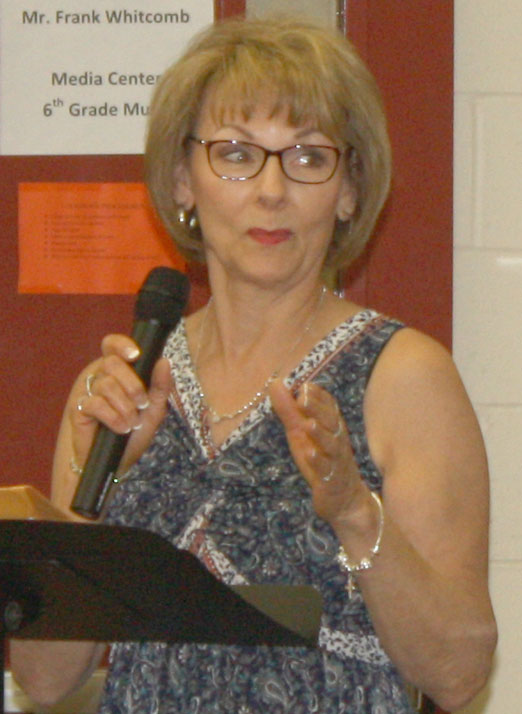 SWEET GOODBYE — Marilyn Dobberstein addresses those gathered at NRHEG's Staff Appreciation day. (Star Eagle photo by Aloni Duncan)
By MELANIE PILTINGSRUD
Contributing Writer
Marilyn Dobberstein, who grew up in Ellendale, Minn., is retiring having taught for 40 years in the local school district.
Dobberstein taught Home Economics, which is now called Family and Consumer Science, to 7th–12th grade students. "I went into teaching because I loved all of the aspects of Home Ec.," says Dobberstein. "I loved to sew, cook, etc., and I wanted to make a difference in children's lives. I had an awesome Home Ec. teacher in high school and she really encouraged me to pursue my degree in education.
"My first job was in Lanesboro, Minn.," Dobberstein continues. "I taught there for one year. The last eight years I have been in NRHEG and USC serving as Community Ed. Director."
After many years of teaching 7th–12th grade students, Dobberstein's job transitioned into teaching 7th- 8th grade students when her school combined with the New Richland-Hartland School district. "I gained the Community Education Director position when the elementary principal left our district," says Dobberstein. "ECFE was then being developed in the state of Minnesota, so I implemented that into our district. I also taught Parent Education in the evenings along with my full time job. I have enjoyed teaching a variety of Community Education classes throughout the years.