Details

Hits: 272
By KATHY PAULSEN
Staff Writer
The people of our area have donated a lot of money for cancer research over the years. It has also been nice to know that the people of our area are also ready and willing to offer their help for cancer patients who can find themselves short of funds when they are undergoing treatments.
Sandy Jensen hadn't been feeling good back around the 4th of July last summer so she went to Urgent Care. She later had a CAT scan and once the doctors in Owatonna had her test results, they told Sandy they recommended she go to Rochester. She made an appointment and was able to see a doctor a couple of weeks later. They told Sandy that what she had been experiencing really didn't have anything to do with cancer — but they had discovered that she had a metastatic cancer, a carcinoid tumor.  
It was felt that Sandy may have had the cancer for 10-15 years but had been undiagnosed. The cancer that Sandy has is slow growing and appears like speckles on X-rays. The cancer starts out in the small intestine and spreads into the abdominal cavity.
Sandy has already had to undergo two surgeries, the first in August, and the second one right before Thanksgiving, and hopes that she will not have to undergo any more.
Currently, Sandy is getting a chemotherapy shot once a month, which the doctors hope will stop the cancer or at least slow it down.
Sandy was not able to work for a while following her surgeries but continued to have medical expenses, as well as additional costs for travel and such for her appointments.
Details

Hits: 474
Drop items at Geneva Bar & Grill
By KATHY PAULSEN
Staff Writer
The days of 2018 are already ticking away and before we know it the 34th Annual Geneva Cancer Auction will be getting underway. Who could have ever realized what would transpire from a conversation that Hank and Judy Thompson and Whitey and LaJune Hagen had back in 1984 about what they could do to help raise money for cancer?
Though Geneva Bar & Grill has changed hands many times over the years, it continues to serve as the place people come to help in this very important cause. 
This year the auction will be held the weekends of Jan. 13-14 and Jan. 19-20. The Friday night auctions begin at 7 and the auction resumes Saturday at 2 p.m.
People come from far and wide for this annual event, which provides them the opportunity to help others, as well as renew friendships or make new ones while enjoying fun, laughter and camaraderie.
If you have attended one or more of the past 33 years of events you know what I am talking about, and if you haven't yet attended one of the auctions, I hope that you will make 2018 the year that you come to Geneva and see first-hand what takes place.
We are thankful that people continue to turn out to do what they can to help fight for a cure. An event as big as this takes many people to lend a helping hand, be it donating items for the auction, sharing auctioneering talents or helping to clerk the auction, while others come and bid on items they would like to take home with or share with others.
Details

Hits: 1908
Benefit Sunday at New Richland City Hall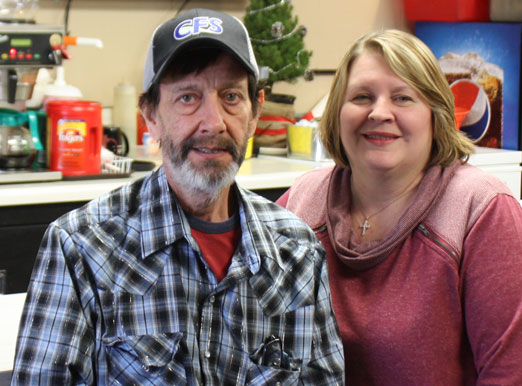 GRATEFUL — David and Kristine Johnson are grateful the New Richland Lions Club is hosting a pancake breakfast Sunday, Dec. 3 to help the family deal with expenses during David's battle with cancer.
By MELANIE PILTINGSRUD
Contributing Writer
The New Richland Area Lions Club will be hosting a pancake breakfast and silent auction as a benefit for David Johnson of the Hartland area this Sunday, Dec. 3 from 7 a.m.–12:30 p.m. at New Richland City Hall.
David says he had been feeling tired and worn out for a long time - from Dec. 2015 to Feb. 2016 – before he went to see a doctor. "I really noticed it a month and a half before," he says. He took a week off of his job at WFS (Now CFS.). "I thought I just needed to get some rest, because I was working long hours." But even with a vacation from work, David didn't feel any better. In Feb. of that year, his body filled up with fluid, and he finally decided it was time to see a doctor. David was diagnosed with Stage 4 rectal cancer with extensive liver metastases.
David has undergone a number of medical treatments since his diagnosis. At their first meeting, the Johnsons say the oncologist was "extremely concerned," and canceled another appointment in order to expedite David's first treatment. He was down to 130 pounds, but, because David's liver was compromised, 14.7 pounds of that was excess fluid, which doctors pumped out. A month later, the fluid had accumulated again, and David had another 17.9 pounds of fluid removed from his body. On a third occasion, 6 pounds of fluid were removed, so that David could go on a fishing trip with his brothers.
David had to have a port surgically installed in his chest in preparation for chemotherapy. He says the worst part of having a port in his chest is wearing a seatbelt. "I usually put my arm over the seatbelt," he says. "Last year it bothered me a lot, but then I had lost a lot of weight."
Details

Hits: 1399
Awards announced at concert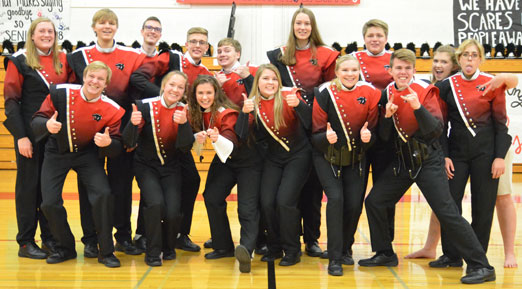 SENIORS — Seniors were recognized during the 2017 NRHEG Indoor Marching Band Concert. Front from left: Cole Thompson, Emily Pirgge, Kyra Possin, Taytum Ihrke, Lillian Bell, Ben Lewer, Emma Tollefson, Solveig Stafford. Back: Lauren Hermann, Christopher Stenzel, Landon Johnson, Caleb Harpel, Betsy Schoenrock, Justin Mortenson. (Star Eagle photo by Chris Schlaak)
By MELANIE PILTINGSRUD
Contributing Writer
On Tuesday, Nov. 21, the 2017 Indoor Marching Band Concert and Awards Ceremony took place at the NRHEG High School. The band was led by director Miles Otstot, and Amber Roeker was the color guard instructor.
The Jazz Ensemble got the concert started with Sonny Rollins' "St. Thomas," arranged by Mark Taylor, with Jadyn Sarat on trumpet. This number was followed by a jazzy "Hit the Bricks" by Gordon Goodwin, with solos by Chris Stenzel on alto saxophone, and Lawren Deml on baritone saxophone, both of which brought heartfelt applause from the audience.
Otstot took the microphone to deliver thanks to a number of individuals, especially to the custodians. "They make our lives easier; no matter how much of a mess we make, they never complain," said Otstot.
The Color Guard used mirrors and flags in a moving interpretation of the song "Reflections" from the movie Mulan, and then danced to Glee's version of "I Dreamed a Dream."
The Drum Line beat their hearts out in "Tear in my Heart" by Tyler Joseph, arranged by none other than Miles Otstot.
The seniors gathered on the gym floor to watch a slide show, and then played "Take On Me" by A-HA, arranged by Waters.
Details

Hits: 912
New Richland City Council
By JESSICA LUTGENS
Staff Writer
The 2018 general fund budget and tax levy, $973,671 and $423,312 respectively, were approved during the New Richland City Council's last meeting of the year on Monday, Dec. 11. The meeting was opened in order to hear public input regarding the budget, of which there was none. The budget was passed with Resolution 17-17.
The council voted to appoint Mike Shurson to the vacant seat left by Sandy Neumann, whose resignation became effective after the meeting.
In response to a request made by the City of Hartland earlier this year for a contract with the New Richland Police Department in order to enforce city ordinances and address ordinance violations, the council voted to deny the request. This is after viewing the 38-point agreement that Chief of Police Tony Martens expressed concerns about, particularly substantial liabilities that would be taken on by the City of New Richland and the NRPD if the contract were signed.
Interviews for care center administrator, a position currently held by Don Alexander, who has given notice of his departure this summer, will begin in January. Four applications have already been submitted.