Details

Hits: 3853
Farm & City Days 2017

LEADING THE PARADE — 2017 New Richland Farm and City Days parade grand marshals Mary Ebnet and Rick Schultz. (Star Eagle photo by Melanie Piltingsrud)
By MELANIE PILTINGSRUD
Contributing Writer
Jim Kozan, in his usual inimitable style, announced the two grand marshals of Farm and City Days at the Fire Hall Pancake Breakfast on July 8. Rick Schultz and Mary Ebnet were both completely surprised to be chosen as this year's grand marshals.
"I was so happy for you, I didn't even hear my name!" said Ebnet to Schultz after the two shook hands with numerous people following the announcement.
Both Ebnet and Schultz are native New Richland residents. Schultz grew up on a farm west of New Richland, and now continues to live there with his wife, Jackie. The two have one daughter, Hallie. Ebnet grew up on a farm, too, but she and her husband, Lavoy, have lived in town now for 14 years. Her husband helps Schultz with his farming. Lavoy and Mary have four children, Carmen, Vyanna, Rob, and Michael.
Besides farming, Schultz is involved in the Dekalb Asgrow dealership, and is president of the NRHEG School Board. He also organizes bus trips to the University of Minnesota, so that anyone who wants to can see Carlie Wagner play basketball. He said, "I'd just like to thank the community. We've got such a great support group here as far as if you ever need anything. We're very fortunate to have support for the school district, and all the other areas of interest here. It's a great community. I wouldn't want to live anywhere else."
Details

Hits: 2714
LSR dedicates
cemetery directory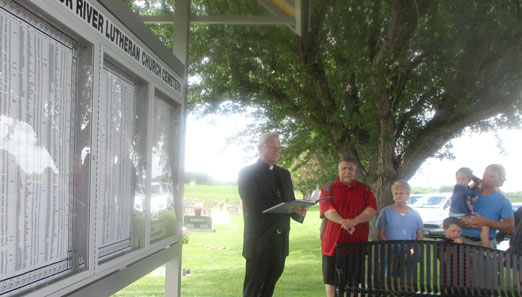 DEDICATION — Pastor Brian Gegel, left, standing next to Steve Schroeder, tells about the newly constructed cemetery directory at LeSueur River Lutheran Church. (Star Eagle photo by Kathy Paulsen)
By KATHY PAULSEN
Staff Writer
LeSueur River Lutheran Church celebrated its Sesquicentennial - 150th year – on June 19, 2011 and on June 18, 2017 they dedicated their newly constructed cemetery directory. Over the years they have also completed several other projects, including a beautiful new kitchen, steeple shingles and new siding.
The congregations of LeSueur River and Vista Lutheran Churches held a joint worship service on Sunday, June 18. Following the service, the cemetery directory dedication service and celebration meal were held at LeSueur River church, is located 4 1/2 miles northeast of New Richland. 
As people arrived at the church they were presented with copies of the origin of LeSueur River Lutheran. A roster of the congregation's first settlers included 36 people in 1856 and many of them went on to be buried in the church cemetery.
Dennis Knutson shared several songs on his flute during the prelude to the morning service. Gratia Johnson, church organist, served as his accompanist.
Following the service everyone was invited outside for the dedication of the cemetery directory and celebration. It was explained that the seeds for this project had been sown a few years ago and now the crop was being harvested.
Details

Hits: 763
An all sports rules meeting is set for Thursday, Aug. 10 from 6:30-7:30 p.m. in the NRHEG High School Commons.
This is a mandatory meeting for any students in grades 9-12 planning to participate in activities during the 2017-2018 school year. All fees and forms for fall sports can be taken care of at this meeting.
Details

Hits: 696
A New Richland community blood drive will be held Wednesday, Aug. 9 from 1 p.m. to 6 p.m. at NR City Hall, 203 Broadway Ave. N.
Please call 1-800-733-2767 or visit redcrossblood.org and enter New Richland Community to schedule an appointment.
Details

Hits: 865
During the summer, the Waseca County History Center will join 2,000 more museums across the country offering free admission to active duty military personnel and up to five family members. Specifically this outreach began on Memorial Day, May 29 and will end on Labor Day, September 4, 2017. Since WCHS has always offered free admission, it is offering a free membership in recognition of their service to our country.
All visitors are welcome to experience two ongoing exhibits: on the balcony is the "Timeline of Unique Stories from Waseca County" exhibit--each cylindrical exhibit case telling the story of a unique person, place, or event from the county's 160-year history. The panels detail decade by decade the county highlights in the context of key state and national events. 
On the main floor, the "First Settlements Remembered" exhibit will continue into the fall season. There were 12 early towns that were planned, platted, grew awhile, and died. How and why do we remember these first settlement efforts? What were the factors relating to their growth and demise? 
Visitors enjoy the Waldorf Jukebox, also a free "interactive" artifact!