Details

Hits: 877
Intersection of 13, 30 still an ideal location
IDEAL LOCATION — At the business corner of 415 Southeast Second Street, New Richland, this mid-1930s building was the first, and this man was the second proprietor of the service station at the intersection of Highways 13 and 30, longtime home to One Stop and future home of Casey's.
By RODNEY HATLE, NRAHS
Contributing Writer
(Part One of two parts.)
At this corner, New Richland's very own, locally-owned One Stop eventually became the town's one-and-only clerk-on-site gas station, and a convenience store.
The property has been sold and a new corporate building with similar service is forthcoming.
History shows that New Richland has had about a dozen small gas stations over the years – as many as eight at the same time. That was not so different from other towns of its size since 1930.
In 1940, the date written on this picture, this corner was nearing its 10th year as one of New Richland's "filling stations." It had been the second, but by 1940 there were several more. Four others were on this road, Highway 30. Four were on Broadway Avenue, two of which were across from each other on what is now First Street South, and two were across from each other at Third Street North.
Details

Hits: 3091
NRHEG musical 'dynamic, energetic, and a bit zany'

   THE PLAYERS — Among the cast members for the upcoming NRHEG production of "Annie Get Your Gun" are, on floor, Justin Mortenson and Will Rudau. Row two: Emma Tollefson, Aubrey Johnson and Leah Morstad. Back: Emily Crabtree, Ben Lewer, Maurya Johnson, Solveig Stafford and Lexi Combs. (Star Eagle photo by Deb Bently)
By DEB BENTLY
Contributing Writer
It's just before 6 p.m. on a Monday evening. Although play practice technically doesn't begin for another 10 minutes or so, it's hard to tell by looking around the room. At one side of the space, music director Jen Fredrickson and accompanist Jacob Bender are running through parts of the score. In another spot, a few cast members are running a spontaneous practice of some choreography. Costumes are being tried on, analyzed for their fit and appearance.
In short, the room is dynamic, energetic, and just a bit zany.
"Just like the play itself," jokes one cast member.
The play is Annie Get Your Gun, the well-known musical by Rogers and Hammerstein which shares the story of Annie Oakley, a real-life sharpshooter who performed with Buffalo Bill's Traveling Show in the 1880s. NRHEG's production of the play will show at 7 p.m. Friday, April 28, and at 2 and 7 p.m. on Saturday, April 29. Tickets will be for sale at the door: $4 for students, $6 for adults.
Details

Hits: 2647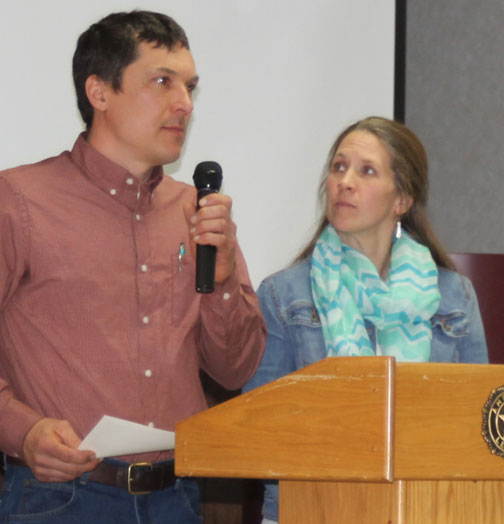 SURPRISED — Carey Prigge, left, speaks while his wife Terri watches during a banquet that honored them as Waseca County Farm Family of the Year. Terri said she was surprised to win the award. (Star Eagle photo by Melanie Piltingsrud)
By MELANIE PILTINGSRUD
Contributing Writer
The Carey and Terri Prigge family was named the Waseca County Farm Family of the Year on Thursday, March 23, 2017 by the Waseca Area Chamber of Commerce AgriBusiness Committee. The Prigges have a goat dairy farm, where they also raise their own hay, chickens, guineas, pea fowl, horses, cats, and dogs.
Terry Hansen called to ask if they would accept the award. Terri says, "We were a little shocked. We still kind of see ourseves as hobby farmers, which we were for so many years." According to Terri, the family started out with two goats, and now they have around 200 on their 10-acre property.
"We just have a passion for farming," says Carey, stating that he is honored to be named among those who have previously won the award. "We have always enjoyed being a part of agriculture." 
Details

Hits: 773
Citywide garage sales will be held on Saturday, April 29.
Stop into City Hall and fill out a form by April 21 if you would like to be included on the map. You can also submit your information online at www.cityofnewrichlandmn.com.
There is no charge to be on the map; however you will be responsible for any further advertising you wish to do.
The booth rental spaces at City Hall are full for this year. We do have tables available for you to rent and use at your home for just $5 each. First come first service basis.
Sales at City Hall will be listed to run from 8 a.m.-2 p.m. on April 29.
Details

Hits: 302
In honor of The City of New Richland's 140th anniversary,  Farm & City Days will have a fireworks show on Friday, July 7.
Stop by City Hall, The Red Leaf, The Willows, Wagner Foods or The State Bank of New Richland with any donations to help cover the cost. Donations can be mailed to P.O. Box 262 and checks made out to NR Farm & City Days.
The goal is to pay for half and raise donations for half of the cost. Thank you!