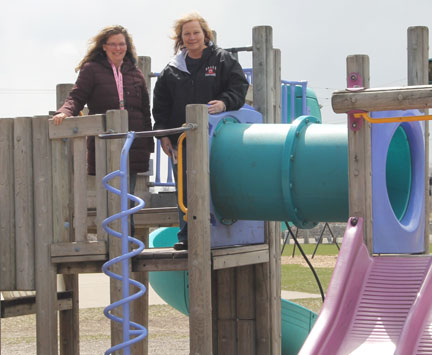 PLAYGROUND PLANS — Kim Routh and Beckie Johnson stand on some of the current playground equipment at NRHEG Elementary. (Star Eagle photo by Melanie Piltingsrud)
By MELANIE PILTINGSRUD
Contributing Writer
Early in the morning and during afternoon recess, 450 children gather in long lines at NRHEG Elementary School, waiting patiently for their turn on the playground equipment – much loved and dilapidated equipment that, 25 years ago, served only 250 children before the Ellendale-Geneva school merged with New Richland-Hartland.
Some of the sturdier equipment has been on the playground for at least 50 years and is still serving the children well, but now, the wooden playset in the middle of the playground stands crooked and is missing pieces that can no longer be acquired. Members of the Playground Committee call the wooden playground set "dangerous."
That is why the NRHEG Parent Teacher Organization donated $20,000 and asked a group of volunteers to form a committee to oversee fundraisers to buy new equipment for the children of the elementary school, and the children who keep coming back to play on the equipment all summer long. The committee has been raising funds since September 2015. They currently have just over $35,000 of the $75,000 they need to replace the old playground set with two new sets.
Originally, they had planned to buy only one larger set, but Kim Routh and Beckie Johnson, who spoke for the committee, say that another company, Play and Park Structures, came forward with a more appealing suggestion for two smaller sets, which would split up the lines of children and allow everyone more playtime. One set will stand right where the old one is. The other set will stand just beyond the basketball court.
The Playground Committee, passionate about the commitment to provide new equipment for the children, has already organized a number of fundraisers. A Community Night Out in Geneva raised approximately $10,000. There was also a social hour supper in Blooming Prairie, called Tale of Healing, for which tickets were sold.
A forthcoming event, in which those interested can still participate, is a Bingo tournament at the Ellendale school, which will take place on April 30, beginning at 6:30 p.m. The price for entering is $15 for one card per person, or $25 for two cards per person, which pays for 40 rounds of Bingo. Winners will be able to choose from a variety of garden and yard-related items. There will also be a live auction of several large items. Pizza, snacks and beverages will be available for sale. All proceeds for this event will go to the playground fund.
Those who wish to donate money to the fund can also buy $20 gift certificates from Souba Greenhouse. Five dollars from every certificate will go toward funding the new playground equipment. These gift certificates can be used at either the Albert Lea or Owatonna locations. Those who wish to buy a gift certificate can call Beckie Johnson at (507) 465-6855, or Julie Haroldson at (507) 838-1054.
Donations can also be mailed to the Playground Committee, NRHEG Elementary School, 600 School Street, Ellendale, MN 56026, Attn. Kim Routh or Beckie Johnson.
The first of the two playsets is scheduled to be up in July. Down the road, the committee members hope to add more individual pieces in order to accommodate the many children who play at the elementary school, but for now, they are excited to see the two new playsets go up.