After all these years, Thompson talks about it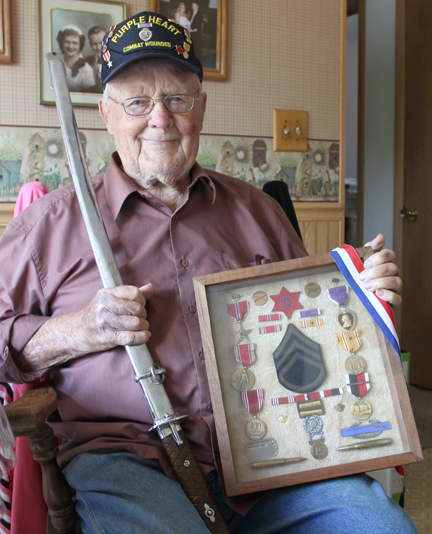 DAMN LUCKY — That's what Harold Thompson's nickname was in the Philippines during World War II, where he survived many brushes with death. (Star Eagle photo by Jim Lutgens)
By JIM LUTGENS
Editor/Publisher
For many years, Harold Thompson did not talk about what happened in World War II.
That doesn't mean he forgot; but it wasn't necessarily where he wanted to be. Like most young American men, he felt a need to be there.
For its part in helping to defeat Germany and Japan, his has been called the Greatest Generation, and it's something he's proud of.
"It makes you feel good," he said.
But World War II was not about feeling good.
Even some of those who made it back from the war didn't totally make it back. Thompson knows of at least one soldier who took his own life upon returning.
"He just couldn't take it," he said.
How did Thompson handle it?
"I had to go to the Vet's Hospital, where a lady psychologist interviewed me," said Thompson. "She questioned me about it. I said, 'If you shoot yourself, what good are you then? What fun can you have if you're six feet under ground?' She said to me, 'Mr. Thompson, I don't think I need to talk to you anymore.'"
And he didn't feel a need to talk about the war.
"I wanted to forget," he said. "It was so awful, I didn't even want to think about it. I'm still trying to forget it. But it comes back, you know?"
Thompson was thrilled with the fact he and other local surviving World War II veterans were honored as grand marshals of the 2014 New Richland Farm and City Days parade.
"I thought it was great," he said. "I liked that."
— — —
Born and raised in Hartland, Thompson was a 1943 graduate of Freeborn High School, where he set a record for striking out the most batters as a baseball pitcher. After graduation, there wasn't much debate about what to do.
"I went to the draft board and they said, 'Don't you think you should be in the service?' I said, 'I think so.'"
He lied about his age, 17, and set his sights overseas.
"I wanted to go and be with my buddies," he said. "I didn't care. They give me that machine gun, it shot 200 rounds a minute, I thought, 'Boy, this thing can really shoot,' and it did."
What lay ahead was two-plus years of service in the Army, starting in New Guinea and ending in Korea, but it's the 112 days of continuous action in the Philippines in between that makes you wonder how he ever made it back.
His nickname in the Philippines? Damn Lucky.
"Damn lucky to be alive," he said.
He was one of five Thompson brothers to see action in the war. James, George and Vernon joined him in the Philippines, while Elvern served in the Air Force in Italy.
"My brothers were with me on the biggest island," said Thompson.
He was part of the 6th Division, which set a record in the Pacific for its 112 consecutive days of fighting. The division numbered about 5,000. Thompson doesn't know how many of the 5,000 came home, only saying, "There were lots of causalities."
They fought in shifts, four hours on and four hours off.
He was there when soldiers were captured for the infamous Bataan Death March.
"I seen it," he said.
He was there for the capture of a four-star Japanese general, Yamashita.
"The U.S. government held a war crimes trial, and he was hanged," said Thompson.
— — —
Thompson remembers the banter as soldiers boarded a ship headed out of San Francisco Bay.
"When we went under the Golden Gate (Bridge)," one of my buddies said, 'Golden Gate in '48.' I said, 'Home alive in '45,'" he said.
It turned out to be prophetic.
He got home in 1945.
"My mom got sick," he said. "It was a medical emergency."
And it was a reprieve for a soldier who had too many brushes with death.
"Many times, I thought I was going to get (killed)," said Thompson. "We had a lot of combat. But the Air Force helped us out a lot."
An incident that stands out involves a river and countless enemy causalities.
"The Air Force blew up two bridges, about a mile apart," said Thompson. "There was a whole column of Japanese soldiers a mile long. The Air Force came in and killed them all."
There was never any down time.
"One day, my buddy woke me and said there was something going on in front of us," said Thompson. "So I got up, didn't hear anything, but shot my machine gun in the area anyway."
The next day, they found a Japanese soldier wounded in the leg.
"One day we were on patrol in the jungle, and we came across a clearing," said Thompson. "There was a Jap standing there. He said, 'Don't move!' We all took off and ran. He never fired a shot. I was damn lucky again."
Another day, Thompson was in a foxhole when a bullet narrowly missed him, hitting his backpack and destroying his food ration. He dove on an anthill, where he remained for about an hour. Lucky again.
"One day, the Captain came in and said, 'I want you to dig in on the other side of the perimeter,' which we couldn't see from there," said Thompson. "The other guy they sent with me, a Jap shot him right in the head."
Another time, a soldier was injured in the stomach and the men were isolated with no food or water for four days.
"The captain says, 'I want six volunteers to take this man to headquarters,'" said Thompson. "I wanted no part of it."
The captain had other ideas.
He said, "Thompson, you're first."
That mission was completed without incident.
There was also personal tragedy.
"One day, a friend of mine got a letter from his wife," said Thompson. "She was going to leave him. He stood up and started shooting his machine gun. He just let them shoot him."
On the other end of the bullets was a sound Thompson will never forget, a "Woodpecker" machine gun.
"It sounded like a woodpecker when they shot it," he explained.
Thompson was injured in the Philippines by a Japanese hand grenade.
"It got four of us," he said. "They put me in a stretcher and started down the mountain, and the Japs started shooting at me again. Then they put us in an airplane, about 30 of us, and the plane went in the ditch. They had to put us in another one."
It was a Saturday when he reached the hospital.
"On Sunday, I was so glad to be alive, I went to church," he said.
There, Thompson had an opportunity to get out of the line of fire when the minister invited the young soldier to be his assistant. He declined.
"I said, 'I've got to get back and kill the Japs,'" said Thompson. "I went right back to combat."
But he didn't get right back.
"We had to walk seven miles, but my leg swelled so bad, I couldn't go any further, so I was sent back," said Thompson. "Walking back, there was a guy taking a shower in a waterfall. The Japs shot him, right next to me."
Another time, he was wounded and ordered onto a stretcher. He refused, saying he could walk. But not for long.
"I passed out," he said. "I had lost too much blood from my hand, neck and leg."
— — —
Among Thompson's medals are, of course the Purple Heart, and the Bronze Star, which he was awarded for saving a man's life. He downplays it.
"We took a hill, and they were shoving us back down the hill," said Thompson. "He was so scared, he didn't know what to do. He was frozen. He was kind of a hillbilly, kind of simple. I just lifted his leg and said, 'Go!'"
Among the souvenirs he collected and still owns are a Japanese flag, saber, and bugle.
There was at least one moment of light among the dark that Thompson recalls.
"When we went to Korea after the war, marching in, we saw a little kid, he looked kind of Japanese," said Thompson. "I asked him, 'You Japanese?' He said, 'No, you Japanese.' I got a kick out of that."
— — —
Now 89, Thompson is long retired, living with his wife, Helen, in New Richland. Their twin sons, Mike and Mitch, have taken over the family business, Thompson Auto Body. They also have a daughter, Michelle Boelter.
Harold and Helen, who knew each other growing up in Hartland, were married in 1951, the same year they opened the body shop in New Richland.
"I went halfway around the world," said Thompson. "And came home to find a wife just across the railroad tracks."