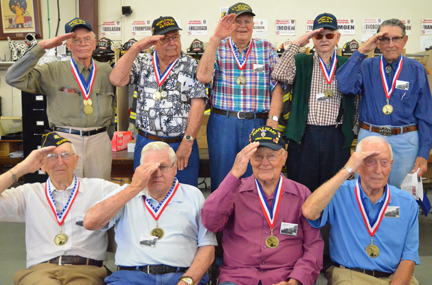 SALUTE — The 2014 Farm and City Days Parade Grand Marshals were 13 people who served in World War II. Front from left: Dr. Albert Flor, Gordon Peterson, Harold Thompson and Winston Evenson. Back: Richard Crumb, Eugene Warke, Bud Shurson, Donnie Bartness and Tony Arnfelt. Not pictured: Kenneth Eaton, Donald Smith, Audrene Smith and Marie Querna. (Star Eagle photo by Chris Schlaak)
By NICOLE BILLING
Editorial Assistant
On Saturday, July 12, at New Richland's Farm and City Days annual breakfast, the 2014 Parade Grand Marshal was announced – or rather, we should say Grand Marshals.
This year's Grand Marshals were 13 people who served in World War II: Gordon Peterson, Dr. Albert Flor, Buddy Shurson, Harold Thompson, Kenneth Eaton, Donald Smith, Audrene Smith, Don Bartness, Winston Evenson, Marie Querna, Eugene Warke, Richard Crumb, and Tony Arnfelt.
There wasn't a dry eye in the house when the names of the veterans were announced. Many of them had no idea what was going on, even as their names were read. Some came with their uniform cap, like Dr. Flor, while others came in regular clothes.
These men and women put a lot on the line to keep this country safe. 
Buddy Shurson flew 50 combat missions with the 398th Bomber Group, 15th Air Force.
Harold Thompson served in combat 230 consecutive days. When he was finally able to take his boots off, his socks had disintegrated.
Audrene Smith (who couldn't be present) served in the Army with the Army Corps of Nurses as 1st Lt. from 1943-1945. She was stationed in Germany, Austria and Italy.
Marie Querna was 2nd Lt. RN in the Army Nurse Corps, stationed in Clinton, Iowa. 
Richard Crumb was a Sergeant in the Army and was deployed in early 1945. He was put in charge of 33 German Calvary horses.
When he was interviewed for the job, the last question he was asked was "What position did you play on the baseball team?" He thought that was an odd question, but he answered and got the job.
"I was also one of the only farmers on the squad," he added.
When they were going home, another member the squad asked Crumb if he would help carry his bag to the ship. The bag was unnaturally heavy. When they opened the bag back in the US, Crumb discovered it was full of Lugers, German pistols. He sold them all for $35. Today they are worth about $3,000.
We will always remember what these men and women did for our country, and appointing them Grand Marshals in our parade is only a small thing we can do to show our gratitude.