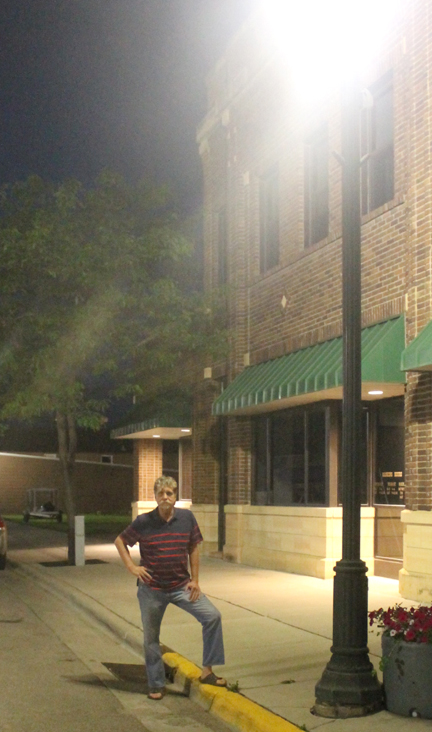 NEW ILLUMINATION — Retired State Bank of New Richland President Bernie Anderson stands under one of the lights for which he and the bank donated nearly $40,000. (Star Eagle photo by Jim Lutgens)
By JIM LUTGENS
Editor/Publisher
Folks are seeing downtown New Richland in a whole new light these days — thanks to Bernie Anderson and the State Bank of New Richland.
SBNR and Anderson, the bank's retired president, recently donated nearly $40,000 for "new" street lights along Broadway Ave., greatly enhancing the after-dark perspective on main street.
The globe-style lights and poles are of the vintage variety. Purchasing them for his hometown was the brainchild of Anderson.
"I was at the YMCA, and I heard about a project where they were going to re-do Albert Lea's Broadway," explained Anderson. "I got to thinking about those lights. I checked with them, and they thought there was a possibility New Richland could buy them."
All that was needed was money. So Anderson presented a check to the city for the lights, installation and rewiring, converting them to LED lights.
The new lights are not only aesthetically pleasing, they're more energy efficient than those replaced, with annual savings of approximately 40 percent.
But that's not the main reason it was done.
"To be honest," said Anderson, "I have a lot of old classmates coming back to New Richland, and they've commented on what happened to the town, the big holes along our main street. I just wanted the town to look as good as it can look."
And Anderson, like many, is pleased with the outcome.
"I do think," said Anderson, "if you look at our downtown, it's better than those in a lot of small towns."