Panther fans make pilgrimage to Northfield for game, ceremony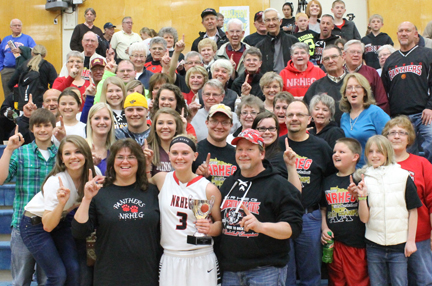 PANTHER NATION PARTY — Miss Basketball Minnnesota 2014 Carlie Wagner (3) poses for a photo with family members, friends and fans after receiving her award Saturday at Carleton College in Northfield. (Star Eagle photos by Jim Lutgens)
By JIM LUTGENS
Editor/Publisher
By the time Carlie Wagner played in the all-star girls' basketball game at Carleton College in Northfield Saturday, she was tired.
By the end, she was joyous — along with a good portion of Panther Nation.
Wagner, an NRHEG High School senior and one of the nation's top basketball recruits, captured perhaps the most noteworthy honor given to a high school player as she was announced Minnesota's Miss Basketball for 2014.
It followed, coincidentally, a game in which Wagner's team lost 102-85 while she scored 30 points.
But that wasn't the moment everyone was waiting for.
Nearly half the fans in the gym were there for Wagner, and they rose in applause as the announcement was made. Wagner, of course, posed for pictures with all.
"I guess it's pretty cool," said Wagner of the award. "It's exciting. I really wasn't expecting it at all. Chase (Coley), if you look at her numbers, they're just incredible."
She had some stiff competition in fellow finalists Kenisha Bell of Bloomington Kennedy; Chase Coley, Minneapolis Washburn; Cayla McMorris, Park Center; and Briana Rasmusson, Fergus Falls. Four of the five will play Division I basketball, Wagner, of course, with the Minnesota Gophers.
But Wagner had plenty of credentials with which to impress the judges, breaking and rebreaking state tournament scoring records the last three years. And the Panthers beat Coley and her Washburn team each of the last two seasons.
Wagner said, overall, the weekend was an awesome experience.
"It wasn't even the game that was the best part, it was just getting to know everyone," said Wagner. "That was the best part about it."
Who would Wagner like to thank?
"First of all, my mom and dad," she said. "They've just done everything for me through the years, taking up a lot of their time for me."
And of course there's now-retired NRHEG coach John Schultz.
"I wouldn't be where I am withought him," said Wagner. "It was all Mr. Schultz. He's a huge part of everything I've accomplished
After graduation later this month, Wagner will move to Minneapolis to start workouts around June 14.
Sadly, she won't be joined by her Panther teammate and best friend, Jade Schultz. Schultz was offered Preferred Walk-On status but that apparently changed after coach Pam Borton was fired.
"I was not happy," said Wagner. "She talked to the AD and was told everything was fine. Then the new coach called."
Wagner said Panther fans made it fun for her teammates during Saturday's all-star game, and they commented on it.
"It was funny," she said. "My teammates were loving it, because every time somebody from our team scored, they cheered.
It has been said that as great a basketball player Wagner is, she's an even better person.
Her thoughts?
"Basketball is imporant, but I don't feel it's as important as being a good person," she said. "People will remember you for your kindness and humility over being a good basketball player."
In Wagner's case, they'll remember both.
Miss Basketball Minnesota recipients
• 2014 — Carlie Wagner, NRHEG
• 2013 — Rebekah Dahlman, Braham
• 2012 — Marissa Janning, Watertown-Mayer 
• 2011 — Rachel Banham, Lakeville North 
• 2010 — Cassie Rochel, Lakeville North
• 2009 — Tayler Hill, Minneapolis South
• 2008 — Courtney Boylan Chaska
• 2007 — Angel Robinson, St. Paul Central
• 2006 — Jenna Smith, Bloomington Kennedy
• 2005 — Katie Ohm, Elgin-Millville
• 2004 — Leslie Knight Hopkins
• 2003 — Liz Podominick Lakeville
• 2002 — Shannon Bolden Marshall
• 2001 — April Calhoun Robbinsdale Armstrong
• 2000 — Susan King Holy Angels
• 1999 — Mauri Horton Minneapolis North
• 1998 — Tamara Moore Minneapolis North
• 1997 — Coco and Kelly Miller Rochester Mayo
• 1996 — Sue Fiero Goodhue
• 1995 — Linda Shudlick Apple Valley
• 1994 — Kjersten Miller, Bloomington Jefferson
• 1993 — Kasey Morlock, Stewartville
• 1992 — Stacy Fields, Mounds View
• 1991 — Shannon Loeblein, St. Paul Harding
• 1990 — Carol Ann Shudlick, Apple Valley
• 1989 — Yoli Murphy, CHOF (Class A)
• Jessica Fiebelkorn Osseo (Class AA)
• 1988 — Mary Jo Miller, Tracy-Milroy (Class A)
Carolyn Frisk, Stillwater (Class AA)
• 1987 — Laurie Decker Rochester Lourdes (Class A)
Mya Whitmore, Hill-Murray (Class AA)
• 1986 — Laurie Decker, Rochester Lourdes (Class A)
Amy Davidson, St. Louis Park (Class AA)
• 1985 — Kristi Kremer, Wheaton (Class A)
Denise Holm Duluth East (Class AA)
• 1984 — none
• 1983 — Angela Kuehn, MN State Academy for the Deaf
• 1982 — Annie Adamczak Moose Lake    
• 1981 — Kelly Skalicky Albany
• 1980 — Janet Karvonen New York Mills    
• 1979 — Jean Tierney, St. Paul Central    
• 1978 — Laura Gardner, Bloomington Jefferson