NRHEG girls repeat as state champs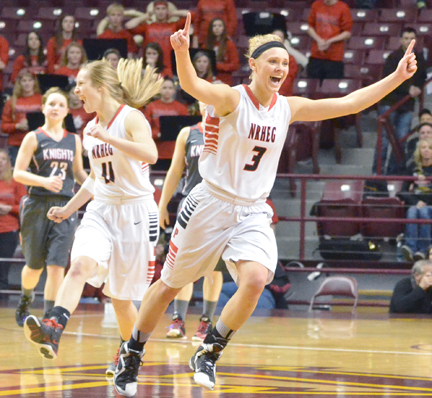 NO. 1 AGAIN — The Panthers' Carlie Wagner (3) signifies her team is No. 1 for the second year in a row after NRHEG defeated Kenyon-Wanamingo 71-61 for the Class AA girls' state basketball championship at Williams Arena in Minneapolis Saturday, March 22. Also pictured for the Panthers is Anna Stork (11). (Star Eagle photo by Chris Schlaak)
Carlie again shatters state records, but it's a team effort
By JIM LUTGENS
Editor/Publisher
Happy or sad?
The New Richland-Hartland-Ellendale-Geneva Panthers couldn't seem to decide. So they were both - with the ledger visibly tilted to the happy side.
The Panthers completed an amazing, improbable, history making two-year run at Williams Arena in Minneapolis Saturday, winning their second consecutive Minnesota Class AA state girls' basketball championship. The Panthers, rated No. 1 in the state all season and seeded No. 1 in the state tournament, defeated No. 2 seed Kenyon-Wanamingo 71-61 for the title, finishing the season with a 61-game winning streak. The Panthers finished 31-0. Kenyon-Wanamingo wound up 31-2, its only losses to NRHEG.
"In 20, 30 years, these girls will be coming back to Williams Arena as legends," said Panthers coach John Schultz. "To win a state championship, that's one thing. But to do it back-to-back, it's unheard of."
For the third year in a row, senior Carlie Wagner broke several state records, perhaps the most noteworthy Minnesota basketball legend Janet Karvonen's total tournament scoring mark. Her twin sisters, freshmen Maddie and Marnie, stepped up to earn all-tournament honors with their sister. In all three state tournament games, the Wagner sisters outscored the opposing team.
The Wagners may have scored most of the points and garnered the accolades, but the state title was — as it has been all season — a team effort, with each of the Panthers playing their role to perfection. Though they did appear on cruise control at times, there was no real "easy" game at state for the Panthers, who faced three tough section champions and, at times, dealt with many calls from the officials that did not go their way. They learned it's different going there as Goliath.
Coach Schultz was happy and excited but most of all relieved when it was finally over.
"We did it last year, so there was so much pressure on these kids to do it again," he said. "They learned how to tune it out, take everything one game at a time. I was proud of their reaction."
Wagner, who'll play college basketball for the Gophers on the same court as the state semifinal and championship games, found herself surrounded by cameras and reporters after each state game. She had tears in her eyes after the finals.
"It's indescribable," she said. "It's just hard to believe it's all over. It hits you hard. They're tears of joy and sadness, because your high school career is gone, right now. All season people have doubted us, or wanted us to lose because we won last year. It's great to come out and show them how we can play. I just wanted to prove to people we were here for a reason, we're not going to back down. To come back here and win it two years in a row, it's like a dream. I can't believe I'm standing here right now."
Most of all, Wagner will miss her teammates.
"This is an amazing group of girls," she said. "I didn't want to take my jersey off tonight. Knowing it's the last time playing with those girls, it's tough. I don't want it to be over. I don't want to leave these teammates, I don't want to leave this school, I don't want to leave this town."
Senior Jade Schultz shared Wagner's emotions.
"I'm pretty excited we won, but I don't know if I'm happy or sad, because I know I won't be playing with my teammates again," said Jade. "You can't take anything for granted in high school. It goes so fast. You don't realize it until the end."
The hardest part for Maddie and Marnie Wagner? Seeing all that emotion spill out.
"I have mixed emotions," said Maddie. "It's amazing we won it, but losing the seniors will be tough. The locker room afterward was interesting."
"The hardest part was being in the locker room today," said Marnie. "All the bawling after the game. I can't stand to see people cry."
Coach Schultz was asked what it's like to have a once-in-a-lifetime player like Carlie Wagner.
"You try to relish every moment that you can," he said, "because you're not ever going to have another one like it."
How would Wagner like people to remember her legacy?
"That I led by example," she said, "and for people to just remember I love my community and the game of basketball."
Did Wagner, as a little girl, ever imagine herself as a state tournament hero surrounded by the media spotlight?
"Not even close," she said. "My mom actually thought I'd be a cheerleader."
"That was when she was real little," said her mom, Jane Wagner. "In third grade, Jade got her involved in sports. By fifth grade, we knew we knew we had something special."
By now, so does most everyone else.
Team records/milestones set by 2013-2014 Panthers:
• 61-game winning streak
• Four-year home win streak dating back to March 2010
• Six straight Gopher Conference championships
• Back-to-back state champs, 8-1 state tournament record last three years
• Undefeated season
• Most points scored in a state tournament game, 100
• Most three-point shots made in a state tournament game
• Most points scored in a state tournament, 258
Records/milestones set or held by Carlie Wagner:
• Minnesota's all-time scoring leader with 3,957 points
• Associated Press Player of the Year
• Miss Basketball finalist
• Twice all-state
• All-tournament team three years in a row
• NRHEG's all-time assist leader with 684, breaking record in state championship game
• NRHEG's all-time steals leader with 577
• Most points in a state tournament game, 53
• Most points scored in one state tournament, 130
• Most points scored in multiple state tournaments, 371
• Most field goals in a state tournament game, 21
• Most field goals attempted in one tournament, 110
• Most field goal attempts in one game, 43