NRHEG basketball girls continue to write local history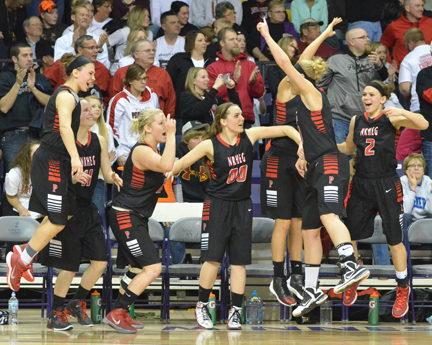 Above, members of the NRHEG girls' basketball team jump for joy in the final seconds of the Panthers' 70-36 victory over Norwood-Young America for the Section 2AA championship and state tournament berth Friday night at Mankato. From left: Maddie Wagner, Anna Stork, Jade Schultz, Hannah Lundberg, Paige Overgaard, Carlie Wagner and Marnie Wagner. Below, Panther Nation makes its presence known. The Panthers, seeded No. 1, play Wednesday in the opening round of the state tournament at 2 p.m. against Pequot Lakes at Mariucci Arena in Minneapolis. (Star Eagle photos by Chris Schlaak)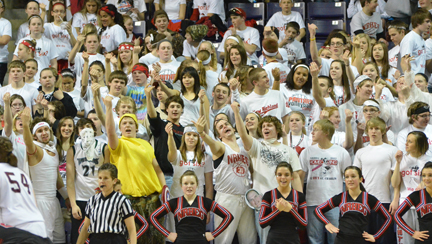 By JIM LUTGENS
Editor/Publisher
A sea of taillights stretched from Mankato past St. Clair, Pemberton and Waldorf to New Richland and beyond Friday night.
It was a caravan, a joyous and proud Panther Nation.
Again, their beloved girls got the job done.
The defending state champion New Richland-Hartland-Ellendale-Geneva girls' basketball team captured a third consecutive Section 2AA crown, dismantling Norwood-Young America 70-36 in the finals at Minnesota State, continuing to write school and local history.
NRHEG coach John Schultz said it was both a joy and a relief.
"It's always the best feeling in the world," he stated. "In any team sport, getting to the state tournament is the ultimate goal. This year, it was the ultimate goal because everyone expected us to be there."
The Panthers have been rated No. 1 in the state in Class AA all season, and won a sixth consecutive Gopher Conference championship.
Schultz, though, had genuine concerns entering Friday's section final after a rather lackluster showing against WEM in the sub-section title game.
"I'm just so relieved we got by tonight after how we played Monday," said Schultz. "It created some worries. It's like a huge burden off everyone's back. We met people's expectations. Now, we'll sit back and rest a little and then get ready for Wednesday."
As expected, the Panthers drew the No. 1 seed in the state tournament and will face Pequot Lakes Wednesday at 2 p.m. at Mariucci Arena in Minneapolis in the opening round. If Pequot Lakes pulls an upset, the Panthers' season will end. If the Panthers win, they'll play in the semifinals Friday at 6 p.m. at Williams Arena. The championship game is Saturday at 2 p.m. at Williams Arena while the third-place game is Saturday at noon at Concordia College in St. Paul.
Schultz said he's not concerned about the Panthers overlooking anyone.
"We're just so much a one-game-at-a-time team," he said. "It would be a disappointment not to get to Friday, but these girls are very good at focusing on one game at a time, one possession at a time."
The Panthers, 28-0 and riding a 58-game victory streak dating back to early last season, advanced to state for the third year in a row. They finished third two years ago and last year, of course, won it all. While team efforts, both appearances featured state record-setting performances by Carlie Wagner, who has since signed with the University of Minnesota while attracting much state and even national attention.
Through it all, Wagner has maintained her reputation as a wholesome, small-town girl off the court and, on the court, enhanced her standing as one of the fiercest competitors in Minnesota high school basketball history.
Long after last Friday's game, Wagner, finally a senior, was on the court posing for photographs and signing the last of what must have been hundreds of autographs. Included among the youngsters in line was a special needs student, whom Wagner hoisted off the ground with a big hug; both smiled widely as Carlie snuggled close for a photo.
"I'm just trying not to miss anybody," she said. "I love all these little kids. They're great."
And how was Wagner?
"Cloud nine," she said. "I'm on cloud nine right now."
No, said Wagner, it never gets old.
"It's an electrifying feeling each time," she stated. "To share it with these fans and this community, it's just an awesome feeling."
And this year it's a different feeling heading to state.
"I think, going up there for a third year in a row, there's less pressure," she said. "We know what to expect. You definitely have to bring your A game every time. It's do or die, and we love it."
"I'm speechless," said senior Hannah Lundberg, to which her mom quickly quipped, "That never happens!"
"I'm just glad we overcame that little hiccup (Monday night) to show people what we really are," said Hannah. "I'm very proud of every one of my teammates. They played their hearts out."
Senior Jade Schultz, who recently learned she'll join Wagner with the Gophers next year, also looks forward to state. "It feels great again," she said. "It feels like we're at home there."
Said senior Paige Overgaard, "It's our third time to state, and we're so excited and so ready for it. The whole season, starting with the first practice, has led to this moment. I'm really excited. It's the best feeling in the world."
Schultz, last year's Minnesota Class AA Coach of the Year, said much credit is due the Panthers' four seniors.
"In four years, one time Hannah missed a practice because she was in the hospital," said Schultz. "Otherwise, they've never missed a practice. They are so committed."
And that did not come as a surprise.
"I knew what we had coming through when I took this job the second time around," he said. "All these kids, they're outstanding people who just do the right thing. They take no short cuts, they don't think they're better than anyone else. People ask me, 'How can you coach girls?' Well, these aren't girls, they're athletes. They're tougher than most boys."