NRHEG squad takes first in MCCA state competition
MILES OF SMILES — Above, Members of the NRHEG High School Competition Cheer Team had plenty to smile about Saturday after placing first in the Class A Non-Tumbling Division in the Minnesota Cheerleader Coaches Association state competition at Roy Wilkens Arena in St. Paul Saturday, Feb. 1. Front from left: Torrie Stencel, Jadyn Nelson- Spies, Abbey Solland, Stormi Hagen, Nicole Edon and Jessica Nafe. Back: Lizzy Hagen, Grace Lewison, Mikayla Besser, Taylar Tieskotter, Abby Christopherson, Abby Wacholz, Bayli Possin and Anna Bailey. Below, coach Kari Buendorf holds the state championship trophy. (Star Eagle photos by Sarah Raimann)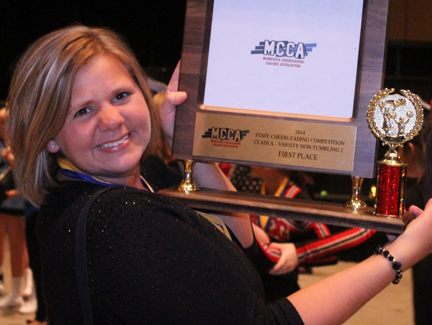 By JIM LUTGENS
Editor/Publisher
At the start of the 2013-14 season, NRHEG Competition Cheer coach Kari Buendorf had to wonder.
How could the Panthers possibly replace nine graduating seniors?
"I was excited about this group of young ladies, but was nervous if they would be ready to compete at the level we have gotten to over the past years," said Buendorf.
The answer? Quite nicely, thank you.
On Saturday, the Panthers brought home a state championship in the Class A Non-Tumbling Division at the Minnesota Cheerleading Coaches Association state competition at Roy Wilkens Arena in St. Paul.
In addition, team members Presley Johnson and Jadyn Nelson-Spies were part of the Minnesota Honor Team of Excellence for leadership and academics. Nelson-Spies was the winner of a $1,000 scholarship from the MCCA.
And they weren't the only awards won by NRHEG girls. The elementary team, coached by Michaela Hansen and Hannah Moe, finished second in its division.
Buendorf wouldn't say she was surprised by it all, but she was quite pleased.
"Last year I graduated nine seniors, so this was a year of many new faces," said Buendorf. "Of the 14 member team, only six of them had competed in previous years. This group exceeded my expectations. They were willing to put in the time, effort, and dedication to make it one of the best routines."
The routine landed the Panthers second place in Saturday's preliminary round, putting them into the finals. There, according to Buendorf, they performed a "flawless" routine to earn their state championship.
Buendorf said the waiting was perhaps the hardest part.
"Going through the preliminaries was probably the most nerve racking, and many emotions by myself and the team were had while awaiting the results on who was moving on to finals," she stated. "When our name was called we were relieved, but it was back to the mats to clean up anything that needed to be done."
At this point Buendorf was confident the team had what it took to give the performance they needed to take home the state title, and they proved it.
"I was so excited after they hit the last stunt sequence," she said. "I knew they could not have performed any better than what they did. As NRHEG was announced as state champions, the look on the girls' faces said it all."
Buendorf reported that Panther Pride was shown throughout the day by NRHEG fans, parents, alumni and cheerleaders.
"We are so fortunate to have the support of many community members," said Buendorf. "From myself, Hannah Moe and Michaela Hansen, we would like to thank our cheerleaders, parents, and all those who enjoy watching cheerleading. We are happy to be able to provide such a positive program for those who enjoy the love of cheering."