30th Annual Cancer Auction kicks off in style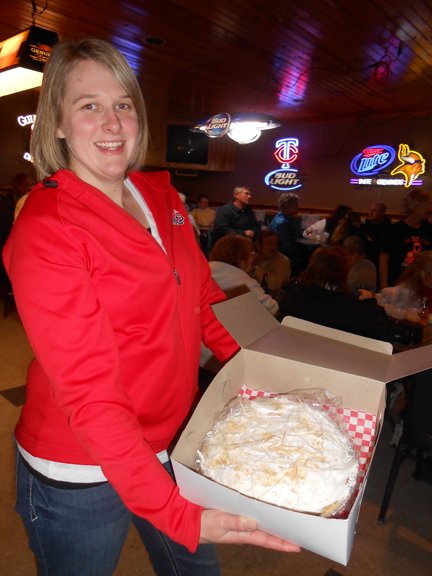 UP FOR BIDS — Paula Twedt displays Elaine Peterson's Graham Cracker Creme Pie so people can get a closer look during the opening weekend of the 30th Annual Geneva Cancer Auction. Elaine makes and donates a pie every year. The auction concludes this weekend at Geneva Bar & Grill. (Star Eagle photo by Kathy Paulsen)
By KATHY PAULSEN
Staff Writer
Geneva doesn't have a very big population, according to the map or the record books. But in terms of the friends who come to be part of a great cause, it's a very big place. 
Continuing a tradition
The Geneva Bar and Grill was filled with supporters on Jan. 10 and 11 for the first weekend of the 30th Annual Geneva Cancer Auction. It may have been cold outside, but much warmth was generated inside. 
It is without a doubt the event of the year. 
Whitey Hagen welcomed everyone to Geneva, and told the gathering that some people have participated all 30 years. 
"If I was going to start another cancer fundraising event I would do it right here in Geneva, Minnesota," he said. "Every organization needs good help and good people to support it, and we have that here in Geneva. If I had to leave I would feel good, because we have such good help who I know would continue this important event.
"God Bless each and every one of you; cancer doesn't quit so neither can we. Once again, let's make this the year we do all we can to help change fighting cancer to curing cancer." 
The cancer fundraising events that take place at the Geneva Bar and Grill are an accumulation of the year-round efforts of many good-hearted people. The events are "family affairs," by people who are tied either biologically or from friendship or hardship. There are also people who have become friends because of a common bond.
Each night Hagen asked everyone in attendance to observe a moment of silence for those who have gone on before us, as well as those who are currently battling cancer. 
Research being stepped up
Hormel Institute and Research Center, in conjunction with Mayo Clinic and the University of Minnesota, recently announced they are doubling their joint facility and efforts because of newly-found information. Last Wednesday they brought a special "Tour For The Cure" program to the Geneva Bar and Grill for the benefit of cancer supporters.
Donated items
Whitey started the 2014 auction off with his famous "stew maker" – a bag of potatoes, a bag of onions and a pound of Hope butter. With Valentine's Day coming up, Whitey felt that the next items up for bid – a bottle of wine and glasses – should be of interest to a lot of people. And a Geneva Cancer Auction would not be complete without Sue Hill's famous pickles, or plates of deviled or pickled eggs or chocolate chip cookies. Harp Bartness, one of the men who offers help to this event every year, exclaimed, "That's fighting cancer!"
Elaine Peterson once again donated one of her famous graham cracker creme pies, and there were pecan, sour cream raisin, and raspberry rhubarb pies up for bid as well. Lefse – or "Brain Food" as Hagen calls it – was offered, along with homemade cinnamon rolls, kolaches, apple crisp, sugar cookies, peanut clusters and Oreo Balls. And of course Steve's Meat Market and others donated meat and cheese trays and summer sausage. 
The auction also included hot pizzas, crock pots with bacon-wrapped cocktail weiners and homemade chili, complete with the bowls and crackers. Geneva Bar and Grill and George's of Geneva donated steak and lobster, prime rib, shrimp, fish, and pork chop dinners.
LaVoy Ebnet once again donated bags of black walnuts, and Mary Ebnet brought her famous caramels. There were also dips, chips and crackers, and Movie Night Baskets, complete with movies, popcorn and candies. Others donated jars of pickled Northern, beet pickles, sauerkraut and spaghetti sauce.
There was also a great collection of schnapps: Apple Pie, Lemon Drop, Apple Rhubarb, and Irish Creme. There were bottles of homemade wines and other liquors, RumChata pudding shots, and Jello shots. The auction had a few dozen farm fresh eggs, and the famous Hope butter, which is often paired up with banana bread, cinnamon rolls and dinner rolls.
It is always interesting to see what new items people donate. 
Some people are handy with woodcraft, such as the decorative wood ladder and sled that were up for bid. Also up were a couple of wood high chairs and a set of bunk beds for dolls, along with a bright red cupboard. There were gun racks, and wood coat racks. 
Others are handy with knitting or sewing. There was a painted quilt square, a large number of quilts, blankets and Afghans, many in memory of friends and loved ones, and even an area rug. 
This years' auction included an ice auger that Hagen said, "Works every time, as long as someone is holding it." One gentleman, a cancer survivor, made and donated a knife and leather case. 
There was a box of Cuban cigars. There were gift certificates for gas cylinder exchanges, pet care, car washes, groceries and meals.
There was a signed and dated copy of Al Batt's newest book, "A Life Gone To The Birds," and tickets to "Fiddler On The Roof." 
Other efforts
A number of people got their hair cut for "Locks of Love" during the auction. Hagen placed one of the serving trays on his head and walked around the bar, and people made donations towards the haircuts. Haley Habana and her three year old daughter Gracie were able to raise $661 by having their hair cut during the auction.
People were also able to purchase 2014 Geneva Cancer Auction sweatshirts and T-shirts, as well as the copies of the Geneva Cancer Auction cookbooks and 2014 "Hot Looks For A Cure" calendars.
Thanks were extended to some of the many people who continue to help. The Wild Game Feed raised $19,000; the Matt Felt Pool Tournament raised $1,211; the Golf Outing raised $2,100; Bend in the Road Haircuts raised $2,582; the Maple Island Park Association donated $1,000 and Farmers State Bank of Hartland donated $500.
More to come
The 2014 Geneva Cancer Auction will continue again this weekend, starting at 7:00 on Friday night, Jan. 17, and will begin again at 2:00 on Saturday afternoon, Jan. 18 at the Geneva Bar and Grill. 
Several special events are planned. A framed Minnesota Twins Joe Mauer jersey, as well as a commemorative hockey stick, will be auctioned off on Saturday afternoon during the athletic portion of the auction, which will follow the conclusion of the "Farm Items," which will begin at 4:00. A quilt made and donated in memory of Mary Beth Goodnature will also be auctioned off on Saturday afternoon.
The lucky winners for the special drawings for the "M" Farmall Tractor, the 51 inch Plasma HDTV w/Blu-ray player, and cash prizes totaling $1,500 will also be announced on Saturday.
Donations may still be dropped off at the Geneva Bar and Grill this week.
The Geneva Cancer Auction received a donation of several boxes of "Friends Don't Let Friends Fight Cancer Alone" T-Shirts which are being auctioned off over the course of the event this year too. It is hoped that people will remember that thought, and do all they can to help support their friends. We are all in this together.