Details

Hits: 3444
Panthers advance in playoffs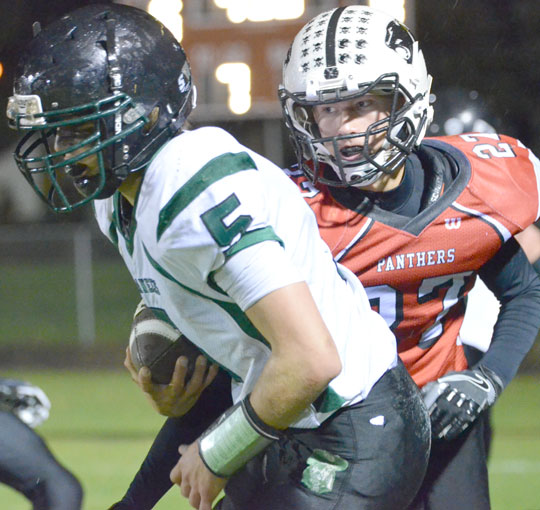 The Panthers' Brady Agrimson (27) prepares to tackle Taylor Glende of WEM during Section 2AA quarterfinal football action at New Richland in a game that started Tuesday, Oct. 25 but was not concluded until Wednesday because of lightning. The Panthers, who led 6-0 when the game was stopped, held on for a 6-0 victory — and a season sweep of WEM — and advanced to the section semifinals Monday at 7 p.m. at No. 2 seed Kenyon-Wanamingo. The Panthers lost 21-12 to KW, ending their season with a 7-3 record. (Star Eagle photo by Chris Schlaak)
Details

Hits: 644
By JIM LUTGENS
Editor/Publisher
The NRHEG Panthers had two reasons to celebrate last Friday.
They won again, for the sixth week in a row, shutting out Lake Crystal-Wellcome Memorial 26-0 in their Homecoming game.
And Maple River finally lost.
It set up a battle for the South Central Blue District football championship as the Panthers finish the regular season Wednesday at Maple River. An NRHEG win gives the Panthers a share of the crown. If WEM beats Mayer Lutheran, the Panthers take the title outright.
No matter what happens at Waterville, NRHEG coach Dan Stork is glad to see the Panthers in the thick of it.
Details

Hits: 614
NRHEG prevails in offensive shootout
By JIM LUTGENS
Editor/Publisher
With two weeks of tragedy in the rear-view mirror, the NRHEG Panthers were finally able to have a normal week of practice in preparation for their Friday, Sept. 30 football clash with Sibley East.
That's probably a good thing.
The Panthers needed to be sharp and were in an exciting 38-29 triumph in New Richland.
"This was a huge win for us," said Panthers coach Dan Stork, whose team ran its record to 4-1 with its fourth straight victory. "Sibley East is a very good football team."
The Wolverines were also bigger on the defensive line, but in the end it didn't matter as the Panthers went about business as usual.