Awards announced at concert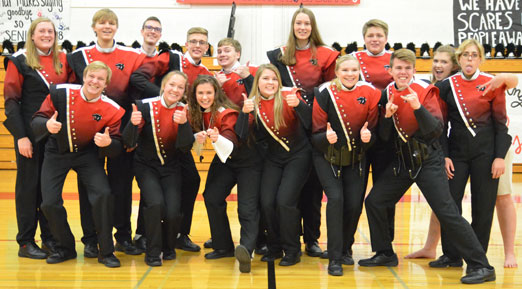 SENIORS — Seniors were recognized during the 2017 NRHEG Indoor Marching Band Concert. Front from left: Cole Thompson, Emily Pirgge, Kyra Possin, Taytum Ihrke, Lillian Bell, Ben Lewer, Emma Tollefson, Solveig Stafford. Back: Lauren Hermann, Christopher Stenzel, Landon Johnson, Caleb Harpel, Betsy Schoenrock, Justin Mortenson. (Star Eagle photo by Chris Schlaak)
By MELANIE PILTINGSRUD
Contributing Writer
On Tuesday, Nov. 21, the 2017 Indoor Marching Band Concert and Awards Ceremony took place at the NRHEG High School. The band was led by director Miles Otstot, and Amber Roeker was the color guard instructor.
The Jazz Ensemble got the concert started with Sonny Rollins' "St. Thomas," arranged by Mark Taylor, with Jadyn Sarat on trumpet. This number was followed by a jazzy "Hit the Bricks" by Gordon Goodwin, with solos by Chris Stenzel on alto saxophone, and Lawren Deml on baritone saxophone, both of which brought heartfelt applause from the audience.
Otstot took the microphone to deliver thanks to a number of individuals, especially to the custodians. "They make our lives easier; no matter how much of a mess we make, they never complain," said Otstot.
The Color Guard used mirrors and flags in a moving interpretation of the song "Reflections" from the movie Mulan, and then danced to Glee's version of "I Dreamed a Dream."
The Drum Line beat their hearts out in "Tear in my Heart" by Tyler Joseph, arranged by none other than Miles Otstot.
The seniors gathered on the gym floor to watch a slide show, and then played "Take On Me" by A-HA, arranged by Waters.
An intermission was followed by the Marching Band playing "Anyway You Want It" by Neal Schon and Steve Perry, arranged by Ford; and "Harlem Nocturne by Earle Hagen, arranged by Higgins & Rapp, with a saxophone solo by Justin Mortensen. Next, followed "God Bless the USA" by Lee Greenwood, arranged by Sweney, and a medley of "You're a Grand Old Flag" and "America the Beautiful," arranged by Story, with drill written by Caleb Crouch. The band invited the audience onto the gym floor to dance as they partied with "Party in the USA" by Kelly, Gottwald, and Cornish, arranged by Lopez.
There was a lot of applause during the awards ceremony, during which students, as well as Mr. Otstot, were honored. The awards were as follows:
• Most Improved Color Guard - Lexi Combs
• Color Guard Captain - Hope VanWilgen
• Rookie of the Year - Aubrey Fischer
• Most Improved - Grace Kofstad
• Panther of the Year - Lillian Bell
• Woodwind Section Leader - Karenna Strom
• Brass Section Leader - Jadyn Surat
• Drumline Captain - Devin Buendorf
• Drum Major - Jayna Domeier
Students honored Mr. Otstot with a bouquet of helium balloons in thanks for a fantastic year.
The last number of the evening was an impressive rendition of "The American Vision" by Aaron Copland, arranged by Jacob Bender.
Seniors playing in the band were: Kyra Possin, drum major; Emma Tollefson, color guard; Taytum Ihrke, flute; Emily Prigge, flute; Lauren Herrmann, clarinet; Justin Mortensen, alto saxophone; Cole Thompson, alto saxophone; Betsy Schoenrock, tenor saxophone; Chris Stenzel, baritone saxophone; Caleb Harpel, trumpet; Solveig Stafford, trumpet; Aaron Olson, trombone; Brendon Strand, baritone; Landon Johnson, tuba; Lillian Bell, drum line; Ben Lewer, drum line.