Schultz agrees to kiss pig if $25,000 goal is met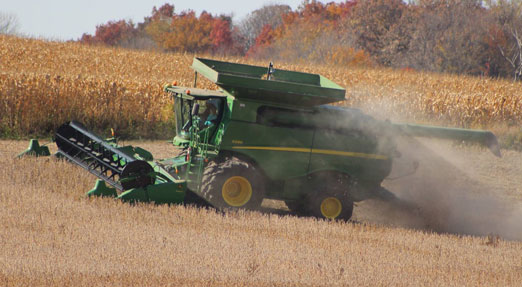 GRAIN CHALLENGE — With harvest in full swing, the challenge is out to area farmers to help raise $25,000 in grain donations for the New Richland Area Foundation, which would force school board member Rick Schultz to kiss a pig. (Submitted photo)
Want to see Rick Schultz kiss a pig? The New Richland Area Foundation would like to invite area farmers to join the NRAF's challenge to raise $25,000 for a scholarship fund for NRHEG High School seniors who will be seeking a post-secondary education. If the goal is met, Schultz has kindly accepted the request to kiss a pig as a celebration. If more than the $25,000 needed is raised, there may be more surprises of celebration.
The NRAF Fund is a fund where a percentage of interest earned on the fund balance is granted each year to non-profit organizations, the schools and the city. This fund restricts any grants presented as a scholarship to an individual. The committee is seeking assistance from area farmers to donate a gift of grain to a fund specifically for scholarships.
With this new scholarship fund is a way of investing in youth to further their education after high school.
Gifting of grain is a great way for farmers to accomplish tax savings while charitably investing in the community. In general, a gift of grain allows farmers to exclude the sale of the crop from income and deduct the cost of growing the crop. The primary tax benefits to a farmer for a charitable contribution of grain or livestock are to:
• Save on income tax. A gift of grain or livestock will reduce farm income for purposes of calculating both federal and state taxes.
• Save on self-employment taxes. No self-employment tax will be due on the income saved.
As you may remember, in 2011 the NRAFF received an anonymous gift of four semi loads of grain. That gift alone totaled approximately $26,000.  It was a very generous gift that more than doubled the fund amount at that time.
Interested in participating? The easiest way to do this is  contact the Minnesota Community Foundation to advise them that the gift of grain is about to be made:  Matthew Santori, Program Associate, 651-325-4202, or This email address is being protected from spambots. You need JavaScript enabled to view it.. They will walk you through the process. When you deliver the gifted grain to the local elevator, it is important that you tell the grain elevator that you are transferring ownership, and they should issue a storage receipt in the name of Minnesota Community Foundation. The storage receipt is the necessary documentation to show that the ownership of the grain was transferred from the farmer to Minnesota Community Foundation.
With all the generous donations, large or small, the NRAF has been able to grant $81,000 to various projects and programs over the last eight years, with $41,780 to NRHEG schools, $10,365 to the NR Area Food Shelf, $8200 to the NR Historical Society, $3200 to the NR Public Library and total of $17,400 to the Garden Club, the Sportsman's Club, Public Safety and the city for their part in providing safety and project improvements throughout the community.
Remember the NR Area Foundation when you want to make a donation. Your gift, large or small, will go far in the efforts to support our local schools and community as a whole. Your continued support is welcomed as the NRAF continues to grow the fund balance.
In the meantime, if you would like more information, please do not hesitate to give Karen Buum, the Executive Director of the Waseca Area Foundation, a call at (507)-835-5990. She will be happy to answer any questions you may have and discuss the many options of giving. Or contact a member of the NRAF committee: Jill Schlaak, Kermit Schoenrock, Matt Harrington, Kris Schlaak, Pam Goehring or Gail Schmidt.
Stay tuned for updates on this Gift of Grain Challenge. We hope everyone will have a safe and prosperous harvest.