Thompson keeps NRCC garden looking good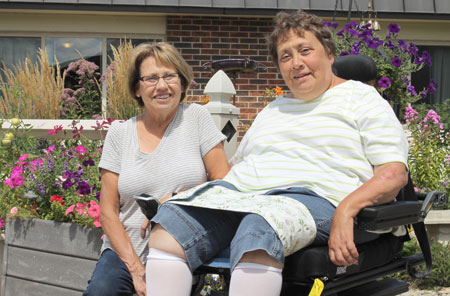 GROUP EFFORT — Barb Thompson, right, keeps the garden at New Richland Care Center colorful throughout the summer with the help of her sister, Julie Economy, a retired NRHEG school teacher. (Star Eagle photo by Jessica Lutgens)
By JESSICA LUTGENS
Staff Writer
The staff at New Richland Care Center is the main reason it has a reputation as one of the best senior living facilities around.
But there is also a resident doing her part to brighten the place.
Barb Thompson, with the help of others, keeps the garden at the care center healthy and blooming throughout the growing season for residents, visitors and staff to enjoy.
"If it's a droopy summer, bright zinnias never hurt," she said, beginning a tour of the garden.
Nestled between two outer walls on the back of the building, a concrete sidewalk leads to an open area with a large picnic shelter in the center. A white fence lines the garden's perimeter, guarding the various flowers, trees, bushes, herbs, vegetables, and other plants that grow behind it. The sidewalk continues through a small gate in the fence, circling the whole garden, with more plants on each side. Vibrant pink, purple, orange, red, gold, maroon, and green are everywhere you look, creating a beautiful, pleasant environment.
It's hard to tell just how many different plants are in the garden, but Barb keeps track of them all. Five notebook pages chronicle everything that grows there. 
"We have mostly perennials, and a few annuals and bulbs," she said, describing each plant in detail: calla lilies, Gerber daisies, coneflowers, black-eyed Susans, lavender and amaryllis, among others. There are also several herbs, including mint, basil, cilantro, dill, and garlic chives, as well as vegetables: tomatoes, peppers, cucumbers.
"Our cherry tomato plant is the biggest one I've ever seen," Barb commented as her sister, Julie Economy, tended to the plant nearby. "We've been eating cherry tomatoes by the bowlful."
Economy, a retired NRHEG teacher, helps maintain the garden, although her taste is slightly different than Barb's.
"I like to know the names of things," Barb said. "Julie plants more for color and random."
All of the plants at the care center garden are native to Minnesota, according to Barb. Each year when it comes time to plant, they look at what was planted the previous year and decide from there. Many plants are donated to the center, and one of the trees is in memory of a resident who passed away.
"We know they [native plants] will grow and that they're not invasive," she said, explaining that they use the same dirt each year, and sometimes seeds from the previous year's plants.
"I like to save the seeds," said Barb, "plant them and see what grows."
Not only is the garden beneficial to the center, it is good for the environment; pollinators help the honey bee population, and swamp milkweed provides the only food that monarch butterflies eat.
"It [gardening] is a wonderful hobby," said Barb, whose mom gardened as she was growing up.
She plucks a dead flower from a nearby plant.
"This," she explains, "is called 'deadheading," and is one of the more frequent maintenance tasks in the garden. 
It's clear that a lot of time and work have gone into making this garden, which has grown over the years and even required ground cover to be removed to make room for more plants. Barb doesn't see it that way, though.
"It doesn't feel like work," she said. "Just a lot of love."