Students shine in annual concert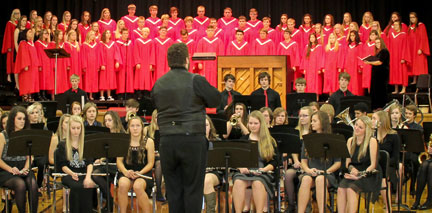 CHRISTMAS CONCERT — NRHEG High School music instructor Jacob Bender conducts the band during the annual Christmas Concert Monday, Dec. 14. (Star Eagle photo by Nikki Erickson)
By NIKKI ERICKSON
Contributing Writer
The Christmas season began at NRHEG High School with the combined choir and band Christmas Concert Monday, Dec. 14. 
The choir started the evening with a joyful piece called, "A Festival Holiday," by Jerry Estes. This rhythmic holiday tune was filled with solos by Nicole Edon on the xylophone, Emma Tollefson on tambourine and Mircedes Mattson on the bongos.
"Tänd ett ljus," a traditional Swedish piece, was played in celebration of NRHEG exchange student Linnea Strom-Olsen, who sang the lyrics in her native language. "Tänd eft ljus" translates to "light a candle" in hope for a better world.
"White Christmas," by Irving Berlin and arranged by Joyce Eilers Bacak, was sung with all the longing for a beautiful season of snow during the Christmas season.
"Winterlight" was a wonderful, lilting song by Amy F. Bernon that left you with the wonder of winter as seen by our children. Solos were performed by Aaron Seath, Whittney McCamish and Nicole Edon.
"Nutcracker Jingles," by James Pierpont, was a collage of music from Tchaikovsky's "The Nutcracker," and a duet by Karma Pederson and Renae McNett, "Santa Baby," finished off the choir portion of the evening.
The concert band then took the floor with "Jubilance" by Keith Foley and "Season of Peace arranged by Gene Milford. Season of Peace was inspired by a Christmas Eve truce between WWI British and German troops with a blending of Dona Nobis Pacem and Silent Night.
Christmas Eve Sarajevo written by Paul O'Neil and Robert Kinkel of Trans Siberian Orchestra and arranged by Bob Phllips and George Megaw; is a medley of Christmas songs performed by a lone caroler during the Bosnian War and set to an intense rock rhythm. The band performed flawlessly and the audience responded with enthusiasm and a standing ovation.
The evening ended with the traditional combined band and choir performance of O Come, All Ye Faithful arranged by James Swearingen with an invitation to the audience to sing along. 
A reminder that the band leaves for Orlando, Florida on December 26th and will perform at the Russell Athletic Bowl on Dec. 29th.