Peterson to auction Christmas lights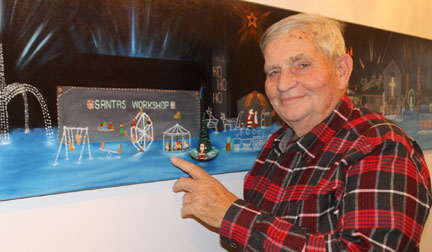 BITTERSWEET FAREWELL — After four decades, Vince Peterson of rural New Richland will not have his farmplace decorated this winter, as depicted in a painting that hangs in the entryway of his home. He's selling most of it by auction on Sunday. Peterson is pointing at two items that will not be sold. (Star Eagle photo by Jim Lutgens)
By JIM LUTGENS
Editor/Publisher
For anyone out there hoping to catch one last look at Vince Peterson's now famous Christmas display, you're out of luck.
It won't be there this year.
At 84, after putting up a portion of the lights — a task he's performed since 1975 — Peterson concluded that he's too old and too tired to continue, and decided to hold a public auction on almost all of his collection. It's set for Sunday, Nov. 22 at 1 p.m. — just in time for the holidays — at Peterson's farm north of New Richland. Auction proceeds will be donated, half to Trinity Lutheran Church of New Richland and half to the New Richland Area Fund.
It marks the end of an era for an impressive display, which gained popularity through the decades as Peterson and his late wife, Virginia, added items almost every year. It was a must-see for anyone with kids or anyone who enjoyed Christmas lights. It was known throughout Southern Minnesota.
Peterson, a sentimental sort who admits he misses Virginia a little more this time of year, is sad to see it end.
"We chose to do it, my wife and I," he said. "I'd like to give her a little credit; she was part of it. And I think if she was still living, it would continue. I'll miss it."
Tears well in Peterson's eyes as he speaks, as they would several times throughout the interview.
Peterson has a decades-old spiral notebook detailing the display, listing how many lights or which items were added each year. It began with a bell that used 120 lights and a bow that required 40 larger lights.
"She loved the Christmas lights, and she loved the indoor Christmas decorations," said Peterson.
They expanded almost every year, even after Virginia's death in 2004.
How many individual lights were there?
"We really never have tried to come up with a total," said Peterson. "We never really had a large number of lights except when we had them on the trees. My wildest guess would be between 40,000 and 50,000 lights."
He also has many props, 15, 15-amp circuits, 200 extension cords ranging from six to 200 feet, electronic controls, timers, the list goes on.
It took three or four solid weeks of work to assemble and, of course, daily maintenance once it was up.
"It was quite a job to keep it all straight," said Peterson. "It's a wonderful thing, those miniature lights, but to keep them lit outside, it's tough."
Hanging in the entryway of Peterson's home is a 2-foot by 8-foot painting of the display done by Barb Bruns of Morristown.
"That," said Peterson, "will not be sold."
Peterson is pleased so many people have enjoyed the display through the years. He's been in other towns and had people ask if he knows that guy with the big Christmas display near New Richland.
"I don't fish or hunt," said Peterson. "For me, it's the fair, Christmas decorations, and high school athletics."
Peterson was born on a farm just up the road from where he lives. He and Virginia graduated from New Richland High School in 1949 and married in 1953.
Peterson almost abandoned the display after Virginia died in 2004.
"But it was tough to quit," he said. "It will be tough to quit now."
Peterson has no idea what his auction might bring for Trinity Lutheran and the NRAF. He hopes at least some items will remain in the area. He plans to keep a couple fair-related items, like the ferris wheel and merry-go-round, as he's been a member of the Waseca County Fair Board for 52 years. Some family items will also stay, though which Peterson is not sure which at this point.
"This has all happened so fast," he said. "I was just all in from working one day on it. I just knew I could not be out there in the cold at night working on lights. You know, when you're 84 years old, you really shouldn't be out there in the cold by yourself."
"I definitely will miss them," added Peterson. "Not the work, but I will miss the fun of seeing them lit."
As will most everyone else.