New superintendent comfortable on first-name basis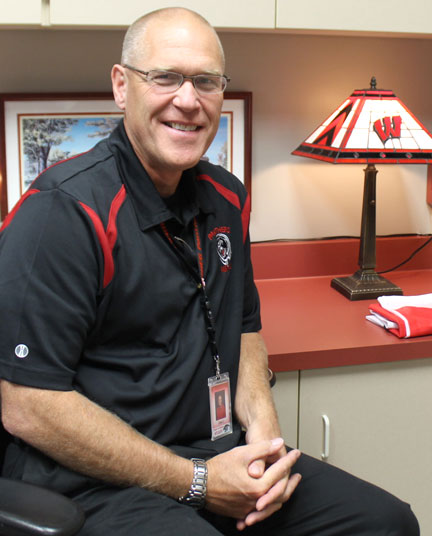 HAPPY TO BE HERE — So far, Dale Carlson has been comfortable with his decision to take the job as NRHEG Superintendent. (Star Eagle photo by Jim Lutgens)
By JIM LUTGENS
Editor/Publisher
NRHEG's previous school superintendent, Dennis Goodwin, was a down-to-earth enough  guy, but he liked the idea of being called doctor. He felt it was a title he earned, and you respected him for it.
It's also a title earned by Dale Carlson, NRHEG's new superintendent, but he's not a stickler for formalities.
"I hope it's Dale," he said. "I'm really more of a first-name kind of person."
Carlson, 53, comes off as a warm, genuine person, with an easy smile and a Leave It To Beaver upbringing. He's guiding NRHEG on an interim basis, though he's not ruling out the possibility of a long-term contract at some point if both sides see fit.
Carlson grew up in Algona, Iowa where he was active in football, wrestling and baseball. He earned a few honors along the way but says, "I'm O.K. just forgetting about that." He was into band and choir, among other activities. His dad was a Lutheran Minister, his mom a secretary; both have passed away.
"They were perfect parents," said Carlson. "I was blessed to have had some great opportunities. I had some outstanding experiences growing up."
Which led to his career choice of education.
"It's been part of my lifelong mission to provide that and more to thousands of students," he said.
Carlson was the second of three boys. His older brother is a principal in Wisconsin and his younger brother is a Lutheran minister in Iowa.
After earning his bachelor's degree in math from Augustana College in Sioux Falls, S.D., Carlson taught and coached wrestling for a year in Mauston, Wis., a year in Houston, Minn., and eight years in LaCrosse, Wis.
It was at Augustana that Carlson met his wife, Sharon, who, like Carlson, is in her 31st year of education, currently teaching the deaf and hard of hearing in the LaCrosse School District. They have two sons, Andrew, a third-year student at Luther College in Decorah, Iowa, and Thomas a high school junior in Holmen, Wis.
After 10 years of teaching Carlson received his masters in administration from Winona State and, as he put it, took a leap of faith and took an assistant principal position at Parker High School in Janesville, Wis., a town of about 70,000. He was assistant principal for four years and principal for nine before earning his doctorate degree in 2004 from the University of Wisconsin.
It was in 2008 when he started investigating superintendent positions. He found one in Holmen, Wis., a town of about 9,000 with a school district of about 15,000, where he served for seven years.
Why the move to much smaller NRHEG?
"I just decided a few years ago it was time to look at something different, a smaller school district," he said. "I like the connections, the personal setting. I have about 150 staff members here. I had about 600 in Holmen. It's just kind of energizing right now to be a part of a smaller community. There are advantages and disadvantages, but the biggest advantages are knowing your employees and making more of a direct impact. This has been a great experience so far. I'm very pleased with the decision. We'll see what happens."
Carlson is renting a house up the street from the high school in New Richland while his wife and son remain in LaCrosse. That, he admitted, has been difficult, but his son graduating from Holmen was part of the deal when Carlson came to New Richland.
"So far, a number of the weekends, I travel back to the LaCrosse area," said Carlson. "And thank goodness for technology. We spend time Facetiming. It doesn't replace being able to be there, but the last few years have been so busy and, for 20 years, this is the life my sons have known. They understand my commitment is to the community. They understand the commitment and long hours that come with the job."
Hailing originally from Iowa with a background in Wisconsin, a football fan had to ask Carlson, "Who do you root for on Sunday?"
"I have a little green and gold in my office, and I am proud of my Badgers," said Carlson. "But I haven't decked out my office like Mr. Bunn down there.
For hobbies, Carlson enjoys walking, family time, yard work and reading, currently reading Jimmy Carter's latest book. He's a 20-year Rotarian and active with his church council.
"I guess it goes back to my parents," he said. "Boy, did they ingrain the importance of community. Whether it's church, a service club or whatever, service is so important."
And what about the future?
"I'm just really not thinking beyond this year right now," he said. "Whether it's a year, five years, 10 years, whatever I can do to advance this school district, I will. The board, like me, has been careful in their approach. We want to make sure it's a good fit."