Performances set for Friday, Saturday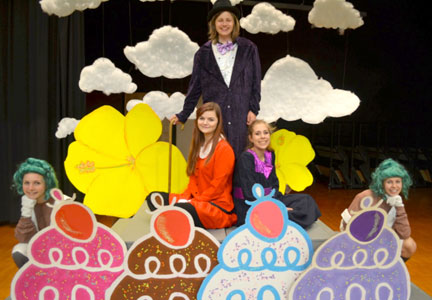 Cast members Lizzy Hagen, Bailey Burg, Justin Mortensen, Solveig Stafford, and Katherine Lewer with some of the props and set pieces from Charlie and the Chocolate Factory, set to be performed Friday and Saturday, April 17 and 18 at NRHEG High School. (Submitted photo)
"Flying is going to be a bit difficult," admits Will Rudau, who plays Grandpa Joe in the upcoming NRHEG performance of Roald Dahl's Charlie and the Chocolate Factory. "But I think the audience is really going to enjoy it," adds Nicole Wallin, who has been cast in the role of Charlie.
The cast and crew of the play have been as busy as Oompa-Loompas, especially over the last couple weeks as the three performances have been coming nearer. The play will be presented Friday, April 17 at 7:30 p.m., and at 2:30 and 7:30 on Saturday. With 20 different sets and even more musical numbers, the production promises to be an extravaganza of color, sound, and—to the absolute delight of everyone involved—surprises.
"There's something here for children and adults," says cast member Nicole Edon. Jessica Nafe agrees: "This is very much a family show," she says. "There's more humor in it than I realized, and while some of it is aimed at children, some of it is definitely more for adults."
A chief element of the play's charm, Edon says, is from the "bold, stereotypical" behavior shown by some of the characters. "There's no guilt in feeling good when they get what's coming to them," she explains.
"I'm looking forward to seeing how it all comes together," admits Justin Mortensen, who plays Willie Wonka. "After all this time and all this work, we can't wait to perform for an audience. I think people are going to really enjoy the play. It has humor, and definitely a few surprises.
"It's so bouncy and happy, I think it would be impossible not to come away feeling better about the world."
Cast member Solveig Stafford, who plays the self-centered character Violet, is also enthusiastic. "There are the accents, the behavior, the costumes. We all come together and balance each other out. I'm really excited to perform this for an audience."
The many scene changes and the bizarre subject matter of the play have definitely created some challenges for the crew, who have put in countless hours painting, shaping, creating, and arranging the unusual items needed to bring everything together. Crew members Corrie Powell, Abby Wacholz, and Sandra Quezada, while concentrating on the many tasks they will have to complete to keep the behind-the-scenes elements of the play running smoothly, are all also looking forward to the time when their work will see light.
"There are so many colors, and so many crazy props in this play," says Wacholz. "It's really exciting to think what it will look like when everything is put together." She and Powell list off some of the unusual items they have made in the past several weeks, including a giant camera, humungous machines and gears, flowers, lollipops, clouds, cupcakes, gumdrops, an elaborate gate, and candy canes. "There's even a machine which will determine whether one of the characters is a 'good egg,'" observes Powell, as she paints the frame of a giant television set. "I would never have imagined myself making any of these things."
"Some of the songs are so cheerful and catchy," comments Whittney McCamish, "you can't help walking around with a bounce in your step after you hear them."
"If people don't come, and then they hear about what they missed, I think they'll be sorry," says Wallin. "This play is filled with color and fun and energy. I really love the bubbles and the bubble machine."
"It has a refreshing youthfulness about it," agrees Rudau. "It makes you feel as if you've grabbed the world with sticky fingers, and you just want to hold on."