New manager at New Richland's Country Neighbors relishes her job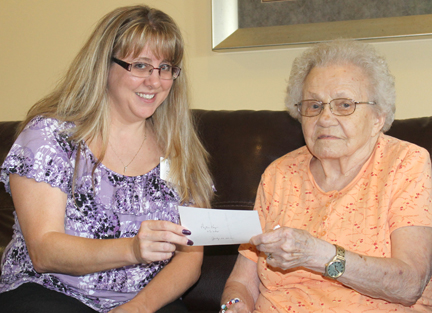 NEIGHBORLY — Julie Strong, left, visits with Country Neighbors resident Floa Finholdt. (Star Eagle photo by Rachel Rietsema)
By RACHEL RIETSEMA
Staff Writer
For an hour straight, Julie Strong's eyes have glazed over so many numbers she can't see straight. Well, not really. She just needs to hit the pause button for a few minutes and gain some human interaction.
What better way to do that, than to walk outside her office door.
"The residents are special in every way," said Strong, New Richland's newest manager for Country Neighbors. "I just graduated from Minnesota State University in Mankato and am a licensed social worker. It's not a requirement, but it's certainly an asset to the job."
For one, Strong can really advocate for the 13 residents activity-wise.
"Socialization is really a key factor for them," she said. "This age group in particular deals with depression because of losses in self-control, friends, family, independence and health."
Active as manager for over two months now, she already implemented a very successful fall picnic. And, as a result, the residents have more great memories to live by.
"On the 20th, their families came over to enjoy a night of entertainment as well as a grill out," she said. "I plan on doing more of that for the families and residents."
Residents' daytime hours are also seeing positive changes, this time in the form of some Wii action. Yes indeed, whatever it takes, she says.
"Certain residents may be upset they can't go bowling anymore," she said. "Now they can bowl on the Wii. So we are bringing them back to what they enjoy doing."
Other times, their mood is simply lifted by a listening ear. A smile always helps too.
"Some of them were housewives and they were very proud of that," she said. "Some were farmers, while others are educated and were maybe teachers."
Lending that time really is what makes all the difference. But, how does she know this to be true?
It's written all over their face.
"Everybody's life has meaning," she said. "I started here in an interim position in July for six weeks before I accepted the permanent position. The people are really amazing. I love the residents and staff."
Here in this home setting, she is also so grateful for the safety aspect provided by this Ecumen-owned assisted living facility.
"The need for memory care is definitely rising," she said. "At Country Neighbors, we have a locked site which really is better than the alternative."
In point of fact, the New Richland site is just one of four Country Neighbors found across the state. But, that's not all.
"We have always been Ecumen owned," she said. "They are a non-profit company in Minnesota and are a mixture of independent assisted living and skilled nursing home facilities. So, we aren't just an island out here by ourselves. We have support and backup. They will come down here at any time for anything and everything."
Clearly a part of something much larger, this social worker of sorts is comforted knowing she's not alone. What's even better is that she knows this is her true calling.
"I worked in the garbage business for seven years," she said. "I learned a lot, but it's not where my heart was. My heart is here."
Quite simply, she just finds it effortless to respect this older population.
"During my junior internship in St. Peter at Sun Prairie, I was pushed out of my comfort zone, but I wanted to see if I could do it," she said. "I just fell in love with them and was in a good mood at the end of the day."
She continued, "This job falls right in line with my social work mission and values to create a change for the best life possible. I love having a direct impact on their lives. It's who I am."