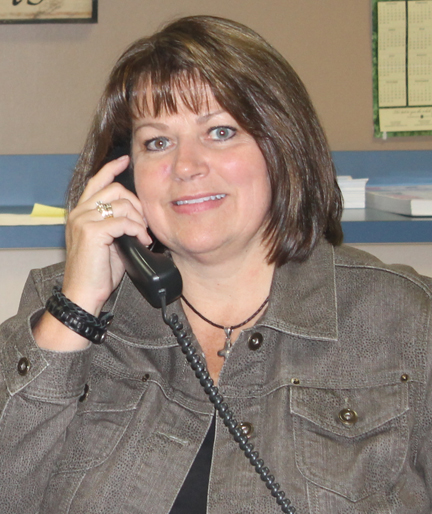 AT HOME — There's a good reason Teri Kormann feels at home as Mr. Cyr's secretary at NRHEG High School. (Star Eagle photo by Rachel Rietsema)
By RACHEL RIETSEMA
Staff Writer
If high school secretaries could fly, NRHEG's newly hired one would.
That's just how dedicated and driven Teri Kormann is.
"As Mr. Cyr's secretary, I enter lunch payments and student data, make changes in data if the phone number and or addresses have changed," Kormann said. "I also update e-mail addresses, update attendance daily, look up student schedules and interact with students."
All of these daily tasks keep her busy from 7:45 a.m. to 4:15 p.m. from Monday through Friday.
"Every day is different," she said. "The time at school flies by. I love it."
Only a little more than a month into her new secretarial duties, she has comfortably settled into her role at NRHEG. There are many familiar faces too.
"I was employed as a paraprofessional for 14 years with the district in the elementary special education department," she said. "I still like having contact with the kids."
These days however, most of the interaction with students is brief.
"The contact I have is real short lived but it's meaningful," she said. "I enjoy the atmosphere here. I believe in this district and the help it gives students and families."
Glued to her swivel chair, she seamlessly multitasks, stays organized and remains calm — not an easy task sometimes.
"Being a mom helps, but it's just the way I am," she said. "There's a lot that goes into this position and everyone has been extremely supportive and helpful."
She is also most grateful for being given this opportunity to stay within the district. It's her home of sorts.
"I just enjoy working at school," she said. "I've been a resident of New Richland my entire life, except for the short time my husband and I moved to Hutchinson. My husband I both graduated from New Richland-Hartland and our children did too."
As those deep roots continue to grow, she is perfectly content assisting in any way she can. And, even if the mission is completed in a mere two minutes, it's her way of making a difference in students' lives.
"For instance, the sixth and seventh-graders came into this building not really knowing where they were going," she said. "So I pointed them in the right direction for the first couple of days."
All this and more is done not at her own hand, however. The entire office staff and Kormann work as a team.
"Karen, Karla Carol and Barb overlap in some areas, but we all have our own niche," she said. "I just want to do the best job possible."
So, for many years to come, NRHEG students, staff and parents alike can count on her friendly face and obliging nature.
"I grew up here," she said. "There's a family like feeling in the town. Everybody takes care of each other here."