Waldorf Muni's newest manager aims to please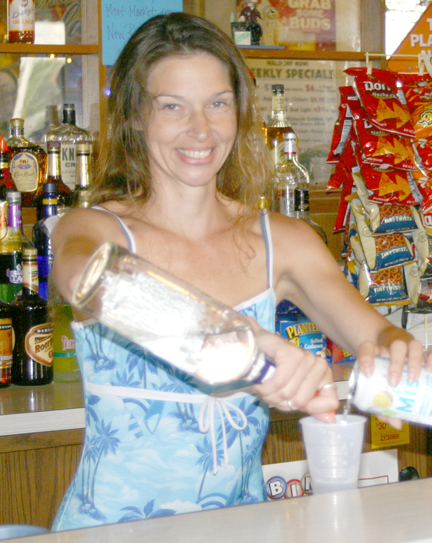 MIXING THINGS UP — Newest Waldorf Muni Manager Kelley Luckey and her well-trained staff welcome you to take a seat for a good meal and nice time all around. (Star Eagle photo by Rachel Rietsema)
By RACHEL RIETSEMA
Staff Writer
After nine months of claiming the Waldorf Municipal liquor manager position, Kelley Luckey knows just how lucky she is to have found a good place of employment.
The customers seem to just keep on rolling back in, which according to Luckey, is due to mixing in old tactics with new ones.
"Lately, we have been trying different things like bean bag, volleyball and pfeffer tournaments," Luckey said. "People also do tell me how much they liked what other managers have done too, so we touch on those and tweak them a little bit."
Always open to new ideas and suggestions, this restaurant guru has tackled the new position one step at a time. The challenge is really what gets her fired up.
"I did some rebuilding as far as clientele, staffing, etc. when I started," Luckey said. "People were pretty excited to have a new manager in here."
Also new to the Municipal are shiny bathroom tiles in both the men's and women's bathroom. One day she hopes to expand the kitchen area too.
"Running a muni is a learning process as I  try to accommodate all the stipulations," she said. "Right now, we only have a little area for the large amount of food we serve. It's challenging."
Aside from managing, she also dabbles on the bartending end of things. Generally, she serves drinks three of four days a week.
"I love bartending, she said. "I get to interact with the people, and that way I'm not always behind the scenes," she said. "We are all like family here. There is a lot of open communication which helps everything run smoothly."
Previously employed in Madison Lake at the Boat Landing, she is very excited to take full grip on the restaurant reigns.
"There are a lot of advantages working with a council as opposed to an individual owner because I feed off lots of different ideas," she said.
The warm welcome she continues to receive from diverse clientele also validates her decision to make the move down here as well.
"We have been successful since I started," she said. "That's a reward in itself."
Now fully staffed with eight bartenders, there's just enough chaos. Things are never boring or too stressful.
"Being in the bar business has its unique challenges and rewards," she said. "I've been in management for years. I actually managed a call center for three and a half years at one time."
Anyone who walks into the Municipal can be sure to be well fed, from Monday through Saturday, she says. Sundays might even be an option now too.
"We will be open on Sundays during the football season," she said. "We will also be
 doing a poker tournament once or twice a month on Sundays."
Currently, poker night lands on Tuesday while Muni Madness takes place Wednesday evenings.
"Different people come in and stop by for this classic car and bike show," she said. "Next year, I think we will try a different day. If we continue to be open on Sundays, then we will do it on Sunday afternoons."
As far as leagues go, volleyball has been a bit hit this summer. Dart league is a good possibility for this upcoming winter as well.
"Right now, through the summer we grill burgers and brats," she said. "We also do a lot of barbecue pulled pork and shredded seasoned beef sandwiches."
Spicing things up for the town has also come in the form of Waldorf Days. She took this one-day event and extended it into a three-day celebration, if you can believe it.
"For Friday night, we had a DJ and a beach party," she said. "I invited the Vikings cheerleaders to come for a meet and greet. On Saturday, we had all-day volleyball tournaments like usual. Then we had Uncle Fester come in for a concert on Saturday night."
Once the music portion closed for the evening, she locked the Muni's front door and she and her family of six enjoyed another quiet evening fast asleep in their house.
"With four kids, it's nice to be in a small town and keep a better eye on things," she said. "Then, when I come to work, it's also a good break to have some me time."