French foreign exchange student brings family to town for mini-reunion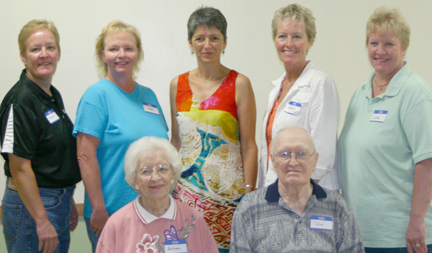 LONG-AWAITED VISIT — After 34 years, former New Richland exchange student Ghyslaine Longefay-Perroud returned to town Sunday, Aug. 12 for a reunion with her host family and classmates. Front from left: Don and Audreene Smith. Back: Alison Hagen, Jayne Busho, Longefay-Perroud, Anne Hagen and Lori Towle. (Star Eagle photo by Nicole Billing)
By NICOLE BILLING
Editorial Assistant
Ghyslaine Longefay-Perroud came to New Richland from France during the 1977-78 NRHEG school year as a foreign exchange student.
Ghyslaine was back visiting old classmates at City Hall on Sunday, August 12, after 34 years of being away. She mentioned she would be staying and visiting for a week.
In 1977-78, she stayed with the Donald L. Smith family for an entire year.
"Living in America was very different," said Ghyslaine. "I came from a very small village and had never been abroad before. The people were very welcoming."
While her host family was very welcoming and made her feel like part of the family, she still had feelings of homesickness, especially during the first three months. In 1977, there were no cell phones or Internet to instantly get in touch with family members.
Instead, she wrote letters to her family.
"The first time I called my parents was during Christmastime and I had arrived during the beginning of June," she said.
While here, Ghyslaine liked the fact that in America people were able to choose what subjects they could take and what clubs to be in. The relationship teachers had with students was also something she had to grow accustomed to as well. 
Ann Hagen (Smith) was in the same grade as Ghyslaine and shared a room with her. Ann mentioned Ghyslaine as being, "Shy at first, but easy-going. She made friends very easily and wanted to learn everything about America."
Ann mentioned Ghyslaine being part of the track and basketball team, as well as being involved in the Library Club and FHA (Future Homemakers of America).
Ghyslaine also shared that she had just started going out with her boyfriend, Michel, right before coming to America. They stayed together through the time she was in America and got married in 1984. They have four children: Anaëlle (23), Benoit (21), Loic (18), and Soline (15). 
America also changed her view on careers.
After coming to America she said, "I went back to school and started to learn English. I eventually taught English for a time."
After she retired from teaching, she and Michel started a bed and breakfast called Les Buis du Chardonnet.
Ghyslaine and her family spent one week of their vacation in New York, one week in Pennsylvania, and one week here in Minnesota. 
They are talking about going to the mouth of the Mississippi with her family and her host family. You see, when Ghyslaine was living here as an foreign exchange student they had gone up there on a trip.
They would like to recreate that particular experience.