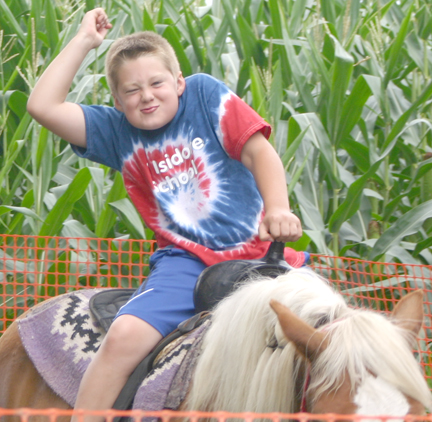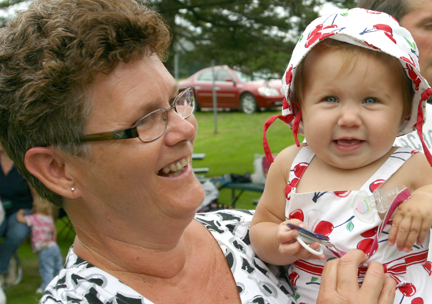 FUN FOR ALL — Young and old alike enjoyed Litomysl's 41st Annual Summer Festival Sunday, July 29. (Star Eagle photos by Nicole Billing)
By NICOLE BILLING
Editorial Assistant
Despite the cloud-filled skies threatening to bring rain, there was still a huge crowd at Litomysl's 41st Annual Summer Fesitval Sunday, July 29. A crowd of kids and adults alike had fun playing games and eating food. 
It turned out to be a truly gorgeous day. All of the money Litomysl recieved during the festival will be donated to support the preschool through fifth-grade school, St. Isidore.
The outdoor activities began at 11 a.m., which included such things as food booths, a flea market, a silent auction in the school, a country store with garden produce, and games for all ages.
Many children played games such as plinko, spin the wheel and dime toss. They also rode on ponies and sat down to get their faces painted. 
Adults bought chances for prizes by playing the root beer barrel game. Participants picked root beer barrels at random with a number corresponding to their prize.
Music could be heard all through the day as The Czech Lites from the New Prague-Montgomery area and Luverne's Concertina Band played. The Klecker Band played inside the church in the afternoon. 
A shaved ham or turkey sandwich meal with potato salad, ice cream, baked beans, and a beverage was served from 11 a.m. to 2 p.m. Pie and filled biscuits were also on the menu.
Rose Kubicek, who is in charge of putting the festival together, has been a life-long member of the church and, therefore, has been helping with the festival every single year. Kubicek stated, "We basically start planning for the next year's festival the day after the oldest one has finished." 
It's a day many people look forward to and always brings a crowd in. Shuttles were available to bring people to and from the church, which a lot of people were thankful for because the line of cars stretched for about a half mile away.