Panthers third in state tourney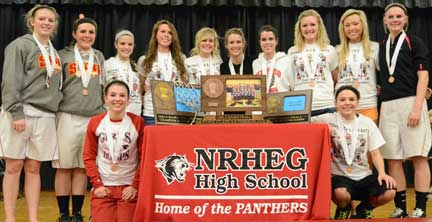 WELCOME HOME, HEROES — The NRHEG girls' basketball team poses for a photo during the welcome home ceremony at NRHEG High School Saturday evening. The Panthers finished third in the state tournament and finished with a record of 32-1. Front from left: Maddie Wagner, Marnie Wagner. Back: Jade Schultz, Hannah Lundberg, Abby Crabtree, Raelin Schue, Tori Raimann, Anna Schlaak, Danielle Krueger, Katie Cole, Paige Overgaard and Carlie Wagner. (Star Eagle photo by Chris Schlaak)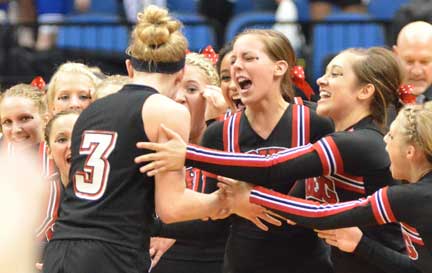 A NIGHT TO REMEMBER — NRHEG cheerleaders enthusiastically congratulate Carlie Wagner after the Panthers' 75-45 victory over defending Class AA state champion Braham in the quarterfinals of the state girls' basketball tournament at Target Center in Minneapolis. (Star Eagle photo by Chris Schlaak)
By JIM LUTGENS
Editor/Publisher
The 2011-12 New Richland-Hartland-Ellendale-Geneva girls' basketball team accomplished a feat few teams experience.
They won their final game.
It happened to be the third-place game of the state touurment, where they handled Pequot Lakes 73-59 Saturday afternoon at Concordia College in St. Paul.
Behind a record-setting performance by sophomore Carlie Wagner, the Panthers played as they have most of the season, trailing only once at 2-0 and leading the rest of the way.
Wagner, who along with NRHEG senior Anna Schlaak was named to the all-tournament team — said it was wonderful for the Panthers to finish on a positive note.
"We really wanted to come back strong after last night," said Wagner. "We knew we could mope about the loss or come back. We really wanted to end the season with a win."
NRHEG fans — arguably the largest group backing their team at state — were a big factor, according to Wagner.
"It's incredible," she said. "The fans were amazing."
To make it even more special for the Panthers, their former coach and athletic director, Mindy Sparby, presented their medals and trophy.
The Panthers were greeted like conquering heroes upon their return to New Richland Saturday evening, with a police escort leading area fire trucks with players riding atop. The caravan cruised main street before arriving at NRHEG High School, where they were greeted by jubilant fans.