Students listen to X Games medalist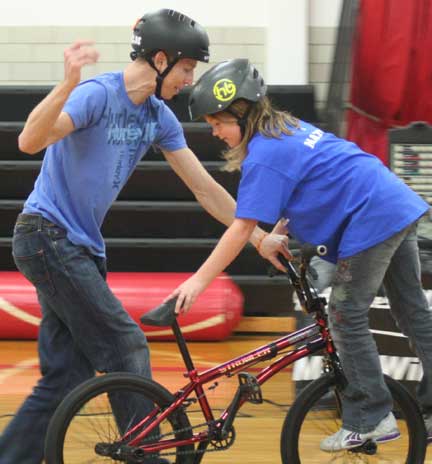 TRICKS OF THE TRADE — X Games BMX medalist Doug Wilhelm, left, teaches a thing or two to an NRHEG Elementary student during his recent presentation. (Star Eagle photo by Jody Wynnemer)
By JODY WYNNEMER
Staff Writer
Last year, for their efforts selling cookie dough, NRHEG Elementary students were treated to a magic show. This year, they enjoyed the tricks of X Games BMX medalist Doug Wilhelm on his bike. 
The gymnasium served as the stage as Wilhelm performed stunt after stunt for the students. Between bike tricks, he shared his experiences, both good and bad, with the kids. As he displayed the three X Games medals he had earned, he had an important message.
"I started doing tricks in eighth grade," said Wilhelm. "Everyone told me I'd never be good enough to make it to the X Games. After eight years of practice, guess who made it? When I was registering, this tall guy walked by me. It was none other than Tony Hawk. I started my routine, and crashed into the front row on my second trick. I crashed four more times during the two minutes. I looked up at the scoreboard and I was in last place. Last place in front of 15 million people. I wanted to quit, but I didn't give up. My message to you is never give up!"
The X Games competition has taken Wilhelm to Philadelphia, Brazil and Seoul, South Korea. Despite his many hours of competing and practice, Wilhelm graduated Magna Cum Laude from Millikin University on a music scholarship. In 2005, Wilhelm decided to give back to the community and do tricks for school children. In 2011, he performed at more than 300 different schools.
Wilhelm is known as the world's fastest spinner on a bike and demonstrated the feat to the students, which brought a huge round of applause. He won $25,000 on Fox TV's "30 Seconds to Fame" with his rapid spinning. He has also appeared on "America's Got Talent."
Anyone who has ridden a BMX bike has crashed more than once, and Wilhelm is no exception. He has suffered six different injuries involving broken bones, but he spoke of something that hurt even more.
"When I was in school, I had big ears," said Wilhelm as he pulled on his ear lobes. "The bullies called me 'Ears' and other kids called me 'Ears' too. I was lucky that I had some awesome friends who stood by me and stood up for me, and after awhile the name calling went away." 
The NRHEG Parent Teacher Organization and Great American Opportunities were jointly responsible for bringing Wilhelm and his talents to the school. Through their fundraising efforts, the PTO has contributed to the school district everything from smart boards to playground equipment.
"I would just like to say thank you to the PTO and Great American," said NRHEG Elementary Coordinator Doug Anderson.