George, Faye Dettman still appreciate one another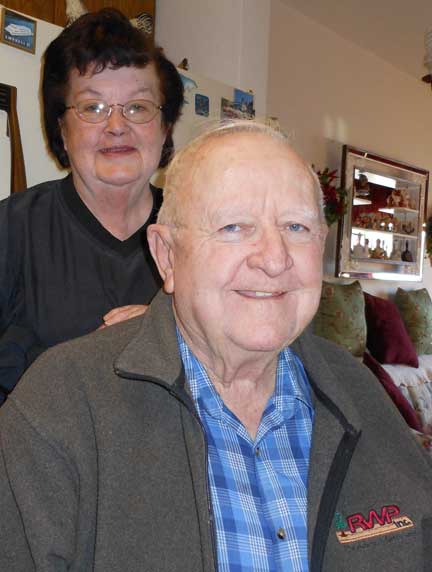 SECOND TIME WAS THE CHARM — In what was a second marriage for both, Faye and George Dettman have enjoyed 50 years of wedded bliss. (Star Eagle photo by Kathy Paulsen)
By KATHY PAULSEN
Staff Writer
They say the way to a man's heart is through his stomach.
And while that may not be the case with George and Faye Dettman, there are some indications this might figure into their chance meeting and subsequent marriage.
It was some 50 years ago that George ordered a steak, done rare, in a restaurant in Cando, North Dakota where Faye was working. When she saw the order she immediately came out of the kitchen to see who ordered their steak rare. Evidently she liked what she saw and he liked how she prepared his steak because they were later married in Havre, Montana back on September 12, 1960.
It was a second marriage for both of them. George's first wife died when she was 26 from kidney cancer. They were the parents of three boys, Robert, Randy and Ronnie. Faye had two children, Dennis and Becky. Their family of yours, mine and ours included two children together, Roger and Roberta — one big, busy family that kept Faye home and busy as a full-time mother. They took family vacations "out west" and even slipped away for a vacation "without the kids" one time by letting them visit and stay with relatives along the way.
George is a man of many interests and experiences and though he recently celebrated his 82nd birthday, he still keeps busy working at Gopher Stop North in Ellendale. It was something he started doing some years ago when he and Faye occupied the house just behind the food and fuel complex owned by Lyle Wayne.
"It was just a five-minute walk away and it was a good job," said George. "It kept me in touch with people. I was the communicator when people were traveling through the area. I gave out information on weather, roads and how to reach destinations. That's why I still work there four or five hours, four or five days a week now or whenever they need me."
The Dettmans share a common love of fishing, traveling and experiencing new and social things. They have lived in many communities, starting in Cottonwood, MN. 1971 was when they moved to the Ellendale area. 
They first lived in the Lemond area when they moved to Southern Minnesota, then lived east of Geneva before they found "the little old house" behind the truck stop near Ellendale. Three years ago, they moved to Ellendale in the apartments near the post office.
George grew up in Glenwood City, Wis. and was born January 29, 1930. For someone who just turned 82, he says he is still in pretty good shape. He credits his wife's good cooking and the diversity of his jobs for keeping him in the swing of things. George attended school in Glenwood City and later in Minneapolis. That is where he learned to use the telegraph. He worked for the Sioux Line and Rock Island railroads for eight years. In North Dakota, he worked for the John Woods Company selling milk coolers. He went on to sell dairy equipment in the Eastern South Dakota and Southwestern Minnesota areas before getting involved in sales for the Falls West Leasing Company in Clarksfield, Minn.
George worked for Universal Milkers in Albert Lea for 13 years beginning in 1970, and he still has four customers who rely on him for milking supplies. George said he recently heard someone comment there are no longer dairy cows in Freeborn County. His adventures at the Ellendale Amoco station, near the freeway in Ellendale, which is Gopher Stop North now, started in 1995.
George is a man of many interests and abilities and though he swears he is not a great cook, he is a good volunteer and got involved with the first Wild Game Feed back when Hank and Judy Thompson owned the Geneva Liquor Store. He has never stopped being a major worker in the crusade against cancer.
Faye grew up near the Canadian border in Egeland, North Dakota, (population 28 at the 2010 census). Born February 26, 1938, Faye will soon celebrate her 74th birthday, though she is not a big crowd person or in favor of big celebrations. The couple did celebrate their 50th anniversary at George's of Geneva a year ago. She enjoyed their fishing trips, camping in tents and later in cabins until back surgery kind of put an end to that. Sunfish and crappies were to her liking. 
George still tries to get away from time to time with the guys for a fishing trip to Deer River where Bryce Ingvaldson lives.
George and Faye like to dance and enjoyed many good times at Bixby or the Monterey ballroom. Faye still enjoys country western music. They also enjoy playing cards: hearts, wist, 500, 99, euchre, pinochle and cribbage. When asked who was the better player. George said, "It depends on the day."
Though Faye stills likes to go shopping, George doesn't go along very often.
"Most men don't like to shop," he said. "I go and get what I need and get back home again."
The Dettmans have always enjoyed having a dog and their pet Shitzu, Charlie, has been with them for nine years — kind of a stand-in for the kids who live in Illinois, Cannon Falls, Owatonna and rural Ellendale.
George and Faye's philosophy for life? "Falling in love is easy. Staying in love is something very special and the best part of every day. You treasure it more when you share it with someone special."