NRHEG Star Eagle Web
Written by Jim Lutgens
Thursday, 23 April 2015 14:44
NRHEG students travel to Costa Rica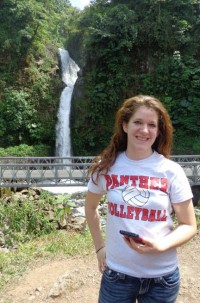 ONE OF MANY — NRHEG student Samantha Pettey in front of one of many waterfalls to be found in Costa Rica. (Submitted photo)
Memories of a lifetime were made for NRHEG students who traveled to Costa Rica. There were six adults and 42 students who traveled to the beautiful country located in Central America between Nicaragua and Panama. It is home to many different plants and animals and is known for its variety of ecosystems.  
The group spent nine days touring various parts of the country. Each day was packed with activities that provided adventure, education and personal growth. During every moment of the trip students were surrounded by the energy and cultural richness of Costa Rica.  
Written by Jim Lutgens

Monday, 20 April 2015 15:10

Sometimes, you have to wonder when Robin Eder gets the time to breathe

WHEN DOES SHE SIT DOWN? — NRHEG Schools Student Success Coordinator Robin Eder doesn't sit much in school, helping with a wide variety of tasks. (Star Eagle photo by Nicole Billing)




By MARK DOMEIER

Contributing Writer

Teachers matter. Good teachers make a difference. Exceptional teachers impact lives for years after graduation.

NRHEG has been fortunate to have one of those exceptional teachers for over two decades in Robin Eder. Eder has taught middle school and high school special education, and this past year she shifted to the newly-created Student Success Coordinator position in the secondary school.

Initially thinking that she wanted to be a math teacher when she started at St. Cloud State University, Eder soon shifted to special education. She hearkened back to some experiences helping on the playground in elementary school with special needs students. That had stuck with her over the years and helped her make the decision that she wanted to work with those students all the time.

Written by Jim Lutgens

Friday, 10 April 2015 16:26

DO I HEAR 20? — Auctioneer Tracy Holland, left, seeks bids as Corey Johnson displays a wooden rocking horse at the Benefit for Dana March 22 at NRHEG Elementary School in Ellendale. More 1,100 people attended. (Star Eagle photo by Kathy Paulsen)




By KATHY PAULSEN

Staff Writer

Sometimes, like Woodstock, an event takes on a life of its own.

The benefit for Dana on Sunday, March 22 turned out to be such an event.

It started out as a few members of the Zion Lutheran Church wanting to raise funds to help Dana Standke and her family, Shelly Standke and Dan Enzenauer. But it became a huge rally attended by over 1,100 people.

It was inspiring to see the number of people who turned out to support Dana. It was also great to see the large number of items donated for the bake sale, silent auction, live auction, and meat raffle. The Easter Bunny came too, and many of the children had their pictures taken with the bunny.

Written by Jim Lutgens

Friday, 17 April 2015 13:50

Performances set for Friday, Saturday

Cast members Lizzy Hagen, Bailey Burg, Justin Mortensen, Solveig Stafford, and Katherine Lewer with some of the props and set pieces from Charlie and the Chocolate Factory, set to be performed Friday and Saturday, April 17 and 18 at NRHEG High School. (Submitted photo)




"Flying is going to be a bit difficult," admits Will Rudau, who plays Grandpa Joe in the upcoming NRHEG performance of Roald Dahl's Charlie and the Chocolate Factory. "But I think the audience is really going to enjoy it," adds Nicole Wallin, who has been cast in the role of Charlie.

The cast and crew of the play have been as busy as Oompa-Loompas, especially over the last couple weeks as the three performances have been coming nearer. The play will be presented Friday, April 17 at 7:30 p.m., and at 2:30 and 7:30 on Saturday. With 20 different sets and even more musical numbers, the production promises to be an extravaganza of color, sound, and—to the absolute delight of everyone involved—surprises.

"There's something here for children and adults," says cast member Nicole Edon. Jessica Nafe agrees: "This is very much a family show," she says. "There's more humor in it than I realized, and while some of it is aimed at children, some of it is definitely more for adults."

Written by Jim Lutgens

Thursday, 02 April 2015 13:39

Make-A-Wish Foundation sending Isaiah Schutrop to Disney World

TO THE MAGIC KINGDOM — Isaiah Schutrop of New Richland has been awarded a trip to Disney World by the Make-a-Wish Foundation. A celebration, complete with cake, was held Friday, March 20 at NR City Hall. (Star Eagle photo by Troy Thompson)




By TROY THOMPSON

Contributing Writer

The first day of spring typically signals new hope and promises of warmth for those in Minnesota. This year, that day brought some extra hope and warmth to New Richland.

Friends and family members gathered at New Richland City Hall on Friday, March 20, as the Make-A-Wish Foundation held an informal ceremony to help make 5-year-old Isaiah Schutrop's dream come true. A carefully-crafted cake of the castle at Disney's Magic Kingdom sat center stage, leaving no doubt what would soon lie in store for Isaiah.

The day sprouted a smile that never seemed to leave Isaiah's face as he played with his siblings and relatives while waiting to taste the magical cake and thinking of the trip that was soon to come.

 "He's beyond excited," said his mother, Monica Schutrop. "The next day he woke up still smiling and said, 'Mom, that was a fun celebration'."
«
Start
Prev
1
2
3
4
5
6
7
8
9
10
Next
End
»
Page 1 of 44
–––––––––––––––––––––––––––––––––––––––––––––––––

The NRHEG Star Eagle Newspaper

Waseca County • Steele County • Freeborn County
PO Box 248, New Richland, MN 56072
507-463-8112 • Fax 507-463-0504
steagle@hickorytech.net
Copyright © 2012, 2013, 2014, 2015 and all rights reserved by JDL Publications, Inc. and respective copyright holders.