NRHEG Star Eagle Web
Written by Jim Lutgens
Wednesday, 28 January 2015 13:46
Coronation Feb. 2; talent show Feb. 6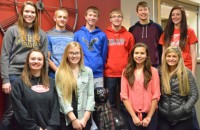 Snow Week royalty candidates have been announced at NRHEG High School. They are, front from left: Hailey Mosher, Aurora Strom, Sandra Quezada and Remi Wayne. Back: Cassidy Sletten, Grant Kyllo, Dakota Thiele, Brady Beenken, Jet Wayne and Keeley Mulder. Not pictured: Colton Hagen and Jake Langlie. Coronation is Monday, Feb. 2 at 2:15 in the high school gym. The talent show is Friday, Feb. 6 at 12:30 in the high school gym. (Star Eagle photo by Chris Schlaak)
Last Updated on Wednesday, 28 January 2015 13:51
Written by Jim Lutgens

Wednesday, 21 January 2015 10:55

Geneva wraps 31st annual event

LIFE IS BETTER THERE — Kate Quam holds a "Life is Better at Beaver Lake" sign during the 31st Annual Geneva Cancer Auction, which wrapped up this past weekend at Geneva Bar and Grill. (Star Eagle photo by Kathy Paulsen)

EXPENSIVE EGGS — Kenadie Rodriguez, Medford, granddaughter of Staci Timm, holds a dozen home laid, hand picked eggs Staci had donated. That dozen eggs brought $110. (Star Eagle photo by Kathy Paulsen)




By KATHY PAULSEN

Staff Writer

The 2015 Geneva Cancer Auction concluded this past weekend.

Auctioneers for the weekend included Whitey Hagen, Jim Manges, Greg Hagen, Waylon Busho, and Tracy Holland.

We wish space would permit us to list all the items donated and all the auctioneers, clerks and others who helped in so many different ways.

At 12:30 p.m. Sunday, Jan. 18, at the Rochester Civic Center, during the live broadcast of the 61st Annual Eagles Cancer Telethon, Whitey Hagen presented a check to the Eagles Cancer Telethon in the amount of $100,000.

The money was raised from many different fundraising events, including the Wild Game Feed, $19,500; Geneva Cancer Golf Tournament, $1,000; Matt Felt/Dillon Gordon Run, $2,500; 3rd Annual Geneva Cancer motorcycle run, $2,500; Matt Felt Pool Tournament $900; Cloie Arndt's locks of love "Wigs for Kids" donation, $1,017; Brielle Goodnature's locks of love, $350; Kaitlyn Grandia's haircut, $635; and Whitey's son Keith Hagen's haircut, donations totaling $718.

Last Updated on Wednesday, 21 January 2015 16:31

Written by Administrator

Wednesday, 14 January 2015 13:07

   ELECTED – New Ellendale city council person Stephanie Lageson-Kibbler, new Mayor Mark Skroch and returning councilman Scott Groth.      Submitted photo

By SCOTT GROTH

Contributing Writer

The Ellendale City Council met for the first time in 2015 on Thursday, January 8. Present at the meeting was outgoing Mayor, Roger Swearingen, newly elected Mayor Mark Skroch, Councilman Goebel, re-elected Councilman Groth and newly elected Council person Stephanie Lageson-Kibbler. Also at the meeting was LeeAnn Hojberg-Clerk, Josh Otto-Maintenance, Pete Paulson-Municipal Liquor Store Manager and Steve Engel.

The meeting was called to order by outgoing Mayor Swearingen. Swearingen called on Clerk Hojberg to administer the swearing in of the three elected individuals. Being sworn in this evening were Mark Skroch-Mayor, Scott Groth-Council and Stephanie Lageson-Kibbler-Council. After taking the oath of office Mayor Skroch took over the meeting as presiding officer.

The agenda was approved as presented.

Written by Administrator

Wednesday, 14 January 2015 13:31

Geneva Cancer Auction kicks off another year of giving

   RETURN OF THE WAGON TRIKE – Ernie Klukow and Keith Hagen hold up the now-familar trike wagon that Ernie was donating back to the Geneva Cancer Aution last Friday. The trike wagon has seen many owners since it was first donated in 2010.   Star Eagle photo by Kathy Paulsen

By KATHY PAULSEN

Staff Writer

"Testing 1-2-3-4...Can you hear us way in the back? We will be ready to go in just a bit."

A short pause and then: 

"Ladies and gentlemen - Welcome to the 31st Geneva Cancer Auction."

The voice of Duane "Whitey" Hagen began the annual event.

"We thank Barb and Jack (Kuckenbecker) for 7 years of helping us host the Geneva Cancer Auctions," Whitey began, which brought up a big round of applause. "And we look forward to many years ahead with Greg and Chelsea (Hanson), the new owners of the Geneva Bar and Grill.  We also offer up a big thank you to the Geneva Cancer Auction crew for all they have done and continue to do to help find a cure for cancer. God bless you all."

Written by Administrator

Friday, 09 January 2015 13:39

    HIGH HOPES – This year's NRHEG school board held their first meeting of the year Monday, inducting three new directors. Pictured are, from left, front, new director Mark Tollefson, vice chair Michele Moxon, Clerk Lori Routh. Back: new director JoAnn Maloney, treasurer Mike Moen, Chair Rick Schultz, new director Travis Routh.   Star Eagle photo by Reed Waller

By REED WALLER

Staff Writer

Newly-elected school board directors JoAnne Maloney, Travis Routh, and Mark Tollefson braved blowing snow and near-blizzard conditions Monday evening to be sworn in at the NRHEG school district's first meeting of the year.

At the short meeting held in the New Richland board room, the board held their annual organizational meeting.

Officers (chair Rick Schultz, vice-chair Michele Moxon, treasurer Mike Moen, and clerk Lori Routh) were re-elected to their same positions by unanimous vote.
«
Start
Prev
1
2
3
4
5
6
7
8
9
10
Next
End
»
Page 1 of 42
–––––––––––––––––––––––––––––––––––––––––––––––––

The NRHEG Star Eagle Newspaper

Waseca County • Steele County • Freeborn County
PO Box 248, New Richland, MN 56072
507-463-8112 • Fax 507-463-0504
steagle@hickorytech.net
Copyright © 2012, 2013, 2014, 2015 and all rights reserved by JDL Publications, Inc. and respective copyright holders.