NRHEG Star Eagle Web
Written by Jim Lutgens
Thursday, 26 February 2015 12:42
Nafe nominated for ExCEL Award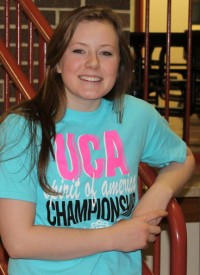 NOMINATED — Jessica Nafe, daughter of Terry and Karen Nafe, is NRHEG's nominee for the Minnesota State High School League's ExCEL Award. (Star Eagle photo by Nicole Billing)
By NICOLE BILLING
Editorial Assistant
Jessica Nafe is no stranger when it comes to excelling in the classroom and in extracurricular activities.
So it's no surprise she is NRHEG's nominee for the Minnesota State High School League's ExCEL Award. Jessica is the daughter of Terry and Karen Nafe of Waseca.
ExCEL – Excellence in Community, Education and Leadership – is a unique recognition designed exclusively for Minnesota high school juniors who are active in school activities, who show leadership qualities, and who volunteer in their communities.
Nominees must be a junior in high school, make satisfactory progress toward graduation, participate in a MSHSL fine arts and/or athletic activity, hold leadership position(s) in their school, and work voluntarily in their community. This is the 19th year the MSHSL has sponsored the ExCEL Award. 
Written by Jim Lutgens

Wednesday, 18 February 2015 15:39

St. Peter's celebrates anniversary

IN CHARGE — The committee for St. Peter Lutheran Church's 125th anniversary included, from left, Judy Thompson, Marilyn Quiram, Sharon Eckart, Rachel Romine, Amy Kitzer, Thelma Kormann and Larry Crabtree. (Star Eagle photo by Kathy Paulsen)

By KATHY PAULSEN

Staff Writer

The bells tolled at St. Peter Lutheran Church at 10:30 a.m. on Sunday, January 25 as the Sunday School children, which numbered about 30, all dressed in red, entered the sanctuary singing, "We Can Pray," followed by, "How Great Thou Art," which was very appropriate for the day.

The Rev. Scott Williams welcomed everyone to the 125th anniversary worship service, saying he was grateful for everyone's presence. He went to talk about what the church has been and what it has meant to the people of the congregation.

Pastor Phil Lewison, who served as pastor of the St. Peter's congregation for 32 years, from 1976-2008, had been asked to share his memories during the program.

The Rev. Steven Delzer, Bishop of the Southeastern Minnesota Synod, ELCA, delivered the morning sermon. He began: "We gather this day for worship and the celebration of 125 years of faithful ministry. For 125 years this congregation has been a symbol of God's presence in this community. The article in the NRHEG Star Eagle about the celebration of your 125th anniversary began with these words: 'When a new piece of land was settled in the early years the most important thing to be established was a church. The congregation that was formed were devoted in their religion and feelings ran deep for the need of God's house where they could meet and praise the Lord.'"

Written by Jim Lutgens

Wednesday, 04 February 2015 13:33

RETIRING — Local graduate Toby Brallier retired in December after more than 21 years of active service in the U.S. Air Force and Air National Guard. (Submitted photo)




Lieutenant Colonel Toby Brallier retired in December 2014 after more than 21 years of Active Service in the U.S. Air Force and Air National Guard. A 1989 graduate of New Richland-Hartland High School, Brallier is the son of Alan Brallier and Connie Brallier (and grandson of Gladys Brallier).

His service record:

• June 1989 Enlisted as Structural Specialist

• Attended U.S. Air Force Academy 1991-1995 (USAFA)

• Distinguished Graduate

• B.S. Aeronautical Engineering

• M.A.S. from Embry Riddle University

• Attended Undergraduate Pilot Training upon completion of USAFA.

• Primary operational aircraft:  F-16 Fighting Falcon, MQ-1 Predator (unmanned aerial vehicle), C-21 Learjet, A-10 Thunderbolt II

Last Updated on Wednesday, 04 February 2015 13:34

Written by Jim Lutgens

Thursday, 12 February 2015 10:35

Paul, Mary Groth enjoy special bond

SWEETHEARTS STILL — Paul and Mary Groth of Ellendale are still going strong after all these years. They celebrated their 58th anniversary in December. (Star Eagle photo by Kathy Paulsen)




By KATHY PAULSEN

Staff Writer

Oh, but that every day were Valentine's Day.

Symbolic, the love we have for others could be celebrated every day. How hard is it to express one's love? Most people do it every day by saying, "I love you," giving a kiss, a hug or a handshake as a cheerful greeting.

Is there anything sweeter than seeing a young couple holding hands and looking at each other lovingly? Of course, that is anytime you are a couple who are just that — a couple with love and companionship apparent for everyone to see and enjoy.

Last Updated on Thursday, 12 February 2015 10:36

Written by Jim Lutgens

Wednesday, 28 January 2015 13:46

Talent show Friday at 12:30

Snow Week royalty candidates have been announced and royalty have been crowned at NRHEG High School. Candidates are, front from left: Hailey Mosher, Aurora Strom, Sandra Quezada and Remi Wayne. Back: Cassidy Sletten, Grant Kyllo, Dakota Thiele, Brady Beenken, Jet Wayne and Keeley Mulder. Not pictured: Colton Hagen and Jake Langlie. Remi Wayne and Jet Wayne were crowned queen and king at coronation ceremonies Monday in the high school gym. The talent show is Friday, Feb. 6 at 12:30 in the high school gym. (Star Eagle photo by Chris Schlaak)

Last Updated on Tuesday, 03 February 2015 16:15
«
Start
Prev
1
2
3
4
5
6
7
8
9
10
Next
End
»
Page 1 of 43
–––––––––––––––––––––––––––––––––––––––––––––––––

The NRHEG Star Eagle Newspaper

Waseca County • Steele County • Freeborn County
PO Box 248, New Richland, MN 56072
507-463-8112 • Fax 507-463-0504
steagle@hickorytech.net
Copyright © 2012, 2013, 2014, 2015 and all rights reserved by JDL Publications, Inc. and respective copyright holders.