NRHEG Star Eagle Web
Written by Jim Lutgens
Saturday, 23 May 2015 14:34
WWII veteran Johnson visits D.C. memorial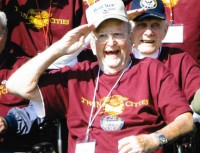 HONORED — Lee Johnson salutes during a ceremony during his recent visit to the National WWII Memorial in Washington, D.C. See Pages 8-11 of this week's Star Eagle for additional Memorial Day coverage. (Submitted photo)
By TROY THOMPSON
Contributing Writer
It took nearly 60 years from the end of World War II for the National WWII Memorial to open for public viewing in Washington, D.C. On April 11 of this year, nearly 70 years after the war ended, 90-year-old WWII veteran Lee Johnson of Ellendale was able see it in person.
"It was a trip of a lifetime," said Johnson while paging through a thick photograph album of his trip. "There were people everywhere, and wherever you went, they were always saying 'thank you for your service.'"
The one-day jaunt to visit a number of war memorials in Washington, D.C., was made possible by Honor Flight - Twin Cities, a non-profit organization that is part of a national Honor Flight network in all 50 states.
Written by Jim Lutgens

Friday, 15 May 2015 12:08

Holocaust survivor tells area folks exactly how she made it

SURVIVOR — Anita Dittman holds a copy of her book, 'Trapped in Hitler's Hell.' Dittman spoke about her life Sunday, April 26 at Ellendale's First Lutheran Church. (Star Eagle photo by Nicole Billing)




By NICOLE BILLING

Editorial Assistant

According to Anita Dittman, there is an old saying, "Love your enemies and do good to those that hate you."

"Well," said Dittman, "God made me put this into practice."

Dittman, author of Trapped in Hitler's Hell, got a little choked up, something that happened many times throughout the afternoon as she spoke at First Lutheran Church in Ellendale Sunday, April 26.

Dittman was born in 1937 in Breslau, Germany, near the Polish border. Her mother was an Orthodox Jew and her father was a pure-blooded German. They lived in a lovely suburban neighborhood in a nice, big house. She lived a very comfortable lifestyle for 5 ½ years until Hitler came into power. When that happened, each person had to write their names on a list, either Jew or Aryan. Anita looked at her mother and asked, "What am I? I'm both." When her mother directed her to write her name on the Jewish list, she responded, "I would rather be on that list. I would rather be a victim than the oppressor."

Written by Jim Lutgens

Thursday, 23 April 2015 14:44

NRHEG students travel to Costa Rica

ONE OF MANY — NRHEG student Samantha Pettey in front of one of many waterfalls to be found in Costa Rica. (Submitted photo)




Memories of a lifetime were made for NRHEG students who traveled to Costa Rica. There were six adults and 42 students who traveled to the beautiful country located in Central America between Nicaragua and Panama. It is home to many different plants and animals and is known for its variety of ecosystems.  

The group spent nine days touring various parts of the country. Each day was packed with activities that provided adventure, education and personal growth. During every moment of the trip students were surrounded by the energy and cultural richness of Costa Rica.  

Written by Jim Lutgens

Wednesday, 29 April 2015 13:17

Hometown favorite Wagner finishes freshman year at U of M

TRANSITION GAME — 2014 NRHEG High School graduate Carlie Wagner learned much during her freshman season at the University of Minnesota. (Star Eagle photo by Jim Lutgens)




By MARK DOMEIER

Contributing Writer

The Golden Girl. The Dagger. The best athlete to emerge from NRHEG. These are all attributed to Carlie Wagner, and now that she's been off the basketball court in New Richland for a year and nearly a full year out of high school, she had time to reflect on the hurricane of activity that's encompassed her since moving on to become a Minnesota Golden Gopher.

What's the biggest difference between playing schools like Braham and Kenyon-Wanamingo for state championships and moving to Division I college hoops against Maryland and Ohio State?

"At the collegiate level, the game moves at an incredible speed, and at first I felt like I was in a whirlwind on the court," explained Wagner. "Eventually things started slowing down for me, and I started seeing openings and opportunities I struggled to see before."

Written by Jim Lutgens

Monday, 20 April 2015 15:10

Sometimes, you have to wonder when Robin Eder gets the time to breathe

WHEN DOES SHE SIT DOWN? — NRHEG Schools Student Success Coordinator Robin Eder doesn't sit much in school, helping with a wide variety of tasks. (Star Eagle photo by Nicole Billing)




By MARK DOMEIER

Contributing Writer

Teachers matter. Good teachers make a difference. Exceptional teachers impact lives for years after graduation.

NRHEG has been fortunate to have one of those exceptional teachers for over two decades in Robin Eder. Eder has taught middle school and high school special education, and this past year she shifted to the newly-created Student Success Coordinator position in the secondary school.

Initially thinking that she wanted to be a math teacher when she started at St. Cloud State University, Eder soon shifted to special education. She hearkened back to some experiences helping on the playground in elementary school with special needs students. That had stuck with her over the years and helped her make the decision that she wanted to work with those students all the time.
«
Start
Prev
1
2
3
4
5
6
7
8
9
10
Next
End
»
Page 1 of 45
–––––––––––––––––––––––––––––––––––––––––––––––––

The NRHEG Star Eagle Newspaper

Waseca County • Steele County • Freeborn County
PO Box 248, New Richland, MN 56072
507-463-8112 • Fax 507-463-0504
steagle@hickorytech.net
Copyright © 2012, 2013, 2014, 2015 and all rights reserved by JDL Publications, Inc. and respective copyright holders.