NRHEG Star Eagle Web
Written by Jim Lutgens
Friday, 24 July 2015 15:38
Inaugural 5K attracts around 200 entrants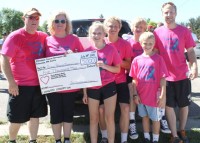 A GOOD DAY — The first ever Preston Peterson Memorial Fund 5K was held Saturday, July 18. Pictured here with a check for $5,000 are the Peterson family from left: Tom, Tammy, Paige, Palmer, Perry, Porter and Payden. More than 200 people were in attendance for the event. (Star Eagle photo by Nicole Billing)
By NICOLE BILLING
Editorial Assistant
Weather conditions were a little warm for the inaugural Preston Peterson Memorial Fund 5K.
But that didn't stop folks from turning out.
Approximately 200 participants showed up in New Richland Saturday, July 18 at 9:30 a.m. for the first scholarship fundraiser for Peterson, a 2014 graduate of NRHEG High School who tragically took his own life last December.
Some participants ran while others walked. Cindi Bartness, one of the organizers of the event said, "There were two reasons we decided to do this. One of them was to keep Preston's memory alive and the other was to continue to add money to the scholarship memorial fund." 
Last Updated on Friday, 24 July 2015 15:40
Written by Jim Lutgens

Friday, 17 July 2015 13:19

Wayne, Merlys Wenzel chosen 2015 Farm and City Days grand marshals

WAY TO GO WAYNE AND MERLYS! — Pastor Charles Espe, left, congratulates Wayne Wenzel as his wife Merlys looks on during the pancake breakfast at the New Richland Fire Hall Saturday, July 11. Wayne and Merlys were selected grand marshals of the 2015 Farm and City Days parade. See Pages 9, 11 and 12 in this week's Star Eagle for more Farm and City Days photos. (Star Eagle photo by Nicole Billing)




By JIM LUTGENS

Editor/Publisher

Wayne Wenzel didn't know how to react when he and his wife, Merlys, were announced as 2015 Farm and City Days parade grand marshals.

He was stunned.

"It was a great honor, it sure was," said Wenzel, a New Richland native. "The wife and I were very surprised. I was just dumbfounded. I never imagined they'd pick us."

Wenzel, known around town as a friendly, jovial, down-to-earth character, has had his antique business, Dad's Good Stuff, on New Richland's main street for about 25 years.

Merlys Wenzel, born and raised in Glenville, moved here in 1959.

"That's when she found me, in 1959," quipped Wenzel.

The grand marshal announcement was made Saturday morning during the pancake breakfast at the NR Fire Hall. The Wenzels rode in the parade later that afternoon.

Written by Jim Lutgens

Friday, 26 June 2015 15:28

The NRHEG High School Band marches in a recent parade in Mapleton. Carrying the letters for NRHEG are, from left, Mia Williams, Ethan Thompson, Jayna Domeier, Maddie Bartelt and Grace Kofstad. Area folks will get a chance to see director Sam Boerboom's Marching Panthers Saturday, June 27 for Ellendale Days and Saturday, July 11 for New Richland's Farm and City Days. (Star Eagle photo by Nikki Erickson)

Last Updated on Monday, 29 June 2015 19:46

Written by Jim Lutgens

Thursday, 02 July 2015 20:29

Above, Diana Foster and Duffy Moberg attend the Steve's Meat Market food stand during Ellendale Days last weekend. Below, children scramble for candy during the Ellendale Days parade. For more photos of Ellendale Days, see Pages 13 and 14 of this week's Star Eagle. (Star Eagle photos by Jim Lutgens)

Last Updated on Monday, 06 July 2015 16:36

Written by Jim Lutgens

Sunday, 21 June 2015 19:35

NRHEG grad off on six-month mission

HOPING TO HELP — 2014 NRHEG graduate Hannah Lundberg will depart July 1 on a six-month mission to Australia and, hopefully, Nepal. (Star Eagle photo by Troy Thompson)




By TROY THOMPSON

Contributing Writer

Hannah Lundberg has always known what she's wanted to do in life. Even as a young child, her mother says she was destined for a life of service. But it wasn't until a few short months ago that she became aware of how she was going to do it, and that she would soon be doing it on the other side of the globe.

The 2014 NRHEG graduate has never traveled beyond the relative confines of the Midwest — her lengthiest excursion being a few inner-city missions in Chicago — but come July 1, the 19-year-old will embark on a six-month journey that will see her spend time in Australia and (hopefully) Nepal to combat the seedy underbelly of human trafficking.

 "I'm nervous," says Lundberg. "I've never been out the of Midwest, never flown, and now my first flight will last about 36 hours. It's going to be a big change. I feel blessed and humbled. Not many people get the opportunity to do something like this."
«
Start
Prev
1
2
3
4
5
6
7
8
9
10
Next
End
»
Page 1 of 47
–––––––––––––––––––––––––––––––––––––––––––––––––

The NRHEG Star Eagle Newspaper

Waseca County • Steele County • Freeborn County
PO Box 248, New Richland, MN 56072
507-463-8112 • Fax 507-463-0504
steagle@hickorytech.net
Copyright © 2012, 2013, 2014, 2015 and all rights reserved by JDL Publications, Inc. and respective copyright holders.